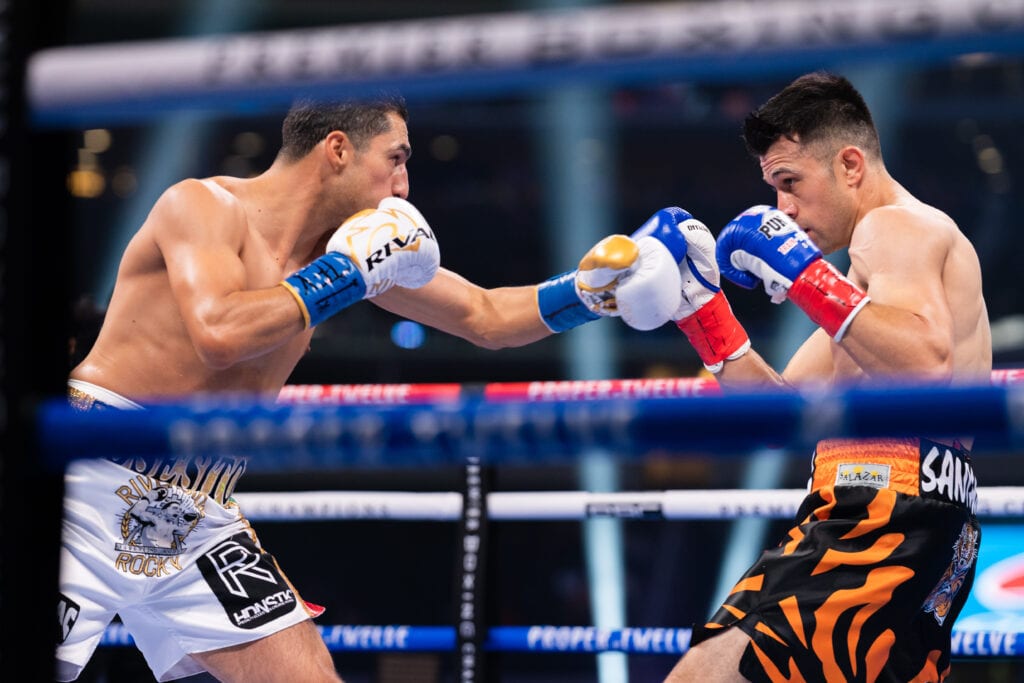 News
Whose To Blame For Lopez-Santana Last Night?
Whose To Blame For Lopez-Santana Last Night?
Saturday night on the Errol Spence-Danny Garcia pay-per-view, the expected war between welterweights Josesito Lopez and Francisco "Chia" Santana was somewhat with Lopez stopping Santana in ten rounds. While we should be talking about how "Riverside Rocky" Lopez (38-8, 21 KOs, 1 NC) looked impressive early and at age 36 is looking to make one more run since to loss to Keith Thurman, what was very apparent to everyone watching this fight was whose to blame for this not ending sooner than the 1:22 marker of the last round.
The buildup leading into this fight was Santana saying this has to makings of being an Arturo Gatti-Micky Ward type of scrap. Still, from the onset, it was slowly becoming one-way traffic for Lopez and only gotten worse as the bell sounded for each round. With an early knockdown of Santana in the opening round with a right upstairs, Lopez kicked things off and from there looked like it was going to be a short night.
? @JosesitoLopez knocks down @ChiaSantana in RD1!

BUY #SpenceGarcia PPV NOW: https://t.co/mEn4szRqyy pic.twitter.com/9kSBk10nSV

— FOX Sports: PBC (@PBConFOX) December 6, 2020
Then the fight just kept going.
By the end of the sixth round, Santana (25-9-1, 12 KOs) didn't have an answer for the onslaught that Lopez was handing out and, for all eyeball watching, could've called it a night with no complaints.
But Santana's toughness for better or for in this case, for worse, kept this fight going.
In the ninth round, Santana was knocked down again for the second time in the fight down by a body shot, and it was at this point once he beats referee Neal Young with 30 seconds left in the round, that someone at this point has to say at this point, enough is enough. Even if you didn't, once the bell rang, which saw Santana do the Harlem Shake towards his stool, should've put somebody on notice that this needs to end.
So who stopped this fight in the tenth round? Santana's corner? No. The ringside doctor who checked on Santana before the round started? No. The referee who just let this go? No. Josesito Lopez was in the tenth round landing shots on a defenseless Santana before the ref ended it.
In other words, the last guy you wanted to end the fight in an era where fighter safety is at an all-time high.
Santana, after the contest, told Marcos Villegas of Fight Hub TV that this was it as he ends his career losing five of his last six, but was in wars along the way, including the upset win he had over Felix Diaz back in 2018.
Just spoke to Chia Santana. He told me "thats it" and hes deciding to retire. He got very emotional and broke down and cried a bit. Wanted to let fans know he never quit in his fights. Always gave it 110 percent.

— MARCOS (@heyitsmarcosv) December 6, 2020
But back to pointing fingers on this. You have to place the blame on this for Neal Young for letting this go on. The second knockdown in the ninth round, he gave Santana what felt like in real-time about 1 minute to recover, making him do the walk from side to side test like a DUI checkpoint, which Santana passed, but the stumble to the corner at the end of the round was a red flag.
The red flag should've waived the ringside physician when he checked out that this shouldn't have started the tenth. How did they check on Santana and thought "okay, he's still good" after that?
Sanatan's corner letting this go on and not protecting him from himself ain't off this hook either. Santana wasn't winning this fight, and by the final round, anyone watching didn't see that puncher's chance Santana had to end it against Lopez in a fight he looked better as it went along. You would think that what should be the first line of defense would've stopped this then.
All three of them let Santana down.
The best news is that he's okay despite the failures above and is deciding to hang it up. Too bad no one had his back in the fight before calling it a career.