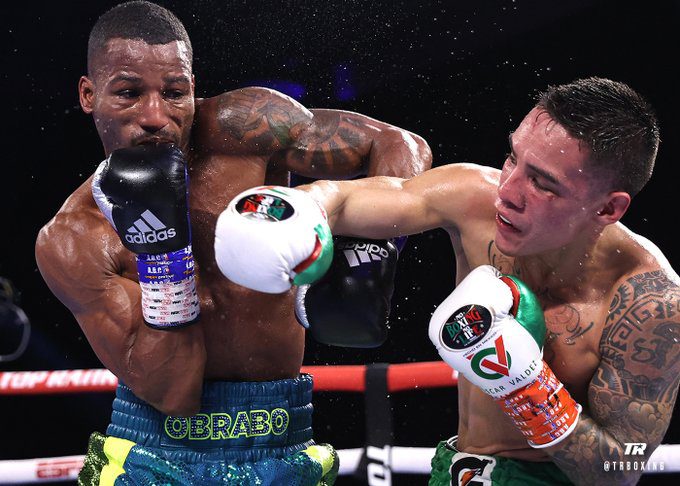 News
WBC Valdez-Conceicao judge- "Sorry For Having Bad Night"
WBC Valdez-Conceicao judge- "Sorry For Having Bad Night"
In a rare instance of honesty/transparency, one of the judges assigned by the World Boxing Council for last Friday night's Oscar Valdez-Robson Conceicao World Featherweight title fight has asked for understanding and forgiveness from the public.
Judge Stephen Blea, who is based in Colorado, was one of the three judges assigned to the Valdez defense in Tucson, AZ, and televised by ESPN +, published what essentially amounts to a written apology for his 117-110 lopsided card for the champion Valdez in what had been a very close battle. This as the the other two official scorers had the bout 115-112 for the champion.
Judge Stephen Blea Statement about Valdez vs. Conceicao https://t.co/oSyESVGA9O

— East Side Boxing (@eastsideboxing) September 13, 2021
Blea, who said in the letter that he has either judged or refereed in approximately 60 world title fights before, was very critical of himself. But, he was also taking aim at the Top Rank Boxing setup at AVA Amphitheater at Casino Del Sol and how it affected his ringside vantage point.
His letter in justifying what he now believes was a too one sided card for Valdez read in part,
"Crowd noise influence – It was a loud crowd in favor of Valdez; during the first rounds of the fight, some actions took place in a corner in which I had limited view and couldn't see some punches land by Conceicao. There was no crowd reaction, contrary to when Valdez landed. I was also dealing with photographers and cameramen all cramped up due to the location of the Champion Valdez in the red corner to the left of me. (I was between the photographer's on the left of me and camera crew to the right, who at times bumped me and blocked and even stepped on my hands while going across the ring apron towards the Champs corner )
Considering these distractions, I honestly thought I would be able to do my Job 100%, no excuses.
Getting Stuck on one fighter – I awarded 3 out of the first 4 rounds to Valdez, which is a combination of the above points I have outlined."
Blea further relayed that he has re-watched the TV broadcast, presumably with the commentary of ESPN play by play man Bernardo Osuna and analysts Tim Bradley and Andre Ward. And, that he now believes the fight was much closer,
I have scored the bout on tv and have a 115-112 or even a 114-113 score in favor of Valdez," Blea wrote.
"I have decided to reach out to my NABF / WBC ring officials committee to undergo a thorough training and review program. I will not accept any championship assignments until I complete this process.
I am an honorable man with profound love, knowledge, and respect for the sport; I am sorry for having a bad night and having brought unnecessary controversy to such a sensational fight. "
The above is refreshing, even though Blea may have just ensured that he won't ever work another title fight for the WBC by going public with his self-criticism of his card. (BFW had the fight 114-113 for Valdez – six rounds to six with Conceicao point deduction of rabbit punching in an earlier round).
It's very telling from the judge that he was being blocked from seeing action from the ESPN camera man, which should NEVER happen in 2021 and other still photographers leaning on the apron to get pictures. There's no excuse for that from the officials, promoter or ESPN TV that suffices.
A judge has to be able to see the action at all times to score it.
Still, it's accountability from everyone that's involved: the fighters, the referee, the corner, and yes, the often unqualified or incompetent judges, that we seek. Blea is taking responsibility and giving us that with his letter and should be commended.
We've seen numerous horrendous cards in recent months and years in big bouts, including the WBA debacle at the Premier Boxing Champions show in Minnesota in August. That's where Welterweight Mykal Fox clearly won a 12 round bout for a WBA secondary belt against Venezuelan Gabriel Maestre. Yet in a brazen scorecard of incompetence or in combination with corruption, judge Glorida Martinez-Rizzo gave Maestre the win with a (you guessed it) score of…. 117-110.
You cannot rid the sport overnight of this, as they will continue.
However, accountability, like what Blea did, even if it's the end of his championship judging/refereeing career, is a big step.