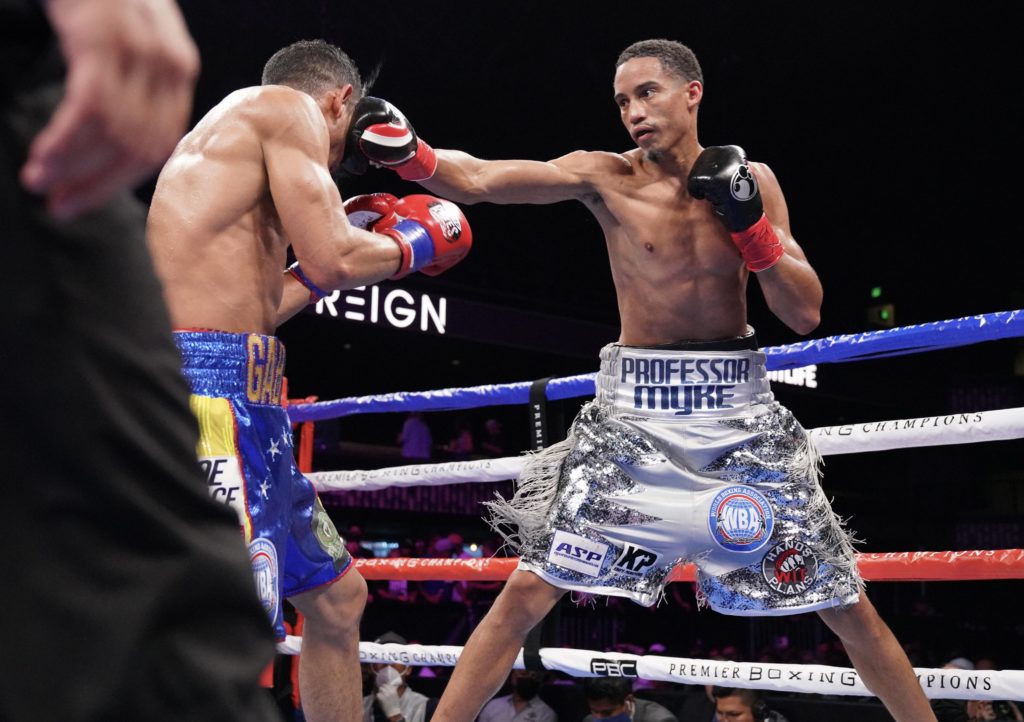 News
Report- Mykal Fox Doesn't Want Maestre Rematch
Report- Mykal Fox Doesn't Want Maestre Rematch
Despite being robbed of what should have been a clear victory two weeks ago in Minnesota, Welterweight Mykal Fox has apparently decided he won't fight Gabriel Maestre, again.
Boxing insider, Dan Rafael reported on World Boxing News' website Friday afternoon, that Fox's father and promoter have decided that he has nothing to gain by a Maestre rematch,
Although the #wretchedWBA Gabriel Maestre-Mykal Fox rematch after Fox got robbed in their interim 147 title bout, Fox has no interest. He's moving on to a bigger fight, promoter Marshall Kauffman told me. My @WorldBoxingNews story: https://t.co/jni1y7Ofti #boxing @ProfessorMyke

— Dan Rafael (@DanRafael1) August 20, 2021
From Rafael's report and quoting Fox's promoter Marshall Kauffman,
"They ordered the rematch, but Fox's father, Troy Fox, who is his trainer, said we don't feel that is the right fight for us because what do we have to gain? We already beat him," said Kauffman, who is in Las Vegas for Saturday's Manny Pacquiao-Yordenis Ugas welterweight world title fight. "We want to move on to bigger and better things. And there are guys at the top of the list like Eimantas Stanionis and other guys in that division at 147 that we'd rather fight. Mykal feels the same way." 
He couldn't believe that it was such a crime like it was because it was a crime," Kauffman said. "He felt he performed at the highest level, looked very good in the fight, and then for them to turn it over the way they did – and not just one judge. Say what you want about 117-110, but all three judges scored it the opposite way, so it wasn't good. Mykal felt bad about it. I felt like he deserved better than that, and he's going to get better than that."
As we wrote previously, Fox's Premier Boxing Champions co-feature fight August 7th in Minneapolis was a dominant performance, including the southpaw knocking down the Venezuelan Maestre in the second round. Yet, when the scorecards were read, he didn't get a single nod from the three judges. It included the comically bad, 1117-110 card in favor of Maestre by judge Gloria Martinez-Rizzo. She has since been indefinitely suspended by the WBA and will likely never work another professional prize fight, again. This, after further discovery of Martinez's racists tweets over the past few years.
Get a full preview of the return of Manny Pacquiao to the ring on Saturday night on our Big Fight Weekend Podcast Preview by clicking below,
Meanwhile, Mykal Fox said in the ring after the Maestre fight,
"I was stunned by the decision. There's no way he won more rounds than me. I knocked him down. I hurt him. I don't know what else I was supposed to do. I don't know what the judges were looking at. Look at his face (marked and bruised) and tell me he won that fight."
For their part, the Venezuelan based WBA issued this statement days after the dubious decision,
"The World Boxing Association (WBA) has declared the Interim Welterweight Title vacant after the controversial decision of August 7 in Minnesota in the fight between Gabriel Maestre and Mykal Fox. In addition, the organization will respectfully request the Minnesota Commission to declare the bout a "No Contest.'" 
So, far the Minnesota officials haven't acted on vacating the decision.
Further the Association of Boxing Commissions, which is a national organization among the states that helps try to govern problems and injustices, etc., says that the WBA has to begin to clean up their act with judging and sanctioning of fights. Plus, start having fewer titles in weight divisions like the "interim" Welterweight belt that Maestre was corruptly given two weeks ago.
For now, Fox will concentrate on other fights later in the year, while we wait to see what does or doesn't get done about the Maestre verdict, WBA problems and more.