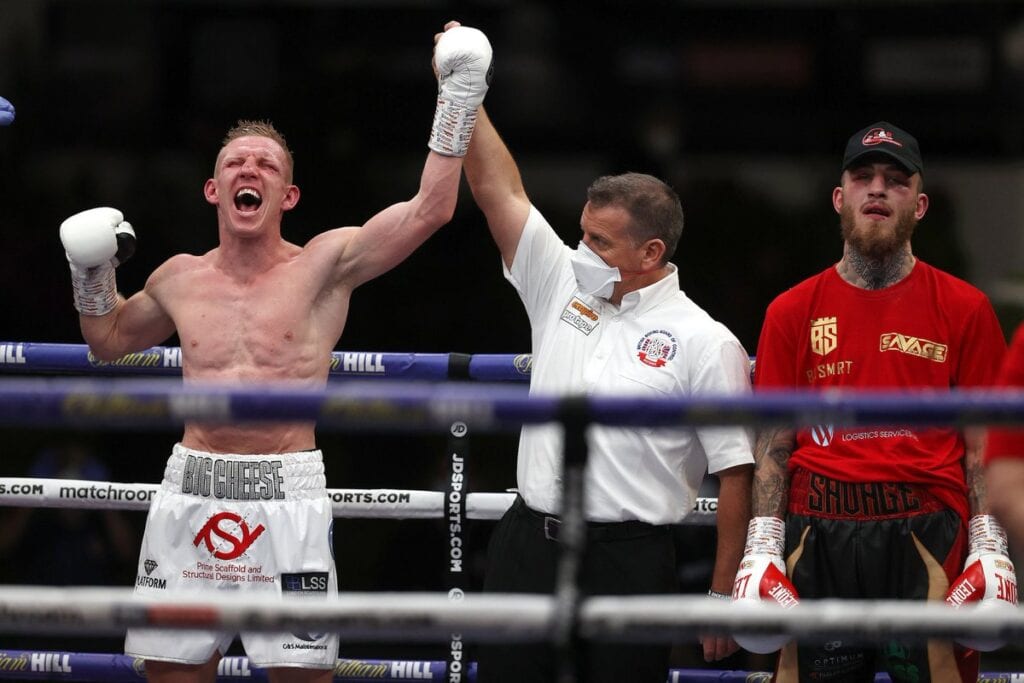 News
Underwhelming TV audience for Matchroom "Fight Camp" debut
Underwhelming TV audience for Matchroom "Fight Camp" debut
On Saturday night at the Matchroom Boxing headquarters in Essex England, promoter Eddie Hearn and his fighters debuted the first of four editions of their "Fight Camp" series without fans present. And while the main event was dramatic and saw Jr. Middleweight Ted Cheeseman pull off a 12-round upset, it was only met with lukewarm television audience.
And, that means, somewhere in the Nevada desert, Top Rank Boxing promoter Bob Arum and his associates are probably having a pretty good laugh at Hearn's expense.
More on that in a second.
First, Boxing Insider for the Athletic, Mike Coppinger, had the initial figures Sunday afternoon that Matchroom's first fight broadcast in over four months due to the Covid-19 pandemic only had these numbers:
Initial ratings for Eddie Hearn's Fight Camp debut on Sky (Eggington-Cheeseman): 93,000 average with viewership peaking at 202,000. Frank Warren's Friday show on BT Sport (Arthur-Spelman): 3,000 average (26K peak). Both figures don't include replays or streaming

— Mike Coppinger (@MikeCoppinger) August 2, 2020
Second, while that average audience seems to be a decent number, in comparison to the average audience of around 500,000 fans in for the Top Rank "bubble" shows in June and July in the U.S. on ESPN, it pales, badly.
And, typically, the ESPN main events for those shows would see 600,000 – 700,000 fans watching. Three or more times that Saturday night U.K. number.
Now third, the U.K. has an overall population between the four countries of around 67 million people as of last year. The overall population in the United States is 5 1/2 times that at around 331 million people.
And, needless to say, with more sports fans to attract, it makes sense that more audience would be tuned in on average to the American broadcasts on ESPN.
But, still, Hearn continued to needle Arum and Top Rank saying frequently how bad their fight matchups and average audience numbers in June – July were,
Hearn: Ratings Produced By ESPN/Top Rank Shows Horrible For The Sport – Boxing News https://t.co/2KkaMnIPEZ

— danwilliamson12345@gmail.com MMA/boxing/News (@dw504966) June 30, 2020
Therefore, he was only setting himself up, if his "Fight Camp"  underwhelmed with TV viewers. And, Saturday night it did.
It wouldn't be surprising if Arum puts the "ruining the sport" talk right back on Hearn in the coming days.
Still, Matchroom will persevere on with the most marquee of the fights at their headquarters being on August 22nd, when popular English heavyweight Contender Dillian Whyte battles former IBF World Champ, Russian Alexander Povetkin.
That fight is a bigger worldwide matchup than anything Top Rank was attempting with their June-July "bubble" shows.
And, it will obviously be the most attractive and probably biggest audience of their "Fight Camp" shows… at least for Hearn's sake, it better be at least the 600,000-700,000 viewer range.
Or, it will be rightfully Arum's turn to have the final words.