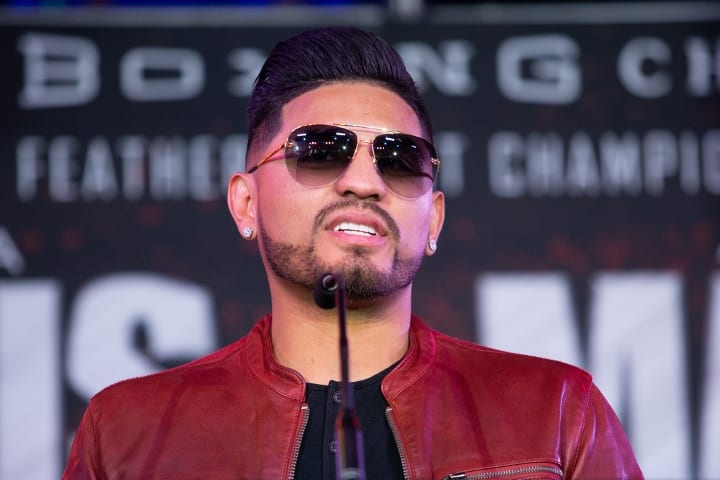 News
Mares made his Showtime debut last night
Mares made his Showtime debut last night
To anyone watching last night's Showtime Boxing broadcast, noticed one glaring omission watching Angelo Leo capture the vacant WBO 122 lb title against late replacement Tramaine Williams.
The vocal tones of the outspoken Paulie Malignaggi.
In case you didn't get the memo,  Paulie is no longer a member of the Showtime Boxing crew, as he was replaced (at least for Saturday) on Thursday with former three-division world champion Abner Mares. They made it a mission to remind you and jab at you the new roster of Showtime Championship Boxing with Mares taking the top right corner where Malignaggi was for years.
Must say, it was great to hear Mares last night on the program.
Thank you all for the great feed back and Comments on tonight's first boxing show back on @ShowtimeBoxing @premierboxing I really enjoyed the fights and great team 🙏🏽 @AlBernstein @BCusterTV @SteveFarhood @TheClassyJr MAURO RANALLO.

— ABNER MARES (@abnermares) August 2, 2020
First things first, I like several others liked Malignaggi on the broadcast of these shows.  What he said, however, on a now "private" video from the folks at iFL TV would have me kicked off of writing on this site, let alone working for a broadcast conglomerate. And, that's why the change was made.
That opened the doors for the former three time World Champ Mares, who is still looking to get back into the ring as well following successful eye surgery for a detached retina.
What I liked with Mares calling the fights alongside side play by man Mauro Ranallo and Al Bernstein is that not only was it a different voice from what we were used to. It's one of those cases where they made a change, and it felt like a fresh restart. It's pretty much what last night's show was for Showtime in total, as this was their 1st live show back since the pandemic shut everything down in March.
The only gripe I have, and at this point (it is a petty one) and will work itself out as the pandemic allows for it, is a fact the crew all wasn't there. The remote broadcast setup will always create that disconnect that isn't ringside, much like the shows that Top Rank on ESPN was doing all summer long, but that will have to do until all of this subsides.
Time brings change, and the shift to Mares is a welcomed one on the call for Showtime.