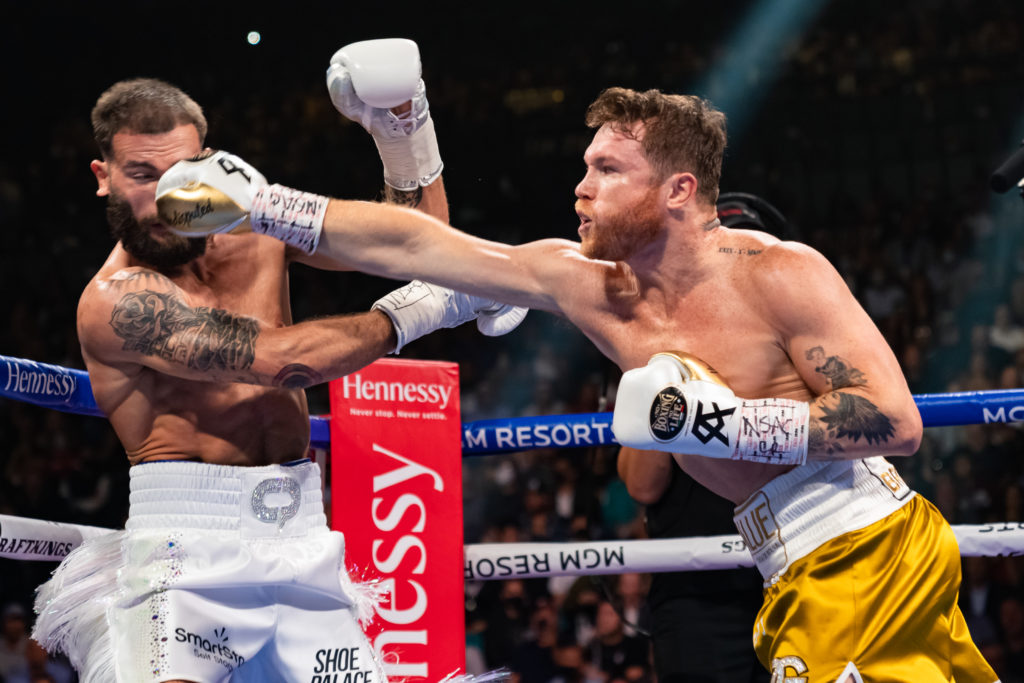 News
Top Three Fights Next For Canelo Alvarez
Top Three Fights Next For Canelo Alvarez
Now that "the dust has settled" on Saturday night's Undisputed Super Middleweight title win by Canelo Alvarez over Caleb Plant, the logical next question is: what's his next move?
First, Alvarez , now 57-1-2, was his usual dominant and spectacular-self finishing off Plant, now 21-1, with a couple of knockdowns and an 11th round TKO stoppage, cementing his Hall of Fame Legacy yet again by capturing all four 168-pound World titles.
All hail the king 👑@Canelo TKO's Caleb Plant in the 11th round 😳#CaneloPlant pic.twitter.com/y5mXvWafr7

— SHOWTIME Boxing (@ShowtimeBoxing) November 7, 2021
It was also Alvarez's fourth victory, three of them by stoppage, over the last 10 months. And, that makes him the most active prominent fighter in the game, especially since the Covid-19 pandemic. It also indicates that the Mexican hero will be back in the ring soon and maybe, as quickly as February.
With that in mind, we go over the three most likely fights against opponents that he could realistically be in the ring with that quickly in an Undisputed Super Middleweight clash.
1. Former WBC Super Middleweight champ David Benavidez
This is provided that Benavidez goes ahead and wins, especially impressively, on the Showtime main event this coming Saturday night against Kyrone Davis in Phoenix. That is clearly a fight that both the premium television network and Premier Boxing Champions would love to make with Alvarez and Benavidez. However, most reports are that Alvarez did not have to sign a multi-fight deal with PBC to get the chance to fight Plant, who is controlled by Premier Boxing Champions.
This means the Canelo is now a free agent, again and could do a deal with another promotion or network.
Then again, in Showtime's favor is that they are definitely willing to do pay per views with Alvarez, as they did for the Plant fight. And, further, that is something that appeals to Alvarez, including his massive Mexican pay-per-view audience as well.
As for Benavidez, he is talented and unbeaten, but also troubled, including having previously been stripped of his belt by the WBC for testing positive for cocaine leading up to a title fight with Anthony Dirrell in 2018. He later defeated Dirrell by TKO in September 2019, however, he also lost the title, again, out of the ring, when he was overweight in August 2020 for a title fight and was stripped again by the WBC.
Still, this fits the profile of a marketable fighter, especially one of Mexican American Heritage, to challenge against Alvarez. And, both of them would be fighting on the same timeline of about 90 days after their previous fight.
2. Dmitry Bivol, the unbeaten, Russian WBA Light heavyweight Champion. He was rumored to be Alvarez his next opponent earlier this summer. And, he and his camp has made clear that they would be willing to come down and make the 168 lb. weight limit. This is because it is very unlikely that Alvarez wants to move back up to 175 lb. to fight the Russian. So, for a Bivol bout the weight issue is a key.
Bivol is currently under the promotion of Eddie Hearn's Matchroom boxing and DAZN. And, Canelo has just fought three previous fights with Billy Joe Saunders, Avni Yildirim and Callum Smith all for Matchroom and on DAZN.
It is very easy to visualize Hearn and Matchroom being able to do a one-off fight with Canelo for Bivol, who has not fought since this past May. But, the Russian could be ready to go in 90 days or so in February.
Finally the longest shot of of the three is unbeaten WBC Middleweight Jermall Charlo.
Clearly, he is one of the most marketable fighters that that PBC has. However, he would have to be convinced to move up in weight to take on Alvarez. Charlo has not fought since here's decision over Juan Montiel in July. He has defended his WBC 160 lb. title four times, and is seeking a bigger profile pay day.
And importantly for Charlo's timeline, he would be able to fight in February to match up with Canelo.
Still, it's uncertain how much the Texan born Middleweight champ would want to move up and more importantly, would Canelo really want that bout, too?
These seem to be the most logical and likely opponents for Alvarez to battle in his next fight. Then again, this is boxing. An Canelo has reached the stage of his pro career where he'll tell everyone whom he's fighting next.