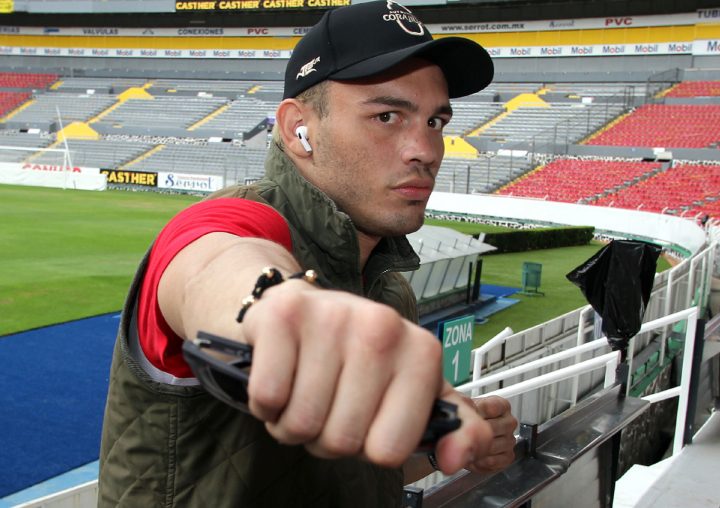 News
The Boxing End of Julio Cesar Chavez Jr?
The Boxing End of Julio Cesar Chavez Jr?
Apologize in advance for that clickbait title. Many who follow boxing are probably snickering at the notion that former middleweight champion Julio Csear Chavez Jr. in-ring career stopped a long time ago. Those skeptics will learn that a simple stroll over at Boxrec will prove them wrong, but only in the physical scene of actually fighting in the ring.
Check out the latest Big Fight Weekend Podcast where we speak on this fight and with Peter Blake of "The Sports Web" as a longtime friend went viral covering this past weekend's Jake Paul and Tyron Wooley contest.
Chavez Jr. lost to former MMA ruler Anderson Silva earlier this year but felt he could be the savior for those who are detractors of Jake Paul.
"I can only talk about myself, not about other people. I am not here to criticize anyone. I talk by analyzing boxing. I hope I can get a few million [for a fight with] with Jake Paul. If he beats me, I'll retire, I don't get paid. I don't want money if I don't beat him. Retirement [if I lose], [and I'm] not interested in his money if I do not win," Chavez Jr. told TV Boxeo this week.
That Chavez "fighting for free" has been a tagline for to face Paul in a while but hinting at it being an end in the ring after a roller-coaster career in the footsteps of his father Julio Ceasr Chavez Jr. is the only talking point anyone may be taking from this. That is, of course, if that fight happens.
After his knockout of Tyron Wooley this past Saturday night in Tampa, Paul hinted at calling out everyone in the UFC and again taking a shot at Dana White and the UFC. Chavez Jr. is far, and I mean planetary in terms of what he once was in the ring, but Paul was looking to fight Tommy Fury before he withdrew. Chavez would be along with the same name variety.
"People want me to beat him, [Jake Paul] is strong and he knows how to organize the fights well at his weight, It's a matter of reaching an agreement. [Paul and his brother] generate a lot of expectations and money for the morbid. A match with me would be good. These [brothers] haven't learned how to fight well and I can take advantage of that. Jake Paul can punch, but he's not a boxer," Chavez said.