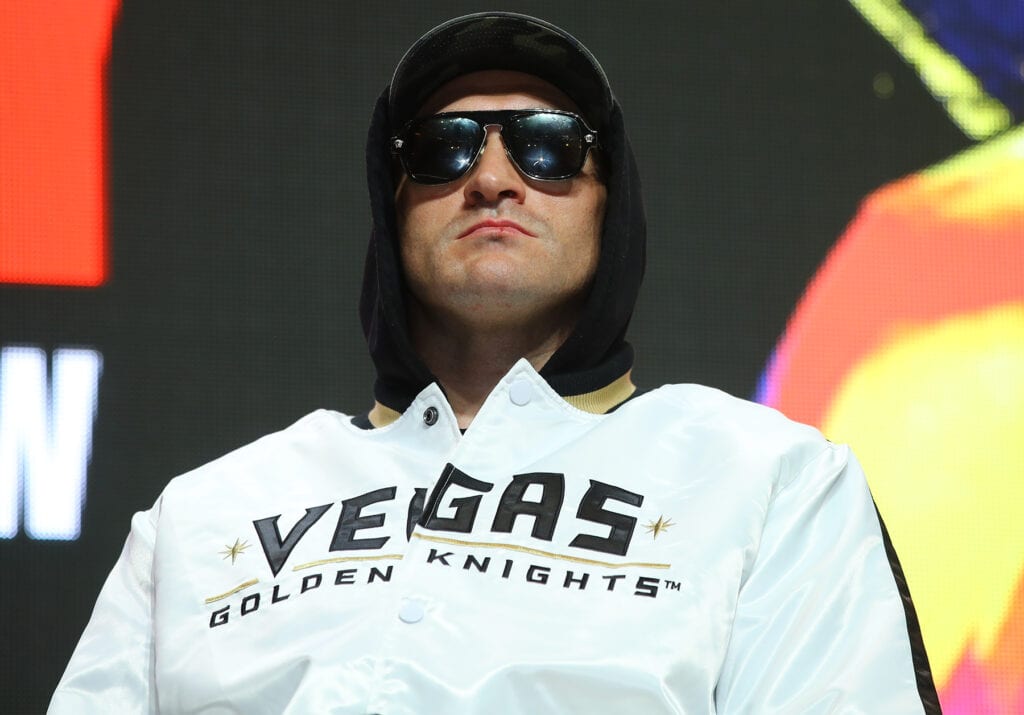 News
Saturday Should Have Been Wilder-Fury III
Saturday Should Have Been Wilder-Fury III
It was supposed to be a crowning return to big time championship fights. This as WBC Heavyweight champ Tyson Fury was to have defended his title for the first time Saturday night in Las Vegas against the man he dethroned in February 2020, Deontay Wilder.
However, as you know by now, the fight is not happening (again). This time for what Fury and his people  still claim was a Covid 19 outbreak in his training camp just two weeks before the long delayed, mega- third fight with the Alabama "Bronze Bomber."
Now, this has been met with some skepticism, including here on this site/podcast. This is specifically because Fury was seen just days after his supposed positive diagnosis in public, around people in Vegas casinos and without a mask. As a P.R. defense to being out while supposedly needing to quarantine, it was floated that Fury reportedly tested negative for Covid 19 just days after being allegedly being positive for it.
Hear Sr. Writer Marquis Johns and me discuss all with the Fury-Wilder delays on our latest "Big Fight Weekend Podcast" by clicking below:
This only added to the frustration of everyone involved with putting the fight on at the T-Mobile Arena, Fox/ESPN televising it via PPV, those media covering it or those just having a rooting/viewing interest. Particularly, if Fury wasn't really symptomatic and could have resumed training with the fight perhaps being only delayed to July 31st or August 7th.
That's, because Fox and ESPN don't have an important championship fight coming on either of those weekends prior to the American football season cranking up later in August. Alas, the re-schedule date has now been set for October 9th.
For his part, Fury gave his first extended public comments about the newest Wilder fight delay to the London Daily Mail newspaper on Friday, telling them in part,
"I'm the last person to blame," Fury said to the paper. "I don't have a large entourage, unlike most world champions with all their ass-licking hangers on. Since coming back into full-time camp I hadn't been anywhere other than my new house here and the Top Rank gym. Nor had my team.
"The only people whose movements I couldn't completely control were my sparring partners, who change. They came in and out of the bubble and everyone knows this town is full of Covid. I suspect we caught it from one of them.
"I took the advice from the best doctors in America. Everything we did was above board. In fact, I went beyond their advice. I stayed isolated for two or three more days than their maximum recommendation." 
First, Fury not only is "the first to blame"…he's the only person to blame.
This after it was learned that he was not vaccinated for Covid 19 and wasn't requiring it of those around him or at the minimum, not demanding daily negative Coronavirus tests for those around him.
Further, none of what he said above is really verifiable and certainly the last sentence about how long hie quarantined is in question. This due to when he may have tested positive and if he wasn't symptomatic and was testing negative, then why the fight couldn't go ahead as planned or with a brief week or two delay?
Alas, we won't get fight three Saturday night.
Instead, we are left to wonder, with growing evidence, that this may be the sequel to Fury having "flaked out" after upsetting Undisputed Champ Vladimir Klitschko in November 2015. That led to him psychologically spiraling out of control with massive weight gain, stopping training and by his own admission abusing drugs and alcohol for over two years without ever defending the title.
Fury's titles were gradually stripped with him being left in disgrace to start over.
Yes, Fury is to be credited for coming back and eventually upsetting Wilder for another huge achievement in the ring.
But, it's problems outside of it that have robbed us of the Heavyweight Title bout that should have captivated fight fans in the U.S., the U.K. and really, worldwide on Saturday night.
And, further, to wonder, if we'll ever get the third bout with Wilder at all?