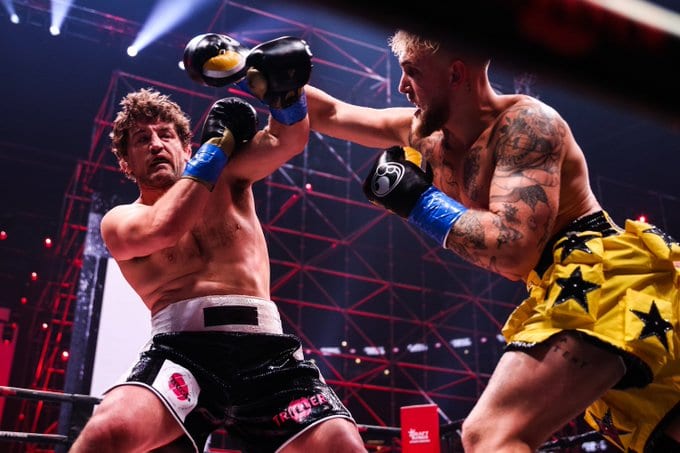 News
Report- Jake Paul Will Box Former UFC Champ Woodley
Report- Jake Paul Will Box Former UFC Champ Woodley
It's no coincidence that with Logan Paul fighting Floyd Mayweather on Showtime in an exhibition Sunday night north of Miami, that Paul's fellow Youtuber, younger brother will announce later this week his next bout to also be on the network.
A report on Memorial Day afternoon from Mike Coppinger of The Athletic says that Paul will fight another former MMA fighter (a champion this time) in Tyron Woodley in a boxing match,
Sources: Jake Paul and former UFC welterweight champion Tyron Woodley have agreed to a deal for a boxing match. Jake recently signed a multi-fight deal with Showtime. Friday face-off in Miami planned to promote the event. Paul coming off first-round KO of Ben Askren

— Mike Coppinger (@MikeCoppinger) May 31, 2021
Paul got a multi-fight offer from Showtime fresh off his first round KO of former amateur wresting star/MMA fighter Ben Askren in April, That bout was on the Triller app, and there is still debate about how big of a PPV audience that the Paul-Askren card in Atlanta actually had? Paul and Triller boasted that it was over 1.3 million buys, which would have been a rousing success. However, that number of audience hasn't been independently verified.
The 24 year old Paul also previously scored a KO of former NBA basketball player Nate Robinson on the undercard of the Mike Tyson-Roy Jones, Jr. exhibition through that Triller "Fight Club" last November.
The older brother, Logan Paul, will step into the ring at Hard Rock Stadium just north of Miami on Sunday night fighting with one of the top fighters of the last 40 years in Mayweather. Logan Paul has only one previous professional fight which was decision loss to British fellow Youtube personality, KSI.
There was mayhem a few weeks ago at the press announcement for the June 6th bout, when Jake Paul came over to Mayweather, who was being interviewed in a group setting, in one of the tunnels of the stadium. That's when, in perfect WWE wrestling form, he upstaged Mayweather, took his hat off his head and began to wrestle with security all over the tunnel area while Mayweather shouted threats and obscenities trying to get at him.
It should be noted that Showtime had multiple cameras rolling in the tunnel and has publicized the incident themselves, to go along with the millions and millions of views it got online and through social media for Paul, Mayweather, the reporters and their outlets, etc.
Clearly, all involved want to capitalize on the notoriety and the potential to make much more money down the road on these type of "exhibition" fights.
As for Woodley, he's 39 years old and the former UFC Welterweight Champ. He won the title by KO in the first round over Robbie Lawler in July of 2016. He defended it four times before losing to Kamaru Usman by unanimous decision in March 2019.
Woodley's previous background is as an amateur wrestler, including at the University of Missouri. He doesn't have any significant boxing experience.
It's believed that the Jake Paul bout will be part of a Showtime card to be confirmed in either late July or early August, but that is yet to be confirmed.