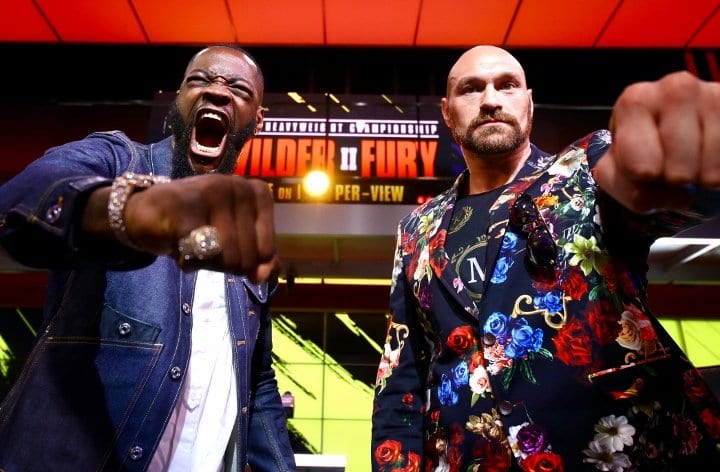 News
Nowhere To Run From Wilder-Fury III
Nowhere To Run From Wilder-Fury III
Where going back down a familiar road, and it seems that there nowhere to turn to or nowhere to hide from the promotional blitz again for the third fight between Deontay Wilder and Tyson Fury.
Let's start with the basics as the Voluntary Anti-Doping Association (VADA) tweeted Monday that both have gotten back into the drug-testing program as they both prepare for the fight by all accounts and numerous reports to take place on July 24 in Las Vegas. Both have been seen training online at this point for several weeks now to pick up where the last contest took off, with Fury winning by 7th round stoppage in February 2020.
Secondly, the promotional bus is slowly coming upon us to pick all of us up.
Tyson Fury was on Fox hanging out at the Coca-Cola 600 Sunday singing "American Pie" by Don McLean and saying he's "going to smash him again."
Wilder spoke with 78SportsTv and stated where the headline of this story came from.
"There's nowhere to run, nowhere to hide. You've got to go through me. I'm the hardest puncher in heavyweight history, and I'm going to continue to do that," Wilder said to 78SportsTV. "I'm ready to get this title back."
Will the interest in the third fight as big as the second one? It depends on who you ask, but generally, everyone should be as it is two top heavyweights in the ring. The "depends" part is because for pretty much the whole pandemic, the notion of Tyson Fury taking on Anthony Joshua seemed hopeful. Those liking that fight considered this 3rd bout pointless until the arbitration hearing made the bout contractually enforced.
"Now that we have an ETA and location of where we're about to go, it makes training much more intensified. Now it means something. It's for certain now," Wilder noted.
Like it or not, here it comes and I'm all in for this.