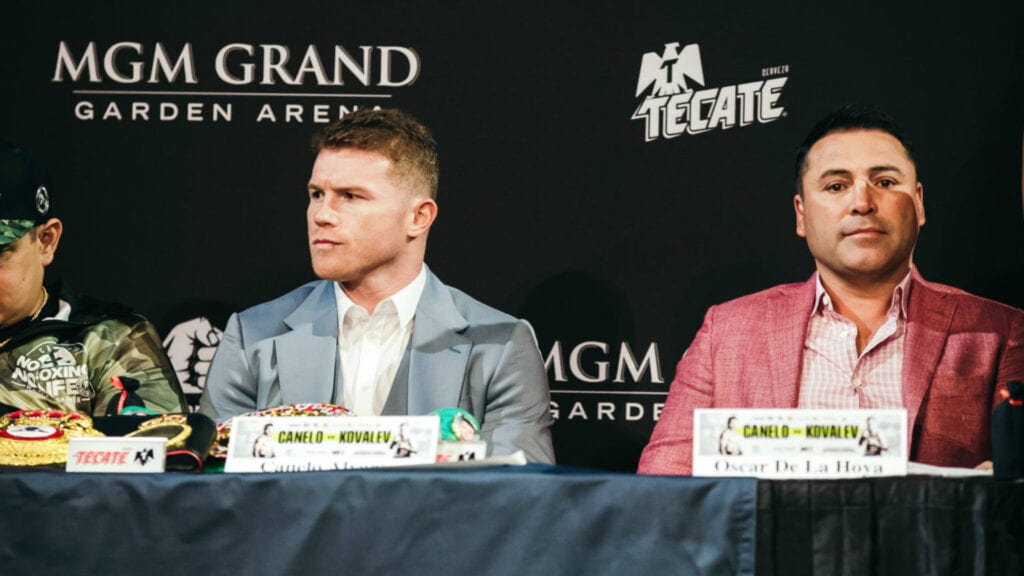 News
Oscar De La Hoya wants arbitration instead of Canelo lawsuit
Oscar De La Hoya wants arbitration instead of Canelo lawsuit
Coming off a slow "in ring" weekend in boxing, the biggest news continues to be: what's next for four division World Champ, Canelo Alvarez, suing his promoter, Oscar De La Hoya, and the DAZN streaming service to break his contract? Well, the Hall of fame fighter/promoter has made it clear that they want it worked out…but without the civil court being involved.
De La Hoya spoke out for the first time Saturday on Canelo's 24 page Federal lawsuit filed last week in Southern California District Court, which essentially alleges that De La Hoya, Golden Boy Promotions and DAZN have breached his deal. This, by trying to dictate whom he can or can't fight and are keeping him out of the ring/being paid handsomely, while it drags on.
De La Hoya posted on Twitter about the California judge dismissing the claim already on procedural filing errors made by Canelo/his lawyers, but still giving them a time frame to re-file:
While yesterday's order does not end the case, we are hopeful that this error will allow us to reset, and refocus on what's important – working together to get Canelo back in the ring against a top opponent ASAP.

— Oscar De La Hoya (@OscarDeLaHoya) September 12, 2020
As our Marquis Johns wrote Saturday, it's likely Canelo's side will go right back to the court system: 
What happens from here is that Canelo and his legal team were granted a two week extension to amend the 24-page Complaint seeking a minimum settlement of $280 million. From the judge's order Friday evening:
"Accordingly, the Court dismisses Plaintiffs' Complaint for lack of subject matter jurisdiction," judge Anderson stated in the dismissal. "A district court may, and should, grant leave to amend when it appears that subject matter jurisdiction may exist, even though the Complaint inadequately alleges jurisdiction. See 28 U.S.C. § 1653; Trentacosta v. Frontier Pacific Aircraft Industries, Inc., 813 F.2d 1553, 1555 (9th Cir. 1987).
"Therefore, the Court grants Plaintiffs leave to amend the Complaint to establish federal subject matter jurisdiction.
Alvarez has until September 28 to file a First Amended Complaint of this lawsuit. Failure to do so or adequately allege the District Court's jurisdiction will potentially result in an outright dismissal.
Now, De La Hoya made it clear what he wants to happen next with legal process and Alvarez's contract with Golden Boy,
If not, we expect Canelo's lawyers will now enter arbitration as is laid out in our contract.

— Oscar De La Hoya (@OscarDeLaHoya) September 12, 2020
It is standard in most high profile contracts for individuals and their employers that some form of arbitration (to avoid the courts) is in the deal. That's what De La Hoya is referring to with Canelo's deal. It's unclear on the terms, but likely there is a procedure laid out for selecting arbitrators, probably numbering three.
And, the legal arguments and disagreements are heard much quicker by them, especially than the "molasses slow" California civil court system for example.
The arbitrators would then take some time and vote, not unlike boxing judges on the arguments and rule officially what to do next?
It's likely that Canelo's council decided it was be more powerful, especially with the fans and the media, to "Go Big" with a $280 million civil suit.
So, that's where we are with the saga, and the next move is Alvarez's for either re-file in civil court or go the arbitrator route.
And, we will know the intentions soon.