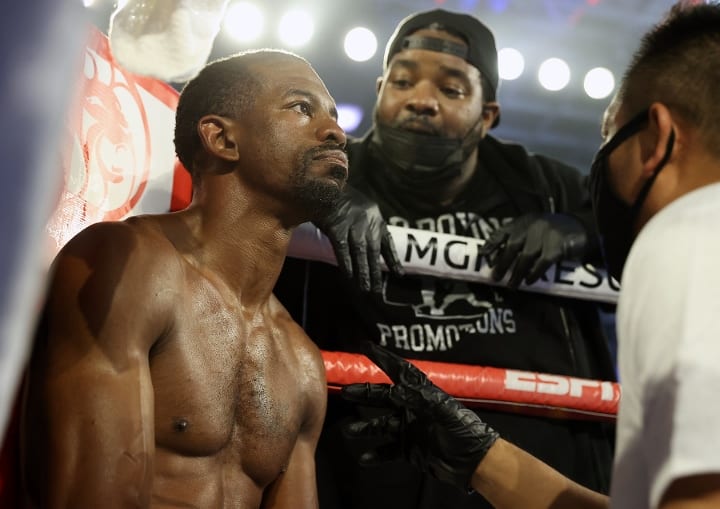 News
Nakathila promoter- 'Herring took the easy way out'
Nakathila promoter- 'Herring took the easy way out'
To everyone who was watching Jamel Herring last week against Johnathan Oquendo, you knew it wasn't his best effort en route to an ugly disqualification win. One person with an invested interest in this was Nestor Tobias, the longtime promoter of Jeremiah Nakathila (19-1, 15 KOs).
Tobias speaking with Boxingscene, shared his take with ESPN analysts Tim Bradley and Andre Ward, that Herring was looking for "a way out" of the fight against Oquendo.
"By his own admission, not a very convincing performance from Herring, rusty to say the least," said Tobias, who has been vocal to secure a WBO world title fight to his fighter in an interview with BoxingScene.com.
"Herring was really frustrated, and Oquendo took the fight to him. Jamel gave up too easy, and he didn't want to continue. Real champions fight through bloody situations, and we saw that time and time again, and one did not get the sense that Herring had the courage to do that during this fight. In our view, Herring took the easy way out knowing he was leading on points but losing momentum," declared the Namibian promoter, before adding.
"With a performance like that, Nakathila would make roast meat out of the champion."
Team Nakathila Even More Confident After Recent Jamel Herring Win https://t.co/THcgP5yBto pic.twitter.com/bYTv3BNiLv

— BoxingScene.com (@boxingscene) September 13, 2020
The take of Herring "quit" or was "looking for an out" was reiterated again by Bradley during the call of last night's ESPN broadcast of Top Rank Boxing that saw Egidijus "Mean Machine" Kavaliauskas defeat Mikael Zewski by stoppage. Still disagree with that here, but Tobias is looking to get Nakathila a title shot and may have the chance too sooner than later.
Herring is slated to take on Carl Frampton next time out, but what makes Jeremiah Nakathila a name of interest is that he more than likely the next mandatory challenger for the WBO belt that Herring is holding. The current rankings as of this writing show in order Shakur Stevenson, Oscar Valdez, and Nakathila at number three.
Stevenson had made it known that we would not take on Herring for the title, and Valdez is slated to take on Miguel Berchelt. That leaves Nakathila in a position to challenge as he has been waiting patiently for a chance at the title.
We'll see how that moves up and shakes out as the WBO ordered Herring to face his mandatory by January 2021. Frampton will delay that, but Nakathila is in a spot to be in the mix for 2021 more than likely.