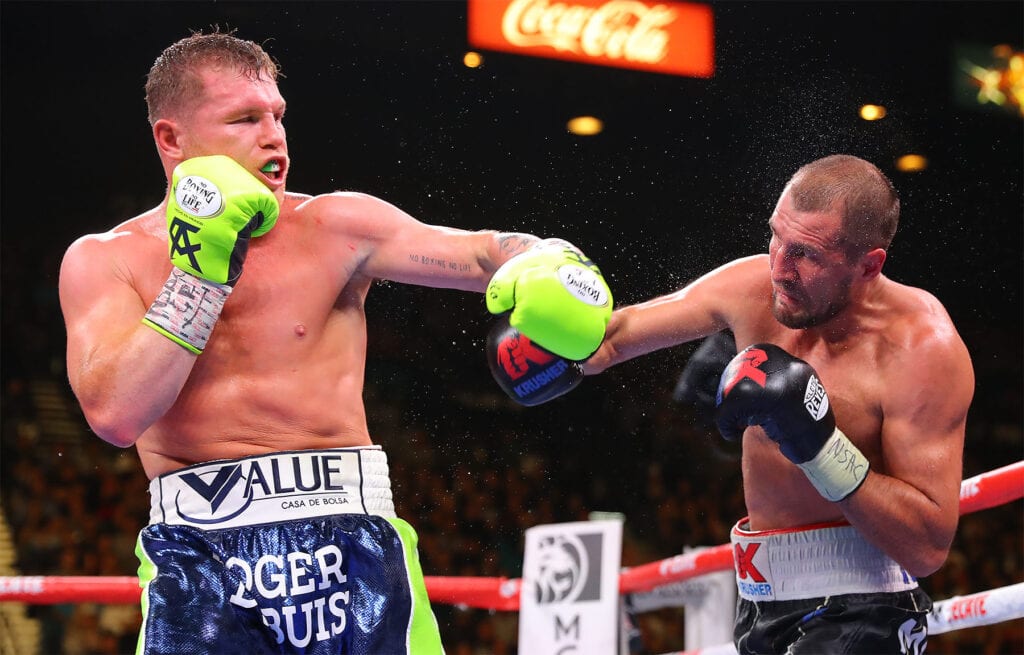 News
Canelo lawsuit dismissed on Friday- Has Deadline To Amend
Canelo lawsuit dismissed on Friday- Has Deadline To Amend
Late Tuesday night, word broke out in that Canelo Alvarez filed a lawsuit against his promoter Golden Boy Promotions, their C.E.O. Oscar De La Hoya and the streaming service DAZN.
On Friday, Jake Donovon of Boxingscene reported that the 24-page lawsuit filed by Alvarez and his legal team, The Maloney Firm, was dismissed.
"Because the Complaint alleges the citizenship of the L.L.C. defendants as if they were corporations, rather than as limited liability companies, the Complaint has not properly alleged the citizenship of those parties," noted the honorable Percy Anderson, district judge for the U.S. District Court in the official ruling, a copy of which has been obtained by BoxingScene.com late Friday overnight. "Absent unusual circumstances, a party seeking to invoke diversity jurisdiction should be able to allege affirmatively the actual citizenship of the relevant parties.
"As a result, Plaintiffs' allegations are not sufficient to invoke this Court's diversity jurisdiction."
What that means in laymen's terms is that the complaint listing Golden Boy, Oscar De La Hoya, and the streaming service DAZN is wrong and will have to be refiled, as the correct parties categorized.
Speaking with sports attorney Dan Lust on the latest episode of "The Big Fight Weekend Podcast", this was something that was a possibility of being tossed out early on.
(Oscar) De La Hoya, as the C.E.O. of Golden Boy, is going to be protected by the corporate form, "Lust told us on the Big Fight Weekend Podcast. "So the company is going to protect, the insurance is going to protect him. The only time you can pierce this corporate veil to get to someone individually is some type of allegation of fraud or some intermingling of company funds."
If you have been following anything  DAZN for the past few months on our site here, we've written extensively about how they have been letting people go left and right, most recently their public Relations main man Greg Domino and others in cutbacks.
What happens from here is that Canelo and his legal team were granted an extension to amend the 24-page Complaint seeking a minimum settlement of $280 million.
"Accordingly, the Court dismisses Plaintiffs' Complaint for lack of subject matter jurisdiction," judge Anderson stated in the dismissal. "A district court may, and should, grant leave to amend when it appears that subject matter jurisdiction may exist, even though the Complaint inadequately alleges jurisdiction. See 28 U.S.C. § 1653; Trentacosta v. Frontier Pacific Aircraft Industries, Inc., 813 F.2d 1553, 1555 (9th Cir. 1987).
"Therefore, the Court grants Plaintiffs leave to amend the Complaint to establish federal subject matter jurisdiction.
Alvarez has until September 28 to file a First Amended Complaint of this lawsuit. Failure to do so or adequately allege the District Court's jurisdiction will potentially result in an outright dismissal. Safe to assume that this will be done by the deadline unless, to the rare and even less likely occurrence, they settle on terms and an opponent.
Don't expect  the parties to agree on that challenger to be Anvi Yildrim. His opportunity to take on Alvarez  goes up for a purse bid by the World Boxing Council (WBC) on the 21st to challenge Alvarez, for the vacant WBC belt at 168 pounds.