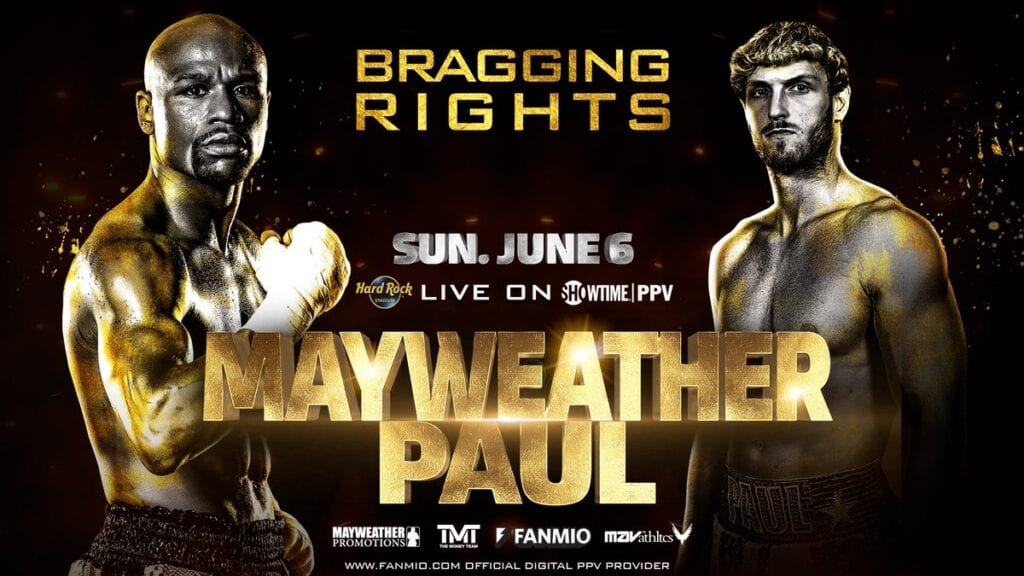 News
No Judges For Floyd Mayweather-Logan Paul Exhibition Sunday
No Judges For Floyd Mayweather-Logan Paul Exhibition Sunday
The ongoing discussion about what we will actually see in Sunday night's bout between Floyd Mayweather and Logan Paul has continued. And, on Wednesday we got a lot more clarity on the "what we won't see" for the scheduled eight round exhibition headlining a Showtime pay per view at Hard Rock Stadium.
ESPN combat sports reporter Marc Raimondi, reported on details he's learned about the bout, including it not being officially sanctioned by the Florida State Boxing Commission,
The rules for #MayweatherPaul are set ?

(via @marc_raimondi) pic.twitter.com/Q324quup1z

— ESPN Ringside (@ESPNRingside) June 2, 2021
Raimondi quoted a spokesperson from the Florida Department of Business and Regulation, which oversees the boxing commission, as saying the bout is not sanctioned by the state of Florida as an actual boxing match. This is specifically due to the massive weight disparity at the lower level of at least 30+ lb. between Paul and Mayweather.
As an example: Heavyweights can have that kind of weight disparity due to it being in the same weight class, but it's considered too wide for safety like in Sunday night's fight.
Still, the Mayweather-Paul bout will be eight, three minute rounds and the FDBR confirmed that the referee for the fight will have discretion to stop the fight or count out an opponent who doesn't make it back up, for a KO.
Mayweather, who retired with a 50-0 record, is a former five division World Champ with previous career wins over the likes of Arturo Gatti, Oscar De La Hoya, Miguel Cotto, Canelo Alvarez and Manny Pacquiao. Mayweather was voted "Fighter of the Decade" for the 2010's by the Boxing Writers Association of America late last year.
Mayweather is looking to cash-in, as he always has, including his last actual fight in the ring having been against MMA Megastar Conor McGregor whom he defeated in a full-on boxing match in August of 2017.
As for Paul, he has been in the boxing ring before fighting as part of Matchroom Boxing card in Los Angeles in November of 2019. That's when he fought in a six-three minute rounds in a sanctioned Crusierweight fight against British YouTube personality KSI. KSI won the split decision with actual California judges scoring the bout.
Back to Sunday, there will be an expected crowd of at least 10,000 fans at the Dolphins', Hard Rock Stadium just north of Miami.
According to Ticketmaster, seats on the field around the ring will vary from $1,000 to $1,500 with several thousand of those available. Sitting around the first level at the home of the Miami Dolphins will cost you between $300-500 a piece, depending on your vantage point. And, the cheapest prices will be to sit in the top (300) level of 65,000+ facility for the price of $150-200.
As of Wednesday afternoon there were thousands of tickets still for sale in the different areas of the stadium. So, it's still unanswered guess if there will be a large in person attendance for the now confirmed "exhibition" or not?
The suggested PPV price is $49.95 and it remains to be seen how successful the bout will be from fans paying to to see it remotely.