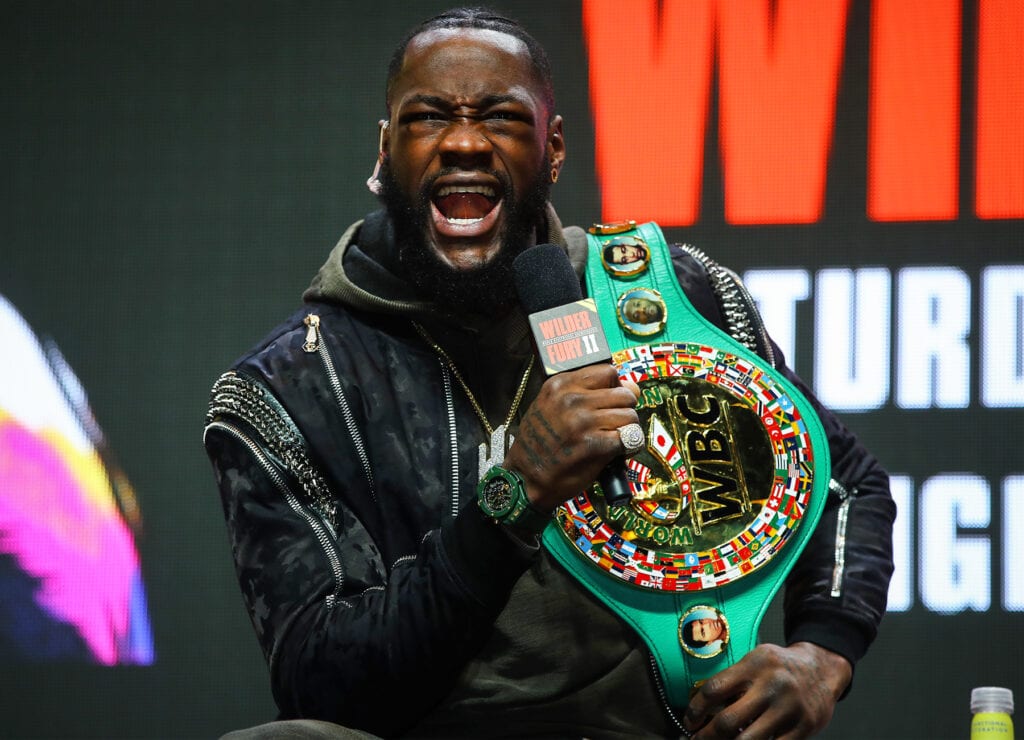 News
Deontay Wilder On Current Health "17 Months Of Recovery Healing"
Deontay Wilder On Current Health "17 Months Of Recovery Healing"
Former WBC Heavyweight Champ Deontay Wilder is back in training for his upcoming third bout with new champ Tyson Fury. And the old champ gave an extended interview Wednesday afternoon proclaiming that he's not just ready mentally to get his title back, but physically, he feels rested and healed, too.
Wilder spoke for over a half hour with Premier Boxing Champions broadcaster Ray Flores on Instagram Live and Youtube addressing several subjects, including healing up after his first pro loss last February.
"I've always fought off of injuries. You know, I've never been 100%. Now, I advise all fighters after every fight to go get an MRI," Wilder told Flores.  "Go get your body checked….because, you can sometimes have something that the MRI doesn't see. It can be flared up on the inside, where the MRI cannot read. You may have other tears and things up in your arms. And, that was the case of me.
Although we had the major thing that was going on (pointing to his right shoulder), because it was so inflamed on the inside going on, they couldn't see the other problems. I had two tears in my shoulder at one point in time. My shoulder was dislocated at one point in time, but popped back in.
I have a high tolerance for pain. So, I never felt them things. Over these 17 moths or whatever it's been, it's been recovery, healing. Refocusing of the mind. Deep meditation. Enjoying the loved ones. Like I said, I have a close circle and I don't have nothin' but positivity around me."
Wilder went on to allude to Flores that he would've fought Fury for the third time in July, but with the Covid 19 pandemic ongoing and no assurance of where the fight could be held and with fans, etc., they all agreed to wait. And, then, he apparently had the shoulder repaired waiting for the fight to be made later in 2020.
During the conversation, Wilder continued to repeat the accusations that he previously made that Fury did illegal tampering with his gloves in their second fight, even demonstrating with his hands for Flores how your hand shouldn't be able to bend within a glove, etc.
He also repeated that he didn't feel right from the time that he took the over 40 lb. costume that he wore into the ring that night into the MGM Grand Garden Arena. Wilder has also repeatedly accused former trainer Mark Breland of having tampered with his water on the night of and during the fight.
For his part, the former Olympic Gold Medalist and World Welterweight champ Breland, who was fired by Wilder last Fall, has continually maintained that he never gave Wilder water, including during the in-between rounds of the fight.
Wilder is now working with former fighter Malik Scott, as his trainer. Scott, whom Wilder kayoed in one round seven years ago, has also been a sparring partner of Wilder's in the past, as well.
As we have written repeatedly, recently Wilder won in arbitrator, when former Federal Judge Daniel Weinstein of California ruled in the former champ's favor in his legal challenge to enforce the rematch clause for a potential third bout. Once Wilder got that win out of the ring, Top Rank Boxing, promoter Bob Arum and Fury  basically conceded that would be his next bout. And, Fury quickly  moved off the long proposed/speculated Undisputed Title bout with England's Anthony Joshua that had been discussed for August.
Now, the Wilder and Fury will meet on July 24th on a joint ESPN/Fox PPV from Las Vegas and likely at Allegiant Stadium. Although, the venue has yet to be confirmed.