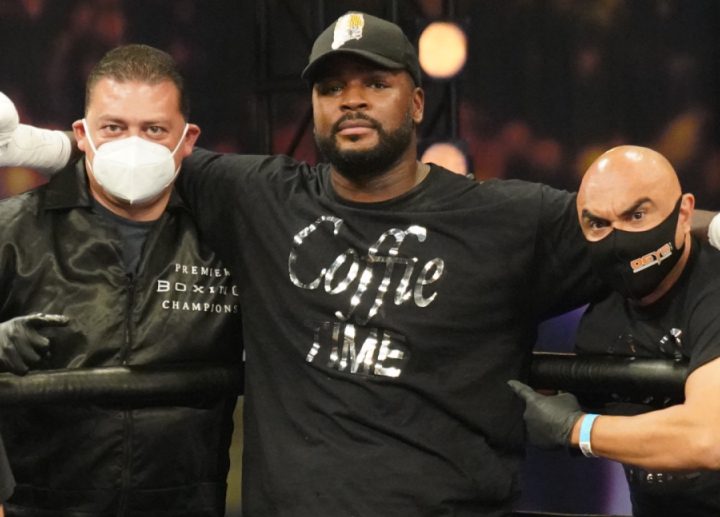 News
Michael Coffie Looking To Shine Against Rice
Michael Coffie Looking To Shine Against Rice
Undefeated heavyweight prospect Michael Coffie is in action this Saturday as he is in the main event against late replacement Jonnie Rice that will air on Fox Sports from the Prudential Center in Newark, New Jersey. The change was to Rice as original opponent Gerald Washington had to withdraw due to COVID.
Check out the latest Big Fight Weekend Podcast where we speak once again to Gayle Lynn Faulkenthal and also break down Coffie and the Saturday night card as well, by clicking below,
Speaking with the media yesterday at the final press conference before Saturday's action, Coffie spoke on the difference between Rice and Washington
"When I look at Jonnie Rice, I think he might be more durable than Gerald Washington. To me, that just makes this a better fight", Coffie said at the final presser Thursday."He's big and tall, but so am I. He's got some good experience with some known prospects and he's gone the distance. I think it makes for a better fight for the fans. That's what I want to give them."
"There's some level of difficulty with a late opponent change. I can't know for sure if he's a tougher opponent until I'm in the ring with him. That's just life though. You have to be prepared for things to go unexpectedly. I'll be prepared for anything Saturday.
#CoffieRice is TWO days away! 📆 Don't miss the action as heavyweights #CoffieRice meet in a headlining battle and #MartinMielnicki face-off in an 8RD rematch for our co-main event! Tune In THIS Saturday, live on @FOXTV at 8PM ET/5PM PT!#PBConFOX pic.twitter.com/vUo3TxueTI

— Premier Boxing Champions (@premierboxing) July 30, 2021
While Coffie feels the fight may be a better on, the folks at MyBookie feel otherwise as they have Rice the 9 to 1 underdeog to upset Coffie. Rice was last seen going the distance against Efe Ajagba in an uneventful unanimous decision loss last September in Tulsa. Rice speaking at the final press conference is looking to seize the last minute call-up.
"The pressure is really on me right now. Gerald was a big name and everyone wanted to see how Coffie did against him. My pride and ego is on the line, but I'm only focused on what I have to gain. Coffie has to prove himself against me now," Rice said.
"I took a shot from Efe Ajagba that I didn't see and that would put most people down, but I stayed up. That really gave me a lot of confidence. I'm more focused on my offense because I know I can take that big punch. I'm coming forward with a lot of offense."
This fight has the makings of the unknown. We'll see if that translates in the ring or an early night for Coffie like many (me included) are predicting.