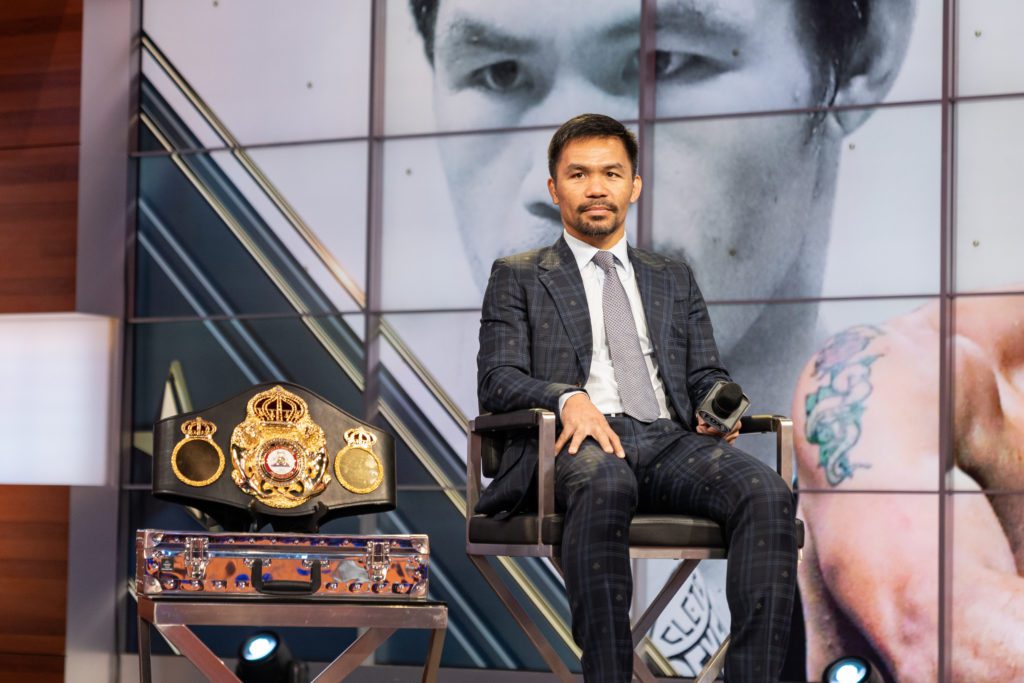 News
Manny Pacquiao Wednesday- "Ready To Prove I'm Not Done Yet"
Manny Pacquiao Wednesday- "Ready To Prove I'm Not Done Yet"
On Wednesday afternoon eight-division world champion and future Hall-of-Famer, Manny Pacquiao, held an open to the media workout in Los Angeles as he prepares to challenge Unified Welterweight Champion, Errol Spence, on August 21st.
And, as you would expect the Filipino Legend was being humble, but confident that he will score yet another massive win for his resume'.
Premier Boxing Champions broadcasted live online from the Wild Card Gym in Los Angeles that's run by Pacquiao's trainer, Freddie Roach,
"I picked Errol Spence because I want to fight one of the best and to add in my legacy," Pacquiao told PBC host Ray Flores.
"I could have easily picked the 'easy' opponent, easy to win, but I'd rather pick one of the best. So, that I can prove at the age of 42 that Manny Pacquiao is not done yet. I am expecting a good fight. Errol Spence is an aggressive fighter. I know that we can create more action in the ring. I can imagine, now."
As fight time gets closer, Pacquiao has been training in camp in Southern California at Roach's legendary gym, as he's done for years.
The real question is not just handling the talents and youth of Spence, but also battling against ring rust, as well.
Pacquiao has been out of the ring for two full years ,since his dramatic 12-round upset of formally unbeaten WBA World Champion, Keith Thurman, in Las Vegas in July of 2019.
That delay has been partially do to the Covid-19 shutdown of the sport and subsequent delays afterwards, as to when fans could attend fights at 2020 wore on? Another wrinkle is the behind the scenes pickering between Pacquiao and Paradigm Sports.
And as we have written, Paradigm is suing the legend Pacquiao to recoup money they advanced him and trying to stop the Spence fight from happening altogether. Pacquiao also counter sued them last week.
At issue is the Paradigm claim that they had a fight worked out with former Jr. Lightweight World Champ, Mikey Garcia for Dubai this past May, but Pacquiao delayed and then eventually, decided to go towards the challenge of Spence. It was long theorized that Pacquiao and Spence were being aligned to fight each other, as both are under the PBC umbrella and that became a reality back in May when they agreed to meet in arguably the biggest fight of 2021.
Pacquiao was the WBA's "Champion in recess" at 147 lb. before they decided to not re-install him as their top champ at Welterweight. The Filipino star is 62-7-2 and he defeated Adrian Broner on PPV by decision in the first fight of his Premier Boxing Champions deal in January of 2019.
The Thurman win put him in position to fight the winner of Spence's bout with former WBC champ Shawn Porter that came two months later.
As for the Texan Spence, he's 27-0 and was last in action in December on a PBC/Fox Sports PPV, when he decisioned Danny Garcia at AT&T Stadium to retain his two titles. It was his return to the ring after a horrific, rollover one car crash in October of 2019, where he was ejected from his vehicle, but escaped serious injury or death. That came just two weeks after his 12 round decision win over Porter.
Flores did ask the question that everyone wants to know (and will keep asking) and that's will Pacquiao, especially if he wins, will he be done after August 21st? Pacquiao replied,
"That's a very good question. It could be. It could be. Then again, there could be more. Like I've said, over and over, one at a time. After that fight, let's talk about the plan."
For now, "the plan" is to get into shape and try to summon what Pacquiao did 24 months ago against Thurman.