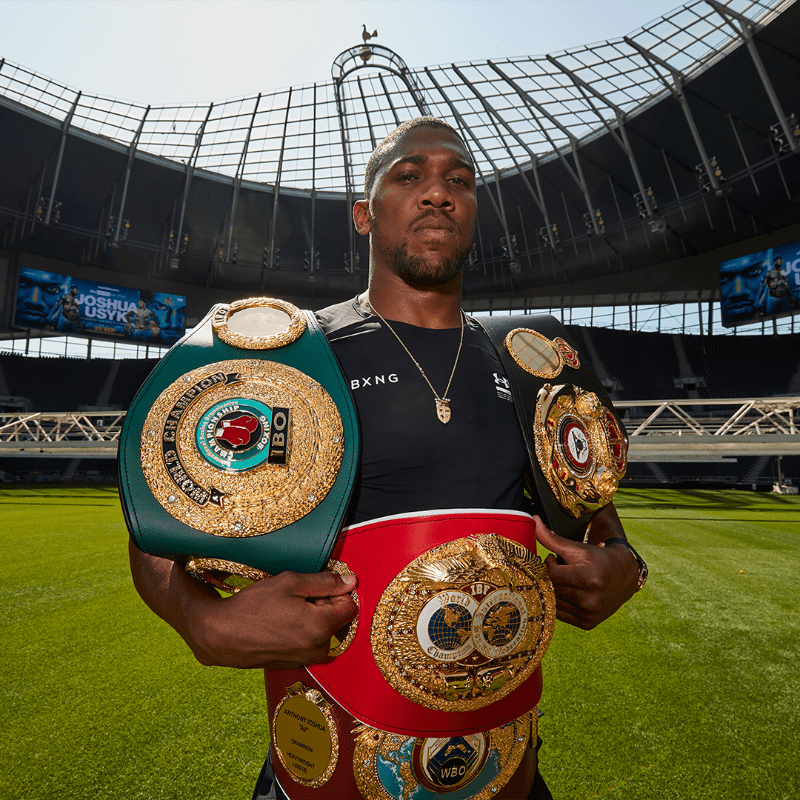 News
Matchroom Announced Joshua-Usyk Already Sold Out
Matchroom Announced Joshua-Usyk Already Sold Out
After a shaky start online Monday during a special "pre-sale" with high demand, it didn't take long for the September Unified Heavyweight Anthony Joshua title defense at Tottenham Hotspur Stadium with Oleksandr Usyk to completely sell out.
Matchroom Boxing announced Wednesday afternoon that just after 24 hours after tickets were made available to the general public that they had sold them all,
🎟️ #JoshuaUsyk sells out within 24 hours 🔥@SpursOfficial 👊

Read more ⬇️

— Matchroom Boxing (@MatchroomBoxing) August 4, 2021
AJ' has sold-out stadiums and arenas around the world and now the Heavyweight division's biggest attraction returns to the Capital for his fifth stadium fight at the sensational, state of the art home of Tottenham Hotspur F.C.
Over 100,000 fans waited in the StubHub ticket queue for their chance to land seats for the biggest Heavyweight clash of the year starring two London 2012 Olympic gold medallists going head-to-head in their quests for Undisputed supremacy. 
Matchroom didn't confirm what the capacity will be for the September 25th showdown, but it's believed to be in excess of 60,000 that can attend.
As we wrote Monday, tickets were made available for Tottenham Hotspur Stadium through Matchroom's "fight pass" to previous customers and those that are signed up through their service. And, numerous people took to social media to complain about how difficult it was to simply get through on their account and purchase Joshua-Usyk tickets.
There were also repeated complaints that the tickets were immediately being placed on the secondary market at 3-4 times their value or greater just minutes after the "pre-sale" began.
Tottenham Hotspur Stadium is a 65,000 seat state-of-the-art facility North of London that was just redone in the spring of 2019. It not only houses the English Premier League "Spurs" soccer team but also has a multi-year deal with the NFL to play at least two of its games in that Stadium over the course of the next four years.
Joshua, 24-1, was originally going to fight his IBF mandatory Kutbrat Pulev in the stadium last July. However, the Covid 19 pandemic shut down the sport and scuttled all plans with fans, especially in the U.K. Joshua eventually fought and kayoed Pulev in December at the Wembley arena in front of limited fans.
Joshua has repeatedly defended his titles at legendary Wembley Stadium in front of sold out crowds in excess of 80,000. This would be the first massively attended fight in the U.K. since the Covid 19 pandemic began last March.
As for Usyk, he's 18-0 was last in action in the same Wembley Arena with no fans last October decisioning Dereck Chisora. That was the unbeaten Ukranian's second bout at Heavyweight. The former Olympic Gold Medalist (like Joshua) and Undisputed Cruiserweight champ and his team had been waiting for weeks for Hearn to finalize a deal for his challenge to Joshua's titles.
The WBO had threatened Joshua with potentially stripping him of their world title, if he did not fight Usyk, who's been their mandatory for over 18 months, at some point in the near future.
Of course, there's one more aspect to the "Ticket Drama" from the pre-sale Monday. And, that's whether the recent spikes worldwide in the Covid 19 infections due to the "Delta Variant" could restrict how many fans get to potentially attend the bout almost two months from now?
That's an unknown.
What is known, is, for now, Joshua once again demonstrated that he can sell out a huge stadium in England for one of his title defenses.