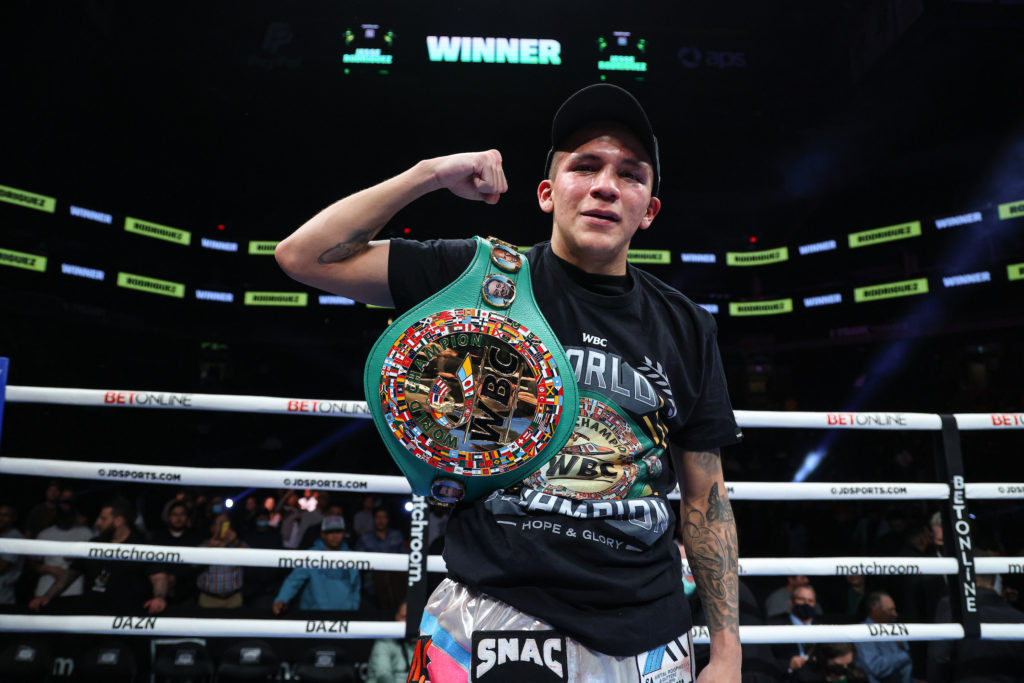 News
Jesse Rodriguez Believes Youth Will Serve Him
Jesse "Bam" Rodriguez was preparing for a 10-round fight at a contract weight of 110 pounds on the undercard of the vacant WBC junior bantamweight title fight between former titleholders Srisaket Sor Rungvisai and Carlos Cuadras.
They were due to meet in a rematch on Feb. 5 in Phoenix but when Sor Rungvisai came down with Covid-19 he was forced to withdraw from the fight. With a gaping hole atop the card, Matchroom Boxing offered Rodriguez the opportunity to move up to the main event — and in weight — and face Cuadras for the vacant 115-pound belt.
Rodriguez and his team did not hesitate and quickly accepted the fight.
"It was a shock, but I was already in camp," Rodriguez told Fight Freaks Unite. "I was already training and getting ready for a fight, so I couldn't let the opportunity pass. It was a world title shot against a well known name in Carlos Cuadras."
The call had come on six days' notice and when they met in the ring it was Rodriguez, a top prospect at the time, who put on a stellar performance. He dropped Cuadras with an uppercut in the third round and won a clear unanimous decision — 117-110, 117-110 and 115-112 — and became the youngest active world titleholder in boxing.
"I didn't even know until I actually won the title and went on social media and that's when I found out," the 22-year-old Rodriguez said. "As far as that fight, it was a crazy experience overall. I was given the opportunity six days before the fight. Everything happened so fast. I'm just blessed I was given the opportunity."
Hear more on Rodriguez-Sor Rungvisai on our "Big Fight Weekend Preview" podcast by clicking play below,
Rodriguez certainly made the most of it and now he is back to make his first title defense against veteran two-time titleholder and fellow southpaw Sor Rungvisai on Saturday (DAZN, 8 p.m. ET) at Tech Port Arena in San Antonio, Rodriguez's hometown.
"I'm so excited. When I got the call about fighting Rungvisai in San Antonio I had no hesitation and it was a yes right away from me and my team," said Rodriguez, who is trained by Robert Garcia. "I'm just ready to go."
When he fought Cuadras for the title, moving up in weight was no issue either. In fact, he embraced it and said he is very comfortable at 115.
"The weight was never a problem because when I got the call I was weighing about 120, so I only had to lose five pounds instead of 10," Rodriguez said. "I spar bigger guys so I am used to being in the ring with guys who are bigger than me."
While Sor Rungvisai (50-5-1, 43 KOs), 35, saw his first title reign end at the hands of Cuadras in an eight-round technical decision in 2014, the Thai national hero regained the title in 2017 by majority decision over Roman "Chocolatito" Gonzalez in a bloody slugfest. It was a controversial decision, but knocked Gonzalez from the pound-for-pound No. 1 position. Sor Rungvisai left no doubt in the immediate rematch when he scored a massive one-punch knockout in the fourth round.
Sor Rungvisai would go on to retain the title by majority decision over Juan Francisco Estrada in 2018 and then lose a unanimous decision and the belt to him in 2019.
As far as Rodriguez (15-0, 10 KOs) is concerned, he views Sor Rungvisai, who is seen by many as a potential Hall of Famer, as a more difficult assignment than Cuadras.
"I feel like Rungvisai is a tougher opponent because of the power he carries, but I also feel like he's been in more wars than Cuadras, so I feel he's not as fresh as Cuadras," Rodriguez said. "So it's a good time to take this fight. I expect him to come in and fight the style that we're used to (seeing him fight in) — come forward with power. We're ready for that. I feel like Rungvisai deserves his shot. I'm the one who took his spot when he got sick so why not bring him to San Antonio and defend my title against him?"
Over the past decade, Sor Rungvisai, Cuadras, Estrada and the legendary Gonzalez have been something of a smaller-weight version of the 1980s "Four Kings" of Sugar Ray Leonard, Thomas Hearns, Marvin Hagler and Roberto Duran. They have all faced each other in a series of 10 mostly memorable fights, most of them being world title bouts.
They are all getting on years and Rodriguez views himself as one of the next generation of smaller weight stars, so what better way to make a name for himself than by fighting them?
"The 'Four Kings' — I already took out one of them, so on (Saturday) I plan on taking out another," said Rodriguez, who in addition to being boxing's youngest current titleholder became the first male boxer born in the 2000s to win a world title.
"That's crazy," Rodriguez said. "That's something that goes down in the history books, so when people look back to see who the first world champion was who was born in the 2000s, my name will always be there, and no one can take that away from me."
While he may be in the history books for good, Rodriguez has no plans to allow Sor Rungvisai to take his new title away from him.
"It's gonna be a tough fight. I know that for sure, but we have a game plan and we've been perfecting it and I believe I can stop him given my youth and the wars he's been in," Rodriguez said. "He's a little older, so I feel this is the perfect time to take this fight and I wouldn't be surprised if I do stop him around round seven or eight or nine."
If all goes well, Rodriguez has big dreams.
"We do have plans to go down to 112 pounds and win a world title there (at flyweight), and hopefully unify and become undisputed, and then come back to 115 pounds," Rodriguez said. "There's so many good fighters. I'd love to fight Estrada and Chocolatito and then at 112 pounds, (there are titleholders) Julio Cesar Martinez, Sunny Edwards, Junto Nakatani. There's so many great names and I would love to fight them all."
One man he won't ever fight is his older brother Joshua Franco, who holds the WBA "regular" junior bantamweight title.
"I wouldn't be able to, man," Rodriguez said. "I love my brother so much that even in sparring I don't want to hit him hard, so I can't even imagine a fight. So, that's out of the picture."