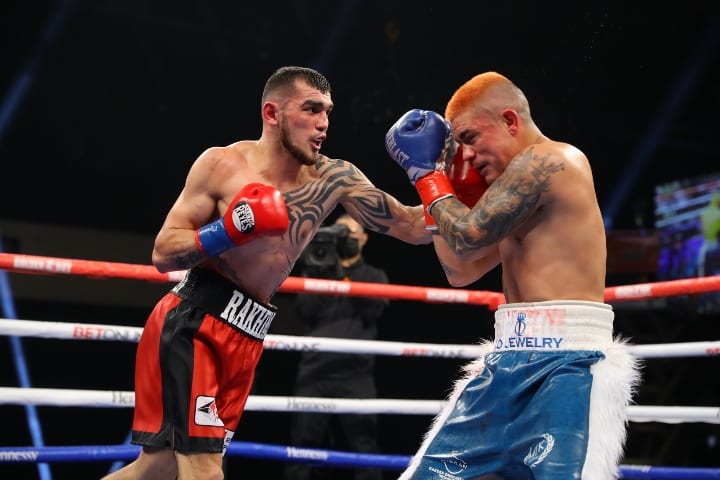 News
IBF Orders Rakhimov To Fight Different Opponent For Vacant Title
IBF Orders Rakhimov To Fight Different Opponent For Vacant Title
Off a hotly-contested draw Saturday night for the IBF 130 lb. title, Russian contender Shavakat Rahkimov will get another shot at the belt.
That's according to a report from Mike Coppinger, boxing insider for the Athletic on Monday night,
Sources: The IBF has ordered Shavkat Rakhimov and Kenichi Ogawa to vie for its vacant 130-pound title. Diaz was stripped after missing weight ahead of his Saturday draw with Rakhimov. Rakhimov's promoter, German Titov, and Ogawa's promoter, Mr. Honda, have till March 17 to close

— Mike Coppinger (@MikeCoppinger) February 15, 2021
First, Rahkimov, now 15-0-1, was involved in a "Weight-miss Circus" Friday afternoon, involving Junior Lightweight Champion JoJo Diaz. Diaz missed weight by a ridiculous 3  1/2 pounds and was therefore stripped of the championship he had won from Tevin Farmer nearly a year ago.
However, the fight went on as scheduled over 12 rounds and had Rahkimov won, he would have been crowned the IBF World champ. Instead, he and Diaz slugged it out toe-to-toe for much of the bout and the fight ended in a majority draw with two judges seeing it 114-114.
Now, the International Boxing Federation has decided that due to the "weight fiasco," Diaz will not be part of the next battle for the vacant title. Instead, that will go to Japan's Kenichi Ogawa. However, Ogawa is not without controversy either.
The 25-1-1 Ogawa actually defeated Tevin Farmer, as well, in December 2017 bout, but had the result vacated by a positive PED test post fight receiving a one year suspension. He was last in the ring with a decision win over countryman Kazuhiro Nishitani last October in Tokyo, which was his fourth victory in a row after the suspension.
As Coppinger further reported, the promoters for both Rahkimov and Ogawa have until March 17th to come to a deal or the fight will go to a purse bid. It's expected that the bout will likely end up either in Rahkimov's homeland of Russia or could be in Japan.
As for Diaz, he will have to be content to either wait to fight the winner of the vacant title bout or perhaps, move up in weight, as has been speculated, to now compete now has a Lightweight at 135 lb.