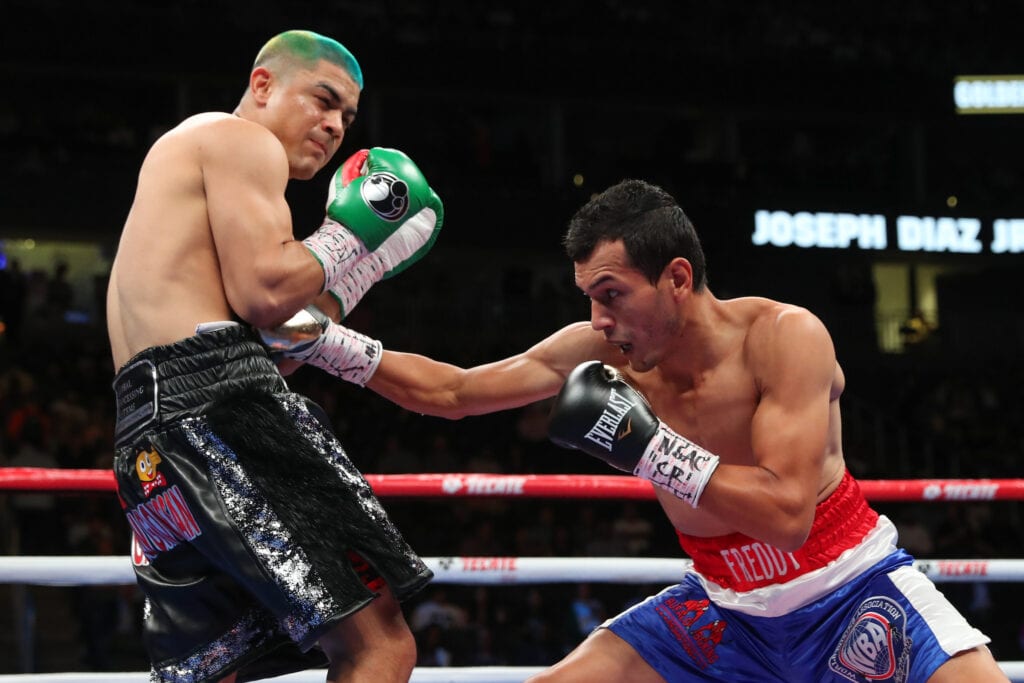 News
Joseph Diaz Misses Weight, Loses IBF Belt on scale
Joseph Diaz Misses Weight, Loses IBF Belt on scale
The current IBF title reign of Joesph "Jo Jo" Diaz has come to a screeching halt Friday afternoon.
Diaz (31-1, 15 KOs) was scheduled to defend the IBF Jr. Lightweight title Saturday night against Shavkatdzhon Rakhimov (15-0, 12 KO) to close out the card from Fantasy Springs in Indio, California, on the streaming service DAZN but once he stepped on the scale, plans changed.
In a bizarre sequence of events, Diaz stepped on the scale and weighed 133.6 pounds, which is 3.6 pounds over the contracted limit of 130. Diaz then walked off, stood back around for the face-off picture, and was congratulated the DAZN announcer for making weight. They then stood for the face-off pose with Rakhimov.
Usually, these weigh-ins are non-events, but when you miss weight by that much, that's a little alarming.
Joseph Diaz Jr. just came in 3.6 pounds overweight for his IBF 130-pound title defense against Shavkatdzhon Rakhimov on Saturday night in Indio, California. He was then congratulated by DAZN's announcer for making weight. True story.

— Keith Idec (@Idecboxing) February 12, 2021
Typically, when a fighter misses weight, they have a 2-hour window to cut it so they can get under the limit. As Beto Duran pointed out, as per California state rules, he cannot and forfeits the title.
This isn't the first time Diaz has missed weight as this happened to him back as a featherweight in 2018 against Jesus Rojas, costing him a chance to win that title at the time. What this means is that the belt can only be won by Rakhimov Saturday night.
Diaz losing the title means that the talk of a rematch with Tevin Farmer, who he won the title from back in January of last year, seems out the window. Farmer has been making noise alongside his promoter Lou DiBella of Diaz, not honoring the contract leading up to this fight. With no belt on the line for Diaz, safe to assume that this is now a non-factor.
The fighters will have to agree to continue tomorrow night, but so far, we'll have at least one belt changing hands leading into this weekend.