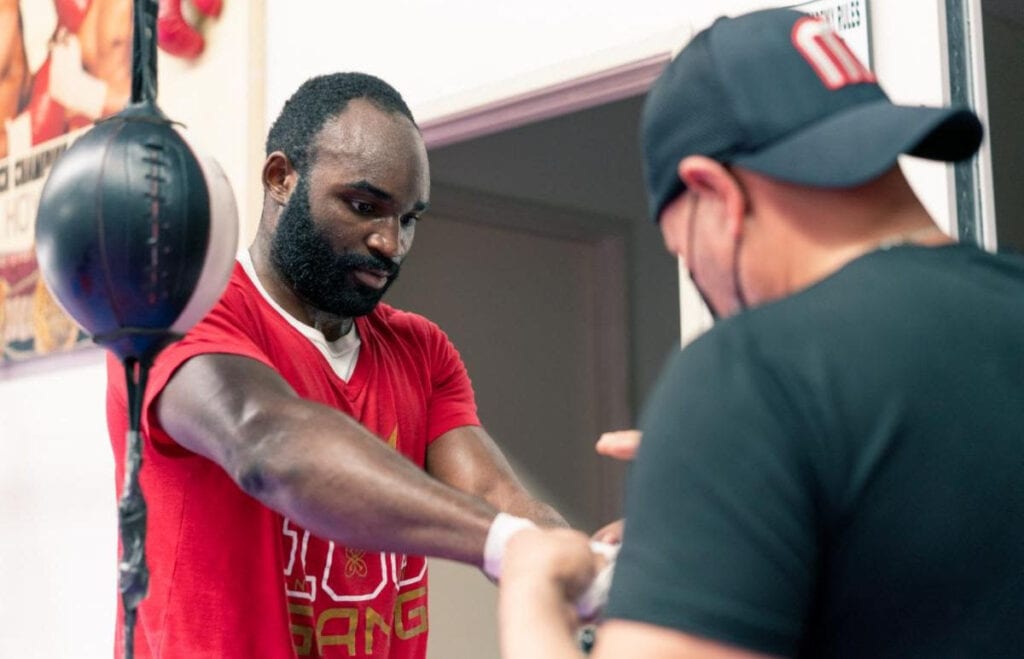 News
Weston Checks In Ahead Of Match With Brewart
Weston Checks In Ahead Of Match With Brewart
The first 3.2.1. Boxing event of the year will feature a stacked night of boxing as four unbeaten fighters as middleweight, Nathan Weston (6-0-2, 2 KOs) will take on Richard "Cool Breeze" Brewart Jr. (8-0, 4 KO) in the 6-round main event bout of the evening.
The free stream will air live this Sunday, February 21, 2021, on the Thompson Boxing Promotions website as well as their Facebook and YouTube pages, in addition to Fight Hub TV. 3.2.1. Boxing will take place at the Omega Products International Event Center in Corona, CA, and will start at 3:30 p.m. PT / 6:30 p.m. ET.
In the 6-round co-main event, unbeaten super bantamweight prospect, Katsuma Akitsugi (4-0, 1 KO), is ready for his showdown with fellow undefeated foe, Arnold Dinong (7-0, 1 KO). In the opening 4-round bout, Nelson Oliva will be making his pro debut against Uriel Gonzalez (5-6-1, 5 KOs) in the middleweight division.
Nathan Weston Training Camp Quotes and Photos @ThompsonBoxing #321Boxing on 2/21/21 #boxing #boxeo #20yearanniversary #ThompsonBoxing #BrewartWeston #Fights #War #TheHurtGame #LosAngeles #SoCal #Cali #SundayIsForBoxingToo #DinongAkitsugi #Georgia #ATL https://t.co/n2qzc6K2QX pic.twitter.com/W9klgApNYO

— Thompson Boxing (@thompsonboxing) February 15, 2021
Here is what Nathan Weston had to say about training camp, his matchup with Brewart Jr., and more.
On his recent training camp:

"I am not doing a lot of talking for this camp. I am extremely confident that I've put in the work to come out victorious. I am training hard, and I am going to knock out Richard Brewart Jr."
On his matchup with Richard Brewart Jr:
"He is a good fighter, but he was hurt really bad in his last fight and recovered. If I get him hurt, I'm going to finish the job. I have found my ability to be a gentleman outside of the ring and a killer inside of the ring. I have flipped a switch, and because of that I don't think it really matters who is inside the ring with me."
On what a win will do for his career:

"A win in this bout would change my life. I recently became a father and I feel that this man I am fighting is trying to take money from my plate to support my family. I don't see any other option but winning. When my hands are raised, I'll be happy to move on to bigger fights."
On fighting on 3.2.1. Boxing:
"It is an honor to fight on a Thompson Boxing card. Because it will be steamed live on YouTube, all my friends and family will be able to tune in and watch. I'm hoping after a spectacular performance, they will bring me back. It means a lot to be on their card."
Beto Duran will operate as the blow-by-blow commentator with expert commentary by Doug Fischer and the returning Steve Kim. Jessica Rosales will serve as the onsite ringside reporter.