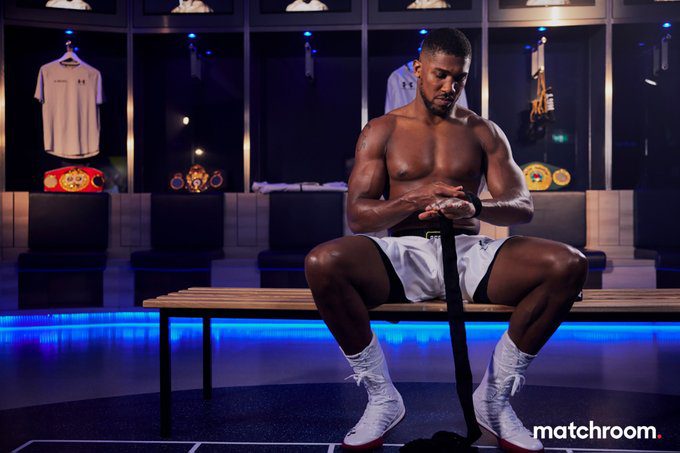 News
Former Champ Anthony Joshua Announces New Trainer
Former Champ Anthony Joshua Announces New Trainer
We don't know when former Unified Heavyweight Champ Anthony Joshua will get to rematch new champ Oleksandr Usyk for the his three titles. But, the Brit has announced who his new trainer for the rematch will be.
Joshua gave a series of interviews this weekend, including this one with Boxing Social online announcing his decision for a replacement,
💬 @anthonyjoshua tells Boxing Social that he is training full-time with coach Angel Fernandez. 🤝

🔞 @Betfred Fight Odds: https://t.co/Z2IHYCEUrC#Boxing pic.twitter.com/T9w0gADauz

— Boxing Social (@boxing_social) March 6, 2022
Joshua told the site about dumping the only coach he's ever had as a pro, Rob McCraken, and now going with his assistant,
"I'm working with Angel Fernandez. Full time. Main. Video Analysis. 'Pad Man." Sparring. Dietician. "S and C" (strength and conditioning). Cardio…(laughing) what else do you want me to say?"
Fernandez, who is a former assistant to McCraken and worked with Joshua as he ascended to the WBA/IBF/WBO world titles over the late 2010s, is a former MMA fighter and amateur boxer in his teens. He came to the U.K. from Spain and, also tutored some with legendary Cuban coach, Ismael Salas.
As we wrote in early January, Joshua has been looking for new leadership after suffering a second defeat in two years for his titles, when Usyk out-fought him in a 12 round decision last September.
"I'm a loyal character," Joshua was quoted in the Daily Mirror. "I believe loyalty's important. I've been based in Sheffield and had a good chat with my coach and I want to try some new things, I want to try a new environment."
Joshua will also apparently go for a change of scenery, instead of training in his native Sheffield, England or in London. He told the Mirror then,
"Maybe I can do a training camp in Dubai, maybe I can do a training camp in Africa, in America – just a new environment to get inspired again and to take the heavyweight division by storm."
The further belief is that the chisled, hard punching Brit has not been the same since his June 2019 surprise kayo loss to B-level Heavyweight contender, American Andy Ruiz. Joshua eventually avenged the Ruiz defeat and got his titles back in a less-than-stellar performance over 12 rounds in Saudi Arabia six months later.
Of course, while Joshua goes with new leadership, there is the much larger question on if and when the Ukranian Usyk might be able to defend his titles that he just won? This with the ongoing Russian invasion into his home country over the last two weeks showing no sign of ending soon.
Matchroom Boxing Promoter Eddie Hearn told the media in San Diego this weekend that the uncertainty of when Usyk could fight might lead Joshua to fight someone else in the interim in a non-title fight later this Spring or Summer. However, the obvious preference is to have the Usyk-Joshua rematch.
We only know that Joshua will go with a "new voice" in his training/corner, for whatever bout is next.