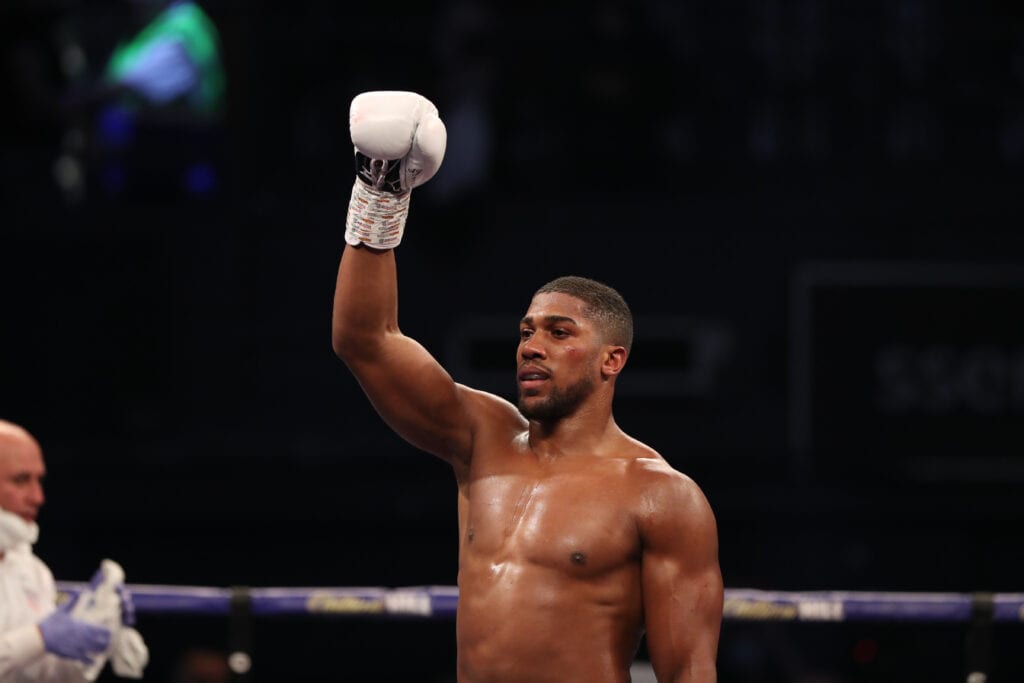 News
Anthony Joshua Dumps Trainer McCracken For Usyk Rematch
Anthony Joshua Dumps Trainer McCracken For Usyk Rematch
Former Unified Heavyweight Champion Anthony Joshua has been here before- trying to reclaim his lost titles. However, this time, off his loss to unbeaten Ukrainian new champ Oleksandr Usyk, he will try to recapture his belts with a different trainer.
The Daily Mirror in London reported Thursday afternoon that the 32 year old former Olympic gold medalist, and  an icon of boxing in the U.K. last few years, will replace the only trainer he's ever had as a professional, Rob McCracken, for the Usyk rematch,
Anthony Joshua confirms change of coaching team for Oleksandr Usyk rematchhttps://t.co/V21hattl27 pic.twitter.com/BFPTZav1Lw

— Mirror Fighting (@MirrorFighting) January 6, 2022
"I'm a loyal character," Joshua was quoted in the Mirror. "I believe loyalty's important. I've been based in Sheffield and had a good chat with my coach and I want to try some new things, I want to try a new environment."
Joshua will also apparently go for a change of scenery, instead of training in his native Sheffield, England or in London,
"Maybe I can do a training camp in Dubai, maybe I can do a training camp in Africa, in America – just a new environment to get inspired again and to take the heavyweight division by storm."
One thing is for sure: Joshua's title hopes are hanging by a thread after Usyk dominated him in a 12-round decision to take the WBA, IBF and WBO World titles last September and handed him his second championship loss in two years.
The further belief is that the chisled, hard punching Brit has not been the same since his June 2019 surprise kayo loss to B-level Heavyweight contender, American Andy Ruiz. Joshua eventually avenged the Ruiz defeat and got his titles back in a less-than-stellar performance over 12 rounds in Saudi Arabia six months later.
However, he only had more one title defense against a 38 year old, worn-down Kubrat Pulev to show on his record after the Ruiz rematch win before Usyk beat him last Fall.
It's not clear if Joshua would enlist a British trainer, someone like Ben Davison, who also once trained Fury on his comeback starting in 2018 to recapture part of the crown.  Although, Fury got rid of Davison in exchange for Sugar Hill Steward, the nephew of late Hall of Fame trainer, Emmanuel Steward, and pulled the upset in February 2020 with a TKO over Deontay Wilder.
Fury, with Steward still with him just defeated Wilder a second time by KO in October. And, it was after that that Fury almost playfully said that he and Steward would help train Joshua to beat Usyk in their next fight. Then, it would set up their mega British Undisputed Heavyweight title fight.
Fury told BT Sport Television in late October,
"I know that if me and Sugar Hill  trained him (Joshua) for this next fight, he'd definitely beat Oleksandr Usyk. That's a fact. And, I'd be open to doing it….I'll do it for free, because I don't need the money.
And, I don't want to take his money anyway… We would take on that challenge. No problem. I guarantee that he beats him," Fury told BT Sport.
Joking aside, it's in Fury's financial and historical interest to have Joshua win and then beat him in an Undisputed battle late in 2022.
And, now, we wait for whom Joshua chooses to train him to try to become the latest to regain at least a portion of the Heavyweight title for a third time.