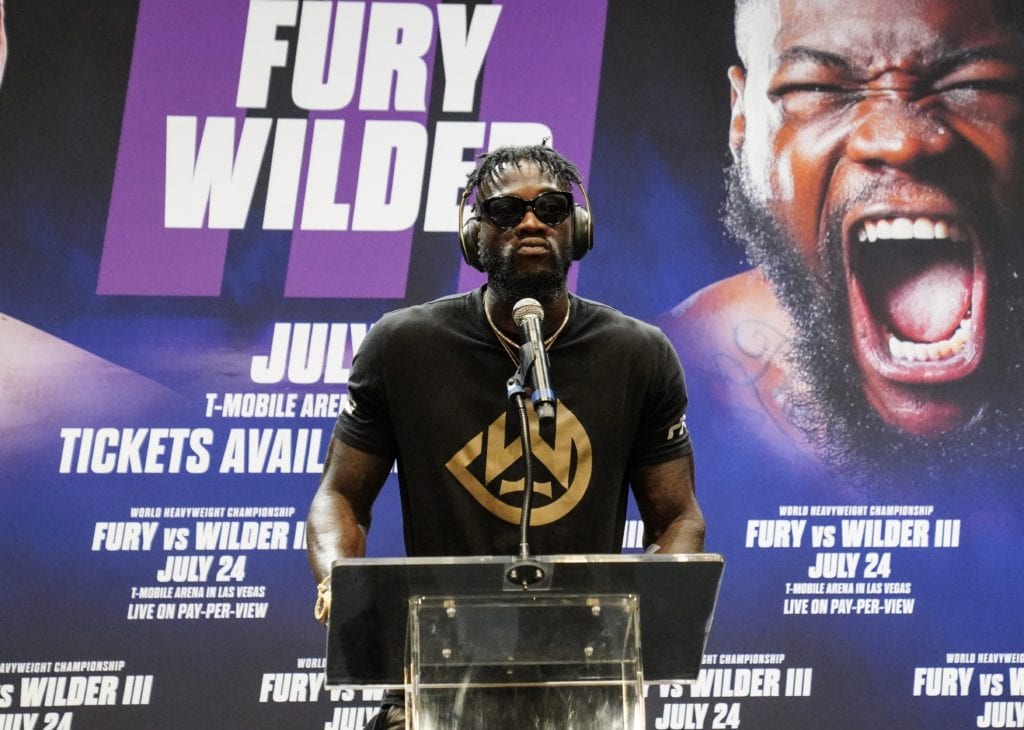 News
Deontay Wilder Chose "Silent Treatment" To Questions Tuesday
Deontay Wilder Chose "Silent Treatment" To Questions Tuesday
Although he's had lots to say in recent weeks, particularly accusing Tyson Fury of cheating, etc., Deontay Wilder had no use for questions after making his opening statement during the official announcement of their upcoming third fight.
Wilder and Fury kicked off the official promotion of their WBC title fight in Los Angeles mid-day and the "Bronze Bomber" make some quick opening comments
.@BronzeBomber is done talking! #FuryWilder3 #July24

🔗 https://t.co/VBkrx5WpIf pic.twitter.com/slUFq28TNM

— Premier Boxing Champions (@premierboxing) June 15, 2021
"Enough has been said. It's time to cut off his head," Wilder said. "Come July the 24, there will be bloodshed. Get your tickets now and I'll see you soon. A lot of things are going to be different in this fight. On July 24, the world is going to see. We're going to reveal everything we've been working on….
"I've been training non-stop during the pandemic and I've been building. All this time between fights is going to be good for me and bad for him. I've had nothing but time to progress.
"Whatever he does on July 24, we will have an answer for it. I'm training very hard and my mind is very violent. I'm ready to go." 
And, with that, the former WBC champ from 2015-20 decided he had talked enough, put on his wireless headphones and let his new trainer Malik Scott answer questions.
While, that rankled the media in attendance and otherwise, it certainly created more buzz than probably anything else Wilder would have said.
And, he's been saying plenty for weeks about Fury loading his right glove with a small weight, etc. with most viewing that as excuse making.
For his part, the new champ Fury carried the rest of the kick-off presser.
"It was a crazy roller coaster toward this fight. I always say, 'you're never fighting someone, until you're in the ring opposite them.' It wasn't hard for me to adjust to fighting Deontay Wilder again. It's what I'm paid to do.
"I hope Deontay brings something different for this fight. He needs to, if we're facing facts. I hope he brings a challenge. Hopefully Malik Scott can bring the best out of Deontay Wilder….
"Deontay Wilder is a one-trick pony. He's got great one-punch knockout power. I'm going to run him over like I'm an 18-wheeler."
And, then, there was the stare down….a lengthy one,
Deontay Wilder and Tyson Fury went FACE TO FACE once again, what a staredown! 🍿 #FuryWilder3 | JULY 24 PPV | @BronzeBomber @Tyson_Fury pic.twitter.com/6APTeDQELA

— FOX Sports: PBC (@PBConFOX) June 15, 2021
Nearly five minutes of just standing and looking (and Wilder still not saying anything) to further create some interest in what's to come in July.
And, there will be more opportunities to take verbal shots (or maybe, not) by both.