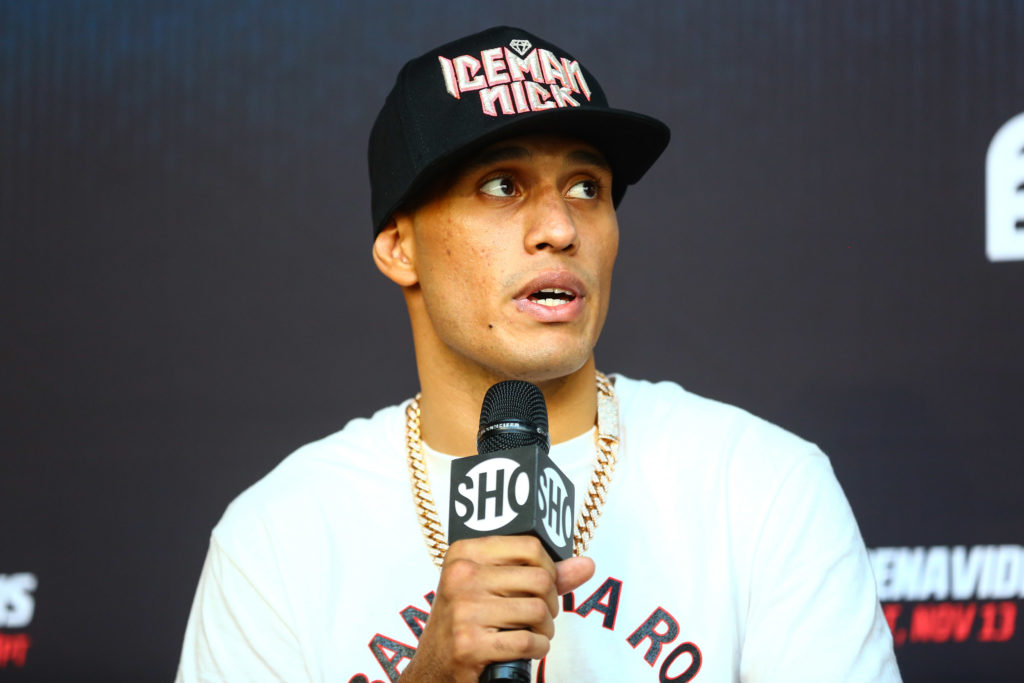 News
David Benavidez On Having Fans Back- "Can't Wait To Get In There"
David Benavidez On Having Fans Back- "Can't Wait To Get In There"
Coming up Saturday night in Phoenix, former WBC Super Middleweight champ David Benavidez is back in the ring and eager to perform in his hometown, especially when he hasn't fought in front of fans in over a year and a half.
Benavidez will headline the Showtime/Premier Boxing Champions card taking on late replacement Kyrone Davis in "the Valley of the Sun." And, at the final presser on Thursday the 24-0 (21 KOs) Benavidez made clear that he's anxious to hear the roars of the crowd, again,
I̲f̲ Benavídez is successful on Saturday night…@canelo vs. @Benavidez300 🤔#BenavidezDavis: https://t.co/0ZmZwzSor0 pic.twitter.com/N8wjKNcvGe

— SHOWTIME SPORTS (@SHOsports) November 11, 2021
"I'm excited to have fans back in attendance after my last couple of fights took place in the bubble. The energy is going to be crazy. I can't wait to get in there," Benavidez told the media Thursday.
"…I've had a tremendous training camp this time around. Hats off to Kyrone Davis for stepping up to the plate and taking this fight. I'm on a knockout streak and I'm keeping it going Saturday night. The fans want to see knockouts and that's what I want to give them."
Benavidez is talking about having scored 4 straight KO's or stoppages over the last two years. However, he's also had issues outside of the ring that has hindered him, as well.
Benavidez was previously stripped of his WBC belt for testing positive for cocaine prior to fighting Anthony Dirrell in 2018. Then, with fights resuming post-Covid-19 outbreak, without fans in the Showtime "bubble" at the Mohegan Sun Casino in Connecticut last August, Benavidez lost his 168 lb. title again by showing up 3+ lbs. overweight.
Hear us discussing Benavidez headlining Saturday night/being possible opponent for Canelo Alvarez next year, on our latest "Big Fight Weekend Podcast" with Marquis Johns and Michael Rueda of "Vegas Sports Today" on the show by clicking here
And, to add to the subplots, this main event bout has been plagued with a delay for Benavidez testing positive for Covid 19 and then, his opponent Jose Uzcategui tested positive for PEDs two weeks ago.
That's where veteran Kyrone Davis steps in Saturday night. For his part, Davis, 16-2-1, knows it will be a challenge, especially in front of Benavidez's home fans,
"Stepping up on two weeks' notice is nothing for me. A guy trying to cheat is disrespectful to the sport. It's my duty to the sport to step in," the Jersey-born Davis said Thursday.
"This is going to be a world-class fight. I'm coming to fight and I'm coming to win."
Now, even with all the delays and issues, there will still be a big crowd in downtown Phoenix and let's see if this fight delivers?