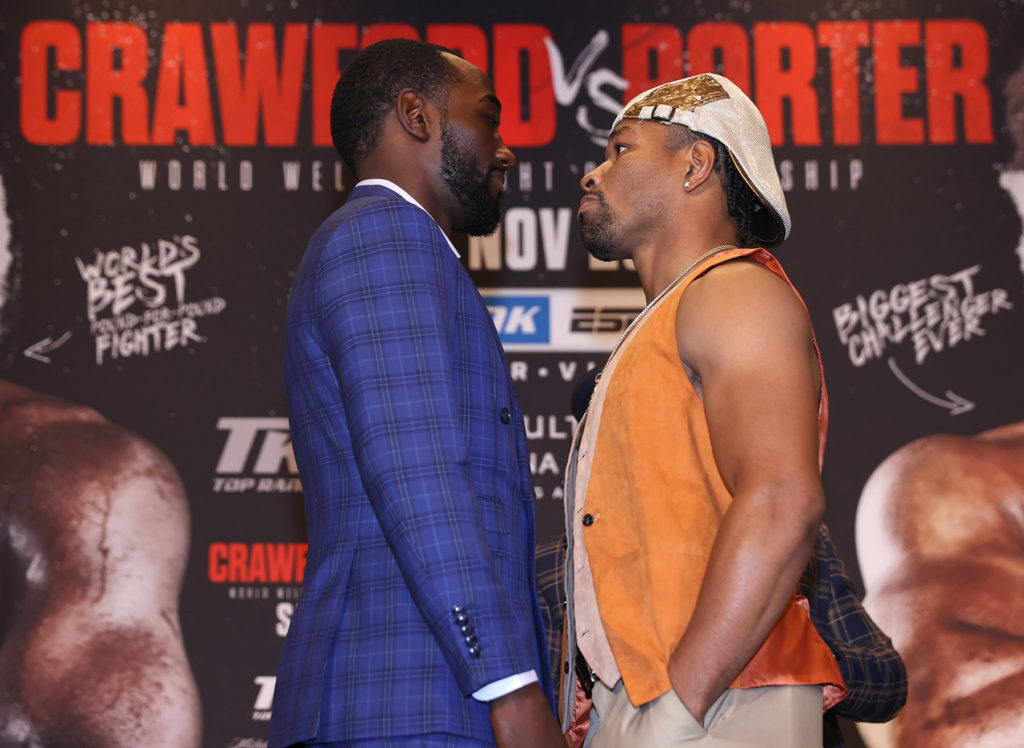 News
Crawford-Porter Kicked Off Words Saturday
Crawford-Porter Kicked Off Words Saturday
Saturday morning at the MGM Grand Arena in Las Vegas, there was a very spirited press conference between WBO welterweight champion Terence Crawford and Shawn Porter to kick off their fight on November 20.
Siting in the room with Crawford and Porter's media and respective camps gave the "big fight" feel as both are squaring off Saturday, November 20, at Michelob ULTRA Arena at Mandalay Bay in Las Vegas. The two met face-to-face Saturday for a kickoff press conference, alongside their respective trainers and promoters, and Top Rank CEO Bob Arum and Tom Brown from TGB Promotions got all of this going.
There was a verbal exchange between Arum and Brown about making the fight happen on both sides, and Brown hinted that Crawford would be in a real struggle and not against "a mean machine." Arum countered back with the following:
"The reason he (Crawford) didn't fight more top welterweights is because you (PBC) been hiding them," Arum barked back at Brown at the presser.
Business picked up from there.
"The reason he (Crawford) didn't fight more top welterweights is because you (PBC) been hiding them."@BobArum speaking back to Tom Brown at the #CrawfordPorter presser.

— Marquis Johns (@weaksauceradio) October 9, 2021
Shawn Porter mentioned what he would bring when they face off next month, and the one thing he gets is a strong body of work.
"When I get in the ring, I command the ring. When I get in a room, I command the room," Porter stated. "We can talk all about resumes, but when I look at his resume, nobody that has been in the ring with him knows him as I know him. The best of Terence Crawford will bring out the best of Shawn Porter. What I do know is November 20 is a big day for boxing, and it will be a big day for Team Porter.
Crawford, speaking at the presser, had a pipebomb line in response to Brown's mention that he wanted to take a snipe at Errol Spence Jr. without naming manes. Arum jumped in, however, and advised it was a new day, yes indeed.
"It's the fighters, always the fighters" says promoter Tom Brown of making the big fights. @terencecrawford pushes back a bit. @BobArum says "It's a new day!" @TGBpromotions @trboxing

— Gayle Lynn Falkenthal (@PRProSanDiego) October 9, 2021
"We are going to give the fans a great night of boxing. It will be fireworks from the first bell to bell 12 if you last that long, Crawford noted. Unlike other fighters that you fought, I'm different. I believe you know that I'm different. The more you push, the more I will push. You hit me hard, and l will hit you even harder if you can last. That's what makes this fight a great fight."
"A dominating win against Porter will boost my status as the number one pound-for-pound fighter in the world.
Both camps and fighters were fired up and ready for this one. Going to a great fight on pay-per-view as both are fighting to prove their status in the world of welterweights.