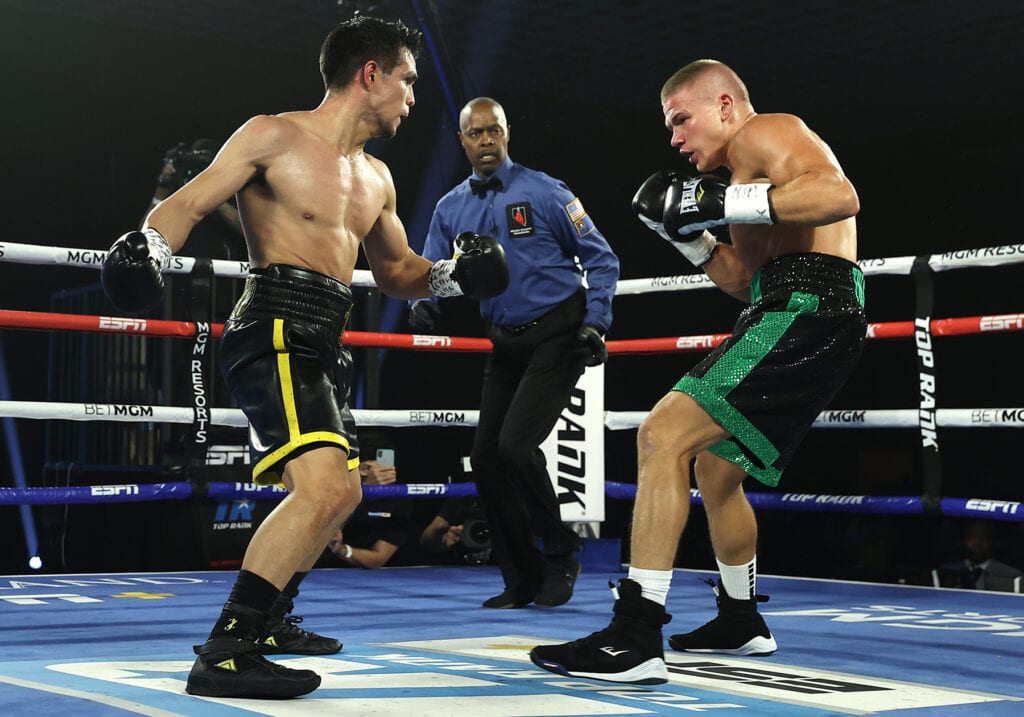 News
Why Zepeda-Barnachyk is Fight of the Year
Why Zepeda-Barnachyk is Fight of the Year
"Leaving the hospital with our co-promoter Tony Holden, is bruised but grateful warrior Ivan Baranchyk," Lou DiBella, Baranchyk's Hall of Fame co-promoter, posted on social media Sunday afternoon. "Last night, he lost a brutal, unforgettable boxing match."
DiBella's words of a brutal, unforgettable boxing match that closed out the "bubble" on ESPN+ Saturday night is some of the aftermath in a contest that saw eight knockdowns between 140-pound contenders Jose Zepeda and Ivan Barnachyk. While Baranchyk came up on the wrong end of the bout, his name will easily be the second one mentioned as this was my opinion and countless others the Fight of the Year.
Allow us to present: 48 Seconds of Insanity

All 8 knockdowns from the 4+ rounds of the all-time classic that was #ZepedaBaranchyk on ESPN+ ?⤵️ pic.twitter.com/yH1JI0g6ih

— Top Rank Boxing (@trboxing) October 4, 2020
What makes this the Fight of the Year is the same reason every fight winner of this designation usually has. In this case, Zepeda overcomes extreme adversity where a fight was going one-way in favor of the other (Baranachyk).
The beginning of Zepeda-Barnachyk started with Zepeda getting knocked down twice in the opening round. Not just knocked down but hit with shots that made this seem like the fight was going to be over before it even started.
That was until the Round of the Year happened.
The opening seconds of the second round, Zepeda hit Baranachyk with a left that should've been scored a knockdown. Referee Kenny Bayless missed it and was ruled a slip. Not only did he miss it, then they decided to go to replay in between rounds, but they also missed it there too. Thankfully this fight wouldn't have to worry about this coming into play.
Shortly after, Zepeda landed a left to send Baranachyk down again, which Bayless did count as a knockdown. From there Zepeda looked to close in on another knockdown but was caught by Baranachyk with a counter left and was sent down for the third time in the contest in two rounds.
Once the bell rang to close out the second round, you just knew watching it that this fight was something special.
These two would go on and for a total of eight knockdowns in five rounds. Four a piece for them with Zepeda getting the last shot for the win with a brutal knockdown for Baranchyk. That last knockdown resulted in him laying for several minutes and being escorted to the hospital immediately after. As mentioned above, it's great to see him out of the hospital in what was a terrifying scene. So much so, ESPN analyst Tim Bradley stated that he was "glad to get out when he did."
Arguably the craziest thing you will see in 2020.

(And that says everything)@ChonZepeda | #ZepedaBaranchyk pic.twitter.com/8x1ldLv4qr

— Top Rank Boxing (@trboxing) October 4, 2020
This fight was just an absolute treat to watch. This main event threw out a weekend of fight cards that were plagued and riddled with abysmal judges scorecards and performances by up and comers still working out their game in the ring. It's also a title eliminator at 140 for the WBC portion of the belt currently held by Jose Ramirez. We all know Zepeda is looking to get back at revenge should that opportunity arise.
Crystina Poncher posted on her Twitter after calling the fight for the international broadcast stated:
"I'm still on a high after calling that one! These are the nights I wish we were all in Vegas together replaying it and discussing it over drinks in the lobby bar at MGM."
We all will have that conversation again back over this fight as 2020 counts down for sure.