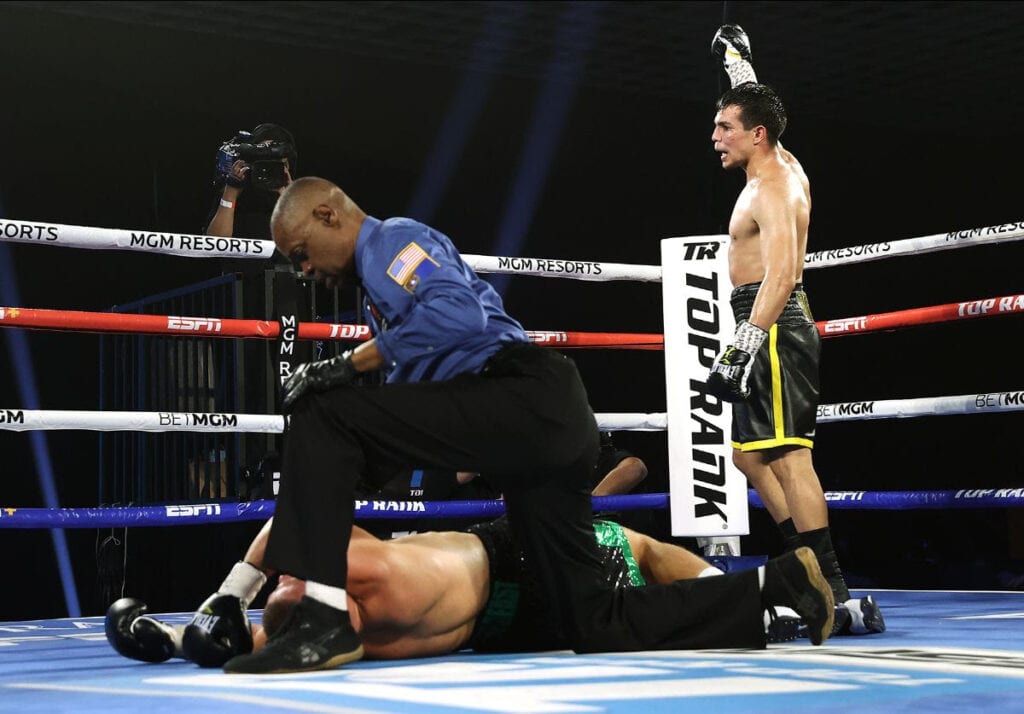 News
Fight of the Year – Zepeda stops Baranchyk
Fight of the Year – Zepeda stops Baranchyk
If you didn't catch the  ESPN+ main event last night between Jose Zepeda and Ivan Baranchyk, then I'm here to let you all know that you all missed the Fight of the Year in boxing. I knew it would steal this weekend previewing all of the action, but I'd be lying if I knew it would be eight knockdowns over the span of five crazy rounds.
Zepeda knocked out Baranchyk in the fifth round of their Junior Welterweight instant classic Saturday evening at the MGM Grand Las Vegas. Both men hit the canvas four times, but it was a left hand from Zepeda, a two-time world title challenger, that ended the fight.
Baranchyk (20-2, 13 KOs), a former IBF Junior Welterweight World champion, scored a pair of knockdowns in the opening round and then the second traded knockdowns. Zepeda used his counterpunching skills to knock down Baranchyk in the third and fourth rounds, but Baranchyk roared back and planted Zepeda (33-2, 26 KOs) on the canvas early in the fifth.
Soon after Zepeda rose to this feet, the knockout hammer dropped.
Arguably the craziest thing you will see in 2020.

(And that says everything)@ChonZepeda | #ZepedaBaranchyk pic.twitter.com/8x1ldLv4qr

— Top Rank Boxing (@trboxing) October 4, 2020
Baranchyk was motionless on his left side after the knockdown for several minutes but was slowly regaining his senses before being immediately taken to the hospital for further evaluation.
Zepeda said after the fight, "I feel great because I won the fight. It was a hard fight, and I'm thinking, 'Man, boxing is hard. It's no easy game.' Boxing, it's tough, and you have to give it 100 percent because it's a hard sport.
"Both of us are climbing up, and somebody had to stay. I was able to win the fight, and I told him, 'Thanks for the fight. It was a great fight.'
"I know I'm tough. I didn't know how tough I was. Tonight, I showed myself, too. I've never been in a fight like this. It was a great learning experience."
With this victory, Zepeda is now in the running again for a WBC title shot and a possible chance at revenge against current titlist Jose Ramirez depending on how that shakes out down the line.
If you know someone who has ESPN+ or can find video of this main event on the internet, do so as this may have been the wildest fight I've seen easily this year and without a doubt, barring someone topping off what took place to close out the "Bubble" tonight, are playing for silver in 2020 if not Fight of the Decade conversations.