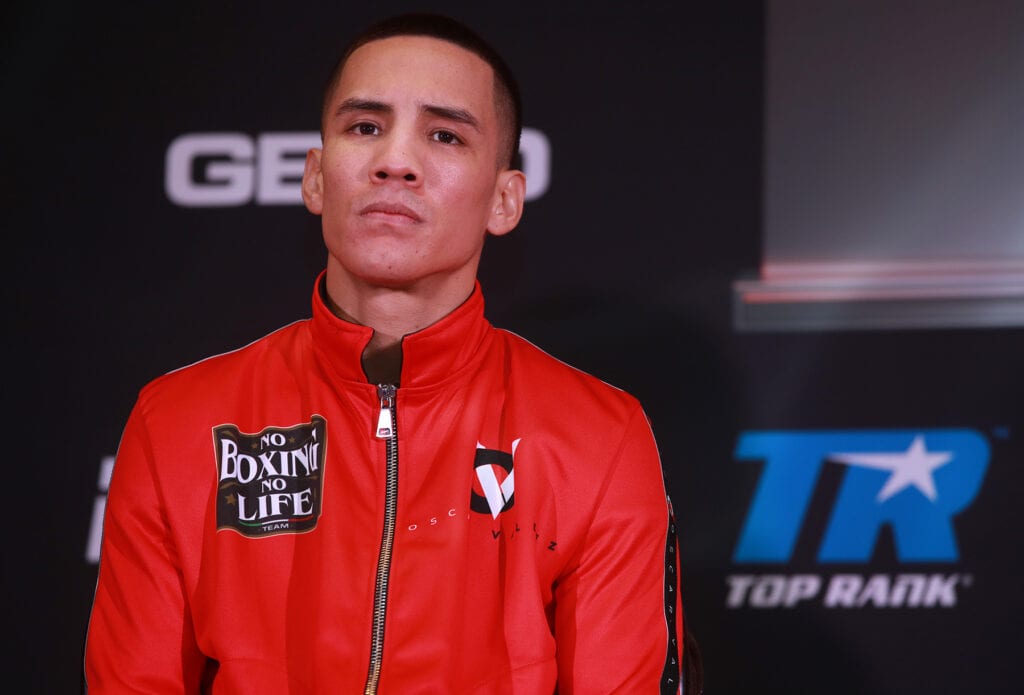 News
Where Is WBC On Oscar Valdez Failed Drug Tests?
Where Is WBC On Oscar Valdez Failed Drug Tests?
A week from tonight unbeaten, WBC Jr Lightweight World champion, Oscar Valdez, is scheduled to defend his newly won title for the first time, headlining a Top Rank boxing ESPN show in Tucson, Arizona. However, Valdez has now failed not just one, but two, pre-fight drug tests for the weight loss drug / stimulant Phentermine. And, while it's totally "just like boxing" to still have the fight move forward, we are wondering why the prestigious World Boxing Council hasn't already moved to strip Valdez of his title, whether he's fighting next Friday or not?
First, the latest news from Thursday is that Valdez's "B sample" was also positive for Phentermine. And despite what you may be reading or hearing to minimize that drug, it absolutely is a weight-loss supplement that helps fighters trying to cut weight. More importantly, drug and PED experts relay it is also a powerful stimulant to help fighters in the latter stages of a training camp still have the same energy, etc.
Oscar Valdez Cleared By Presiding Commission to Move Forward With Conceicao https://t.co/BHuQq5cAOX pic.twitter.com/byU6bfXCLx

— BoxingScene.com (@boxingscene) September 3, 2021
The Pascua Yaqui Tribe of Arizona, which is staging the fight in Tucson, has decided, for now, they will move forward with Valdez's (29-0, 23 KOs) bout with unbeaten, but lightly regarded Brazilian, Robson Conceicao. The tribe is citing the rules of the World Anti-Doping Association (WADA) that Valdez testing positive for the weight loss drug came outside of WADA's window for it to be a violation. Their suggested window starts at midnight on the day before the fight and continues all the way through the post-fight drug screen.
However, WADA has no governing power in this situation. Instead, Valdez and his opponent both agreed to enter the WBC's recommended Voluntary Anti-Doping Administration program (VADA) weeks ago.
VADA does not distinguish between using banned substances in certain time frames. In other words, you're not allowed to use them at any time during or out of competition. So it doesn't matter, when Valdez tested positive, only that he did test positive. And, that's now been confirmed by the second test.
Hear us discussing the Valdez drug controversy on the latest "Big Fight Weekend" Podcast, as Sr. Writer Marquis Johns and Carlos Toro join me,
So now, the real question remains: when is the WBC going to step forward and strip Valdez just like they've done to other fighters in pre-fight failed drug test situations in their recent history? Obviously, this is a mess for Top Rank, ESPN and the Pascua Yaqui Tribe try putting the fight on, but still the World Boxing Council has to have at least some standards and consistency when enforcing the drug rules and go on precedence.
For example, the WBC stripped Super Middleweight title holder David Benavidez after testing positive for cocaine prior to his 2018 defense with Anthony Dirrell. The WBC also suspended him for six months.
The organization also stripped Canelo Alvarez of his #1 WBC ranking and suspended him for six months for testing positive for the banned PED Clenbuterol in 2018. That delayed his first fight with Undisputed Middleweight champ, Gennady Golovkin until later that year.
The following year, the WBC stripped #1 Heavyweight Dillian Whyte of his ranking and suspended him for six months for learning after his fight of his positive test for a banned stimulant prior to fighting contender Oscar Valdez. Whyte, promoter Eddie Hearn of Matchroom Boxing and the British authorities didn't reveal to anyone that Whyte had tested positive, because he was appealing. Thus, making a total sham of the pre-fight testing over in the U.k.
Still, in that instance, the WBC acted.
So, if the organization doesn't do anything with Valdez, while they have knowledge of the positive test in advance, they are sending a "neon billboard-like" signal to all other fighters that the VADA testing doesn't matter. And, that even if you have a positive test, you will still be allowed to fight and the WBC will still sanction it.
That's lunacy.
Now, we wait to see if organization will do the correct and consistent thing here or not?