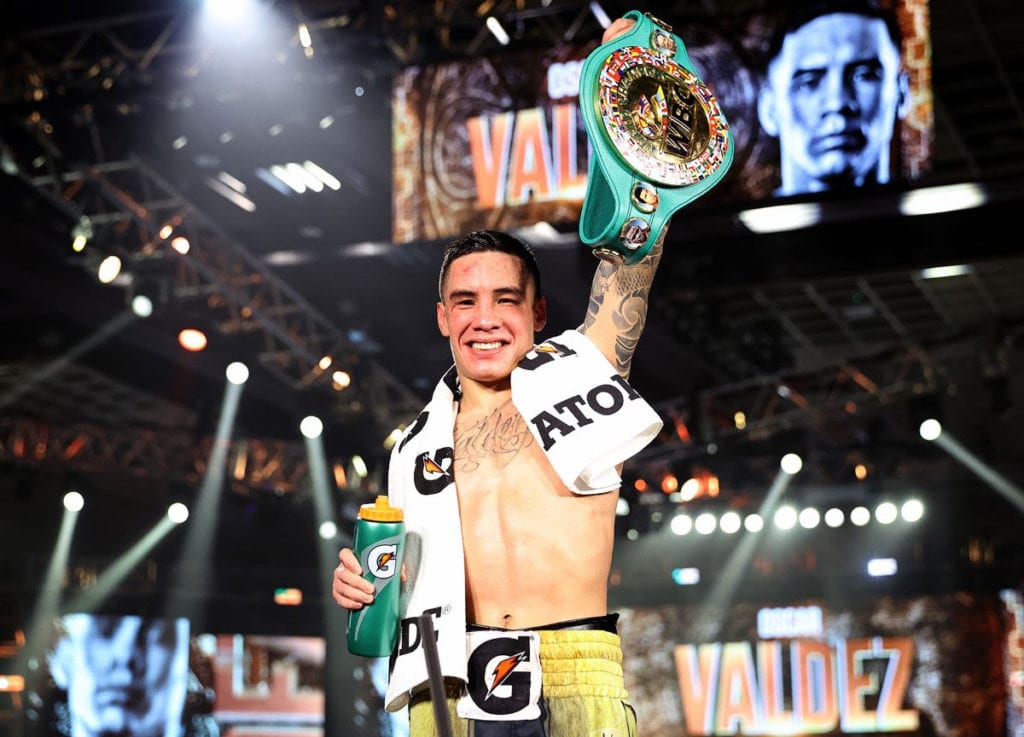 News
Is Oscar Valdez Defense About To Be Off For Banned Substance?
Is Oscar Valdez Defense About To Be Off For Banned Substance?
The upcoming scheduled main event and first title defense of unbeaten WBC Jr. Lightweight Champ Oscar Valdez for less than two weeks from now in Arizona is in question on Tuesday night. This, after Valdez has tested positive for a banned weight loss supplement, recently.
Boxingscene's Jake Donovan had more Tuesday afternoon, including the 13 page response letter by Valdez's lawyer to the WBC, Top Rank Boxing and the Pascua Yaqui Tribe of Arizona, which is staging the September 10th show in Tucson.
My @boxingscene story on Oscar Valdez testing positive for trace amounts of VADA-banned substance Phentermine ahead of his Sept. 10 title defense versus Robson Conceicao. The matter is under review by the WBC and the Pascua Yaqui Tribe of Arizona. https://t.co/cEHpohAcBk

— Jake Donovan (@JakeNDaBox) August 31, 2021
According to the letter obtained by Donovan, legal counsel Patrick English wrote that Valdez's VADA (Voluntary Anti-Doping Administration) test was positive for a drug called Phentermine, which is primarily used to help cut weight. More from the Boxingscene item here:
The substance—a commonly prescribed weight-loss medication—is prohibited while in-competition under universally-recognized drug testing standards as classified by the World Anti-Doping Agency (WADA).
According to information obtained by BoxingScene.com, the detected amount was a low concentration, though still enough to be flagged by VADA's zero-tolerance policy.
"Based upon my experience and after discussion with Mr. Valdez I have a fair idea where the substance came from – more than possibly from an otherwise innocuous herbal tea," Patrick English, Valdez's attorney —regarding this matter—explained in a thirteen-page letter submitted to the WBC, VADA, Top Rank (Valdez's promoter) and the Pascua Yaqui Tribe of Arizona, a copy of which has been obtained by BoxingScene.com. "However, there is an important threshold matter for me to bring to your attention. Phentermine is not a banned substance at this point in Mr. Valdez's training."
The basis for English's legal argument stems from substances classified as banned in-competition and out-of-competition through WADA code. However, VADA has its own list of banned substances, on which Phentermine is listed and identified as a prohibited stimulant.
VADA does not differentiate between in or out of competition. All substances on its current prohibited list are banned at all times, as specified on its website.
Ultimately it will be up the WBC and the Pascua Yaugi Tribe, as to whether the bout will proceed, while Valdez makes his case. And, the "B Sample" he provided is tested.
Valdez is 29-0 with 23 KOs, and is fresh off his 130 lb. world title KO win over Miguel Berchelt in February in Las Vegas. He was previously the WBO Featherweight champ for over four years, before moving up a division due to, … weight issues.
WBO Jr. Lightweight Title Holder Jamel Herring, who is a potential future opponent for Valdez, didn't waste time giving his insight on whether Valdez was caught cheating or not?
Educate yourself for a moment. Diuretic banned substances are commonly used to flush out all other banned substances, not just cutting "water weight." As a fellow champion, I respect Valdez, but this is hard to ignore…

— Jamel Herring (@JamelHerring) August 31, 2021
It should be noted that Herring was reacting to an inaccurate report by Mike Coppinger of ESPN earlier Tuesday that Valdez has tested positive for a diuretic drug. He's since corrected it to agree with Donovan's reporting that it's a weight loss substance/drug in question.
Noted, disgraced PED-doctor Victor Conte provided more insight on the drug in question, when he tweeted this on Tuesday night, as well
The Oscar Valdez Phentermine stimulant case is much like the BJ Saunders Oxilofrine case. Saunders lost his title $2.3m purse & was suspended. Phentermine & Oxilofrine are potent stimulants that can enhance performance. MASS athletic commission upheld VADA positive test result

— Victor Conte (@VictorConte) August 31, 2021
That brings us back to what the organization will do if the "B Sample" has Phentermine present? The WBC has not hesitated in the past to strip a fighter for a pre-fight, failed drug test. That includes WBC Super Middleweight title holder David Benavidez being stripped after testing positive for cocaine prior to his 2018 defense with Anthony Dirrell. The WBC also suspended him for six months.
As for the little known challenger, Robson Conceicao (16-0, 8KOs) of Brazil, he's in limbo, for now.
The bout is scheduled to showcase the Top Rank Boxing card in Tucson a week from Friday and to be televised on ESPN+.