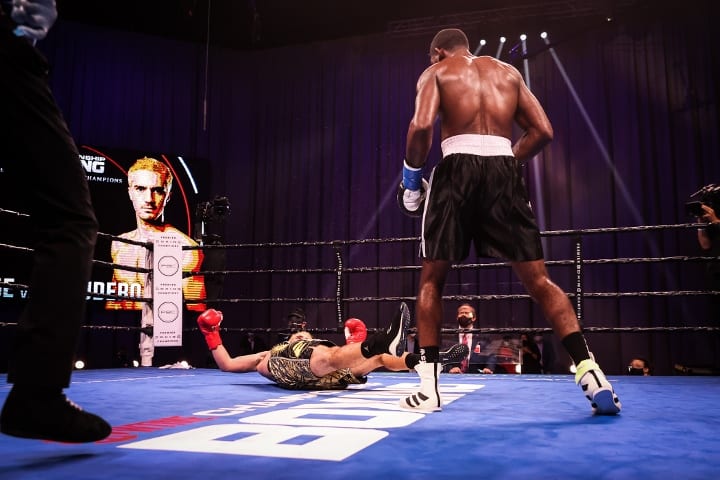 News
Where are thou boxing viewer?
Where are thou boxing viewer?
Showtime rolled out their ratings for their first show back yesterday and drew some pretty poor numbers for a card that was the first live one since the pandemic forced the premium cable network to "go to the vault" since mid-March.
Honestly, it's a shame because my pick for "Knockout of the Year" of Joe George's hitting Marcos Escudero with an uppercut of the ages in the ninth round for the victory drew an average audience of 132,000.
This article isn't a "boxing is dead" piece, I promise you. I leave those hacky pieces for the "professionals" in hopes that tired click-bait keeps them employed. Having said that, that number is troubling and a trend that has been the stagnant pace of viewership for a long time now.
#SHOBoxingReturns with a BANG 💥

Joe George KOs Marcos Escudero with a massive uppercut in Round 9. pic.twitter.com/dVdWogdfwe

— SHOWTIME Boxing (@ShowtimeBoxing) August 2, 2020
Boxing viewership as a whole has been on a decline for a moment before COVID-19, and the reason for this can honestly be brought back to a straightforward thing, name recognition.
At this point, the average person doesn't know many of the fighters.
I say that and tell you, don't look at me. I watched Angelo Leo shine on the Gervonta Davis-Yorkis Gamboa undercard last December live in Atlanta in person. Everyone else around me in the typical day world of work, not so much.
The low Saturday viewership number isn't just because it was behind the Showtime banner. ESPN had cards on all summer long-held by Top Rank that, while the highest-rated program on the network, was still nearly more than half the audience when they replayed Manny Pacquiao, and Floyd Mayweather fights from yesteryear back in April.
15th Top Rank Boxing event on ESPN in the pandemic, empty arena era averaged 399K viewers.

Jul 16: 326K
Jul 14: 307K
Jul 9: 299K
Jul 7: 318K
Jul 2: 350K
June 30: 298K
June 27: 418K
June 25: 345K
June 23: 310K
June 20: 327K
June 18: 305K
June 16: 350K
June 11: 311K
June 9: 397K

— Jed I. Goodman (@jedigoodman) July 22, 2020
It all comes back to name recognition.
It's not just an "Americans aren't watching boxing" problem, as it is the same issue worldwide in the United Kingdom with the same "stay busy" cards, generating the same poor numbers.  That issue seems to be a lot worse as the Matchroom cards airing exclusively on DAZN not only did the stream cut out (If I had a dollar for every time that happened), but in Canada, you didn't get to see it as apparently DAZN-Canada service didn't pay the rights fees to air the fight.
Hall of Fame Boxing scribe Graham Houston vented his frustration over the Tweet deck on Monday, laying out what I've been joking about on the latest edition of "The Big Fight Weekend Podcast."
Nothing says "Fight Season" like bowling. Ouch.
At least give our good neighbors of the North the option to ignore the card as everyone else has! The "certain commercial sensitivities with the rights" sounds a lot like legal jargon similar to "non-payment" and needs more explanation from somebody at DAZN-Canada. Maybe another time.
So now I know. DAZN customer service tells me DAZN has discontinued Matchroom Boxing due to "certain commercial sensitivities with the rights". Translation: DAZN Canada won't pay what Matchroom Boxing is asking. But I CAN watch 'darts, bowling and fishing'.

— Graham Houston (@fightwriterone) August 3, 2020
Showtime has rolled out their fall lineup of boxing cards, Matchroom has a few more weeks of "Fight Camp", Fox will follow suit during their broadcast this Saturday night, and Top Rank And Golden Boy will follow suit announcing more cards. While more cards are great for me and the site (feels great to write about live matches again), it doesn't hide the fact it feels like quantity over quality.
We all want to see marquee names, but having no fans or a gate for revenue is forcing these shows, limiting to what they can do and who is willing to pop out and fight. It's causing problems for fights that everyone wants to see, such as the bout between Teofemo Lopez and Vasiliy Lomachenko that was supposed to take place in October.
"We explained to them we have no gate, no closed-circuit," said Top Rank CEO Bob Arum of his talks with Lopez to ESPN. "I mean, we're willing to pay him a big price, but again, I'm not going to lose millions of dollars on an event because he thinks he's worth more."
That doesn't sound good at ALL.
I'll await the fight announcements as they come along with hopes of more marquee names appear. If anything, I'm all for the matchups that have been announced so far, I just don't see a lot of people sharing my excitement for it, and it's reflecting in these ratings.