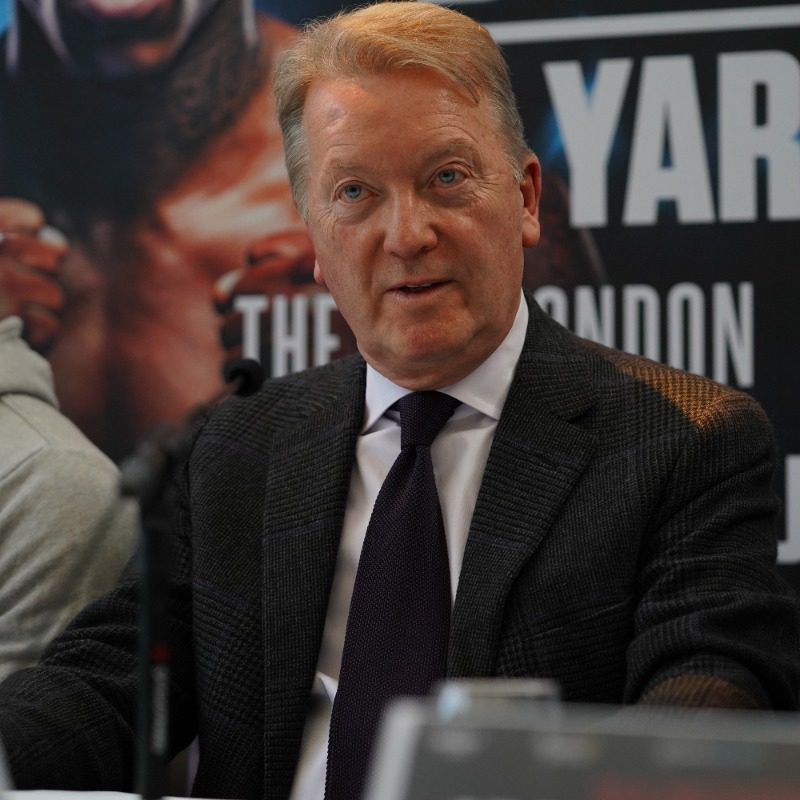 News
Warren On Dubois-Don King Purse Dispute "Smokescreens Usual Bullsh*t"
The dispute continues over whether British heavyweight Daniel Dubois is still owed money from Don King Promotions after his WBA "regular heavyweight title" win in June. However, Dubois' British promoter, Frank Warren, wants to make clear that none of that dispute should involve him. And more importantly, Warren says  King is trying to distract from having to pay Dubois what he's owed.
Warren spoke on Friday to IFL TV in the U.K. and, angrily at times, demanded that King follow through with the purse bid that he had won and pay Dubois his approximate $1.4 million that he was supposed to receive for his fourth round TKO over American Trevor Bryan on June 11th in Miami, Florida.
"They (King and Dubois) are the contracting parties. Not me. He owes the money to Daniel Dubois. This is all smoke screens- the usual Bullsh*t you get. He should pay he fighter what he's due….he's trying to cloud the issue. I know he spoke to Daniel's father. Again, I don' t know what that's got to do with anything," Warren said in the lengthy conversation.
"The fact is he's (King) got a contract and that contract's between them. That's who he owes money to. I'm nothing to do with that contract. I'm not his manager. I'm his promoter…. Don King was the promoter. He owes the money."
Hear us discussing the messy situation with King's apparent refusal to pay on our "Big Fight Weekend Preview" by clicking below,
Our Dan Rafael broke the story earlier this week that Dubois has enlisted the help of a Florida law firm which has sued King in Broward County court for failure to pay his purse.  As Dan wrote,
"The fighter hasn't gotten paid and when boxers get in the ring and risk their lives the most important obligation of the promoter, the sanctioning body and the commission is to see that they are paid, and that hasn't been done here," Leon Margules, Dubois' attorney, told Big Fight Weekend on Tuesday.
King, Bryan's promoter, won the right to promote the fight at a WBA purse bid on March 21 with an offer of $3,116,001 to beat a bid of $2,503,000 from Dubois promoter Frank Warren's Queensberry Promotions. Under the terms of the purse bid, Bryan (22-1, 15 KOs), was entitled to 55 percent ($1,713,800.55) and Dubois (18-1, 17 KOs), 24, was due 45 percent ($1,402,200.45).
According to the lawsuit, a copy of which was obtained by Big Fight Weekend, Dubois is suing for somewhere between $938,274.32 and $463,274.32.
The reason for the discrepancy, as outlined in the brief six-page suit (not including various exhibits), is because Dubois is unsure whether King paid the sanctioning fees to the WBA or what was to be paid of his purse to IRS to cover his bill as a foreign boxer."
Going back to Warren's Friday comments, he confirmed to IFL TV that Dubois has been given no proof that King has paid the U.S. IRS with any money from his purse,
"If he (King) hasn't paid the withholding tax then, Daniel is going to be liable for that. He's got to pay it. He's (King) only saying he's paid it. Who knows? …When you pay a withholding tax, you get a redemption certificate that you then present to your home tax authority. In this case it would be the HMRC (Her Majesty Revenue and Customs agency in England).  And, he (Dubois) would then get a credit against that. He has nothing in his hand confirming that that money has been paid. Nothing."
The Dubois lawsuit tells the court that amount is 30% of his purse or $420,660.12. Not a small figure.
Throughout the interview Warren makes clear that King should only be dealing with Dubois and not mentioning or blaming him. Further, he is threatening to sue King for alleging that Warren is Dubois manager. Warren made clear, several times in the conversation Friday that he is only Dubois promoter and that Martin Bowers is his manager. And, that King should be dealing with Bowers and Dubois.
Continuing from Dan's reporting and quoting the lawsuit about written demands for payment,
"On both June 23, 2022, and July 6, 2022, Robert Smith, the President of the British Board of Boxing Control, emailed Patrick Cunningham, the Executive Director of the Florida Athletic Commission, to put it on notice that he was aware of DKP failing to pay Dubois his purse monies and requesting the Commission's assistance in helping to secure Dubois' full purse."
The suit also said that it sent letters on July 18 to DKP, the WBA, and the investigator appointed by Florida demanding that Dubois' purse be paid in full.
"To date, DKP has still yet to provide payment of any purse monies to Dubois. … DKP's failure to pay Dubois constitutes a breach of its obligations under the Bout Agreement and is a violation of Florida Law."
For their part, Don King's lawyer Tony Gonzalez released this statement Tuesday afternoon saying that King has paid Dubois other than a small amount he has yet to claim.
"DKP has made all requisite payments towards Mr. Dubois' purse," Gonzalez said in the statement. "Pursuant to Florida State Athletic Commission Director Patrick Cunningham's instructions, proof of payment in the form of the payment for the 30% IRS backup withholding was provided along with $475,000 setoff towards Mr. Dubois' purse at the instruction of Mr. Dubois' promoter, Queensbury. Additionally, and at the instruction of Mr. Cunningham, an escrow deposit was made in the amount of $134,000.00 representing a final balance due Mr. Dubois after applying a setoff of $319,000 for outstanding monies owed DKP by Mr. Warren. Also, all sanction fees owed by Mr. Dubois were paid in full to the WBA."
Warren for his part said repeatedly in the video that King is lying about any outstanding money owed to King (much less $319,000) by him. And further, that money cannot somehow be withheld from a fighter's purse that he doesn't manage.
He further urged that the state of Florida not only get involved in the matter, but they should take away King's boxing promoter's license for his conduct in this case. However, at the same time Warren acknowledges that the 91 year old King is barely putting on any boxing shows any longer anyway.
Now, we'll wait to see if the court or negotiation away from it will result in Dubois getting some or all of what he says he's owed.