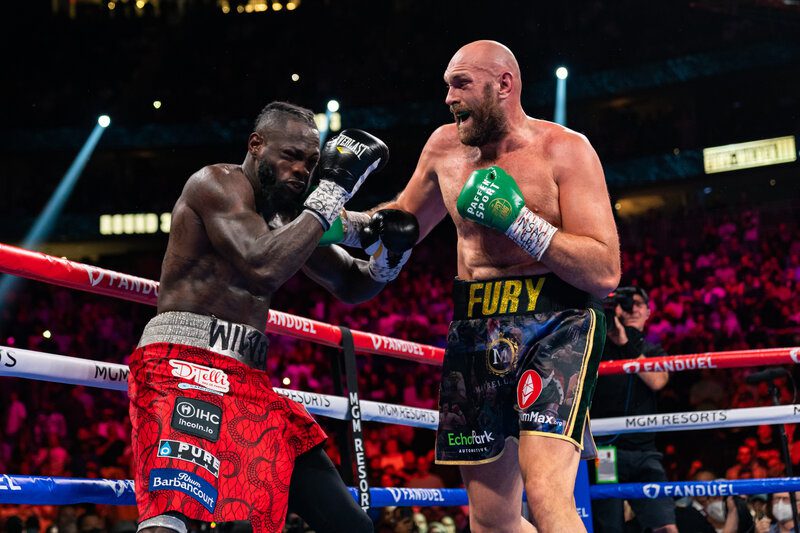 News
Tyson Fury's Father Confirmed Post Wilder Fight Elbow Surgery
Tyson Fury's Father Confirmed Post Wilder Fight Elbow Surgery
In the aftermath of his successful WBC Heavyweight title defense over Deontay Wilder last month in last Las Vegas, champ Tyson Fury has had to have post fight surgery on his elbow. That's according to his father John in a recent interview released Tuesday afternoon.
John Fury told BT Sport television in the U.K. that Fury required cortisone shots in both elbows and that after the thrilling 11th round TKO of Wilder, Fury had an elbow procedure,
"@Tyson_Fury was very badly injured."
"He's since had an operation. Six hours."

John Fury opens in a 24-minute interview BT Sport on #FuryWilder3 👇

— Boxing on BT Sport 🥊 (@BTSportBoxing) November 9, 2021
"Tyson was very badly injured going into that fight, John Fury told BT Sport. "He had to have cortisone injections in both elbows. He's since had an operation, a six hour all-day operation having to sort out his elbow. I think he had some bone spurs we had to get removed. Common thing in sports, especially boxers."
John Fury went on to say about Fury's lack of training time,
"He was undercut from the beginning. But, I seen (sic) the look in his eye. He just wanted to destroy, seek and destroy. And he did. Believe me. Exciting for the paying public. Probably one of the most exciting Heavyweight fights you'll see."
Tyson Fury has yet to publicly comment on his father's surgery claims.
John Fury went on to estimate that Tyson only trained "about 3 1/2 to 4 weeks" for Wilder between the elbow issues and the birth of his most recent child, Athena, who was kept in the baby intensive care unit of an English hospital for two weeks in late August.
Still, Fury was impressive with all that was going on out of the ring throughout the trilogy fight in October with Wilder. That's, when wore down the former champ, eventually scoring an 11th round TKO with his fourth knockdown of Wilder in the bout. The win improved Fury to 31-0-1 with 22 KOs and has him now positioned to fight the winner of the Oleksandr Usyk-Anthony Joshua WBA/IBF/WBO World Heavyweight Title fight that will likely happen in the first quarter of 2022.
And, if it's Joshua regaining the titles that Usyk took from him in a brilliant boxing display in September, then it will be a mega-fight like they've never seen in the U.K. Then again, if Usyk wins, he will have validated his Joshua upset and it's a chance for he and Fury to be Undisputed.
And, there hasn't been an Undisputed champ in the Heavyweight division in over six years, since Fury defeated Wladimir Klitschko in 2015 but later released all the belts.