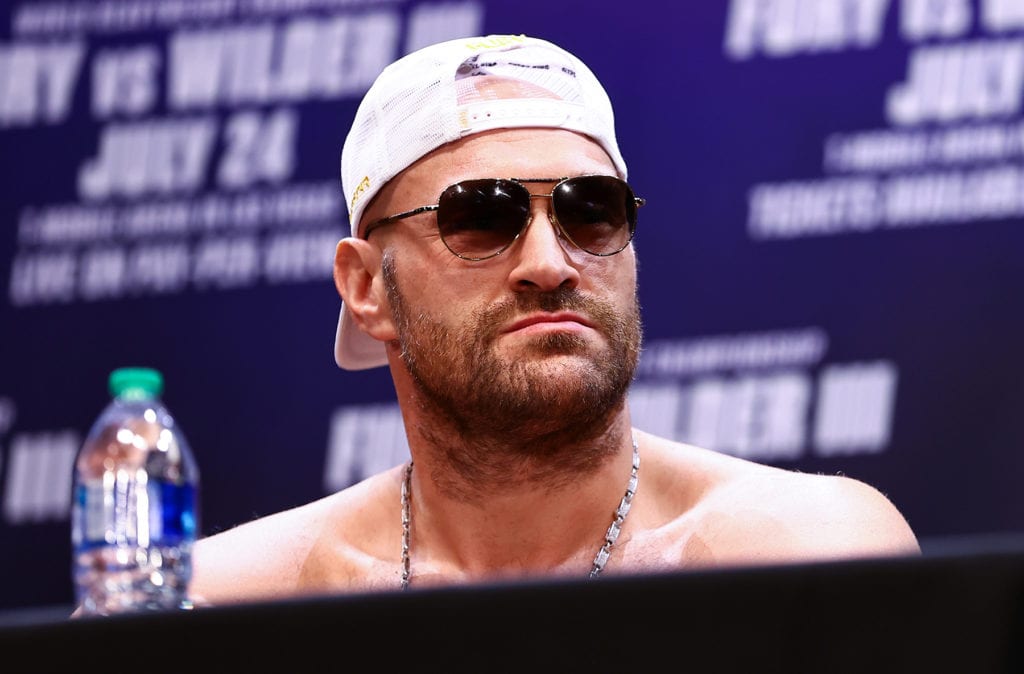 News
Tyson Fury Announced Monday Wilder Camp Starting
Tyson Fury Announced Monday Wilder Camp Starting
While the ongoing debate and saga of WBC Heavyweight Champion Tyson Fury pulling out of the originally scheduled July 24th third fight with Deontay Wilder, Fury has now surfaced on Monday to say that he's begun preparation for the October 9th rescheduled date.
Fury put his first comments in weeks about the Wilder trilogy bout up on Instagram and Twitter Monday,
🙏🙏🙏 pic.twitter.com/uHfU9BWfpG

— TYSON FURY (@Tyson_Fury) August 16, 2021
"That's four mile run with me dad in the park here in Liverpool," said a sweating and breathing heavy Fury.
"Hoping to God that the baby gets out of the hospital on Wednesday. And, I can start training for 'The Big Dosser' Deontay Wilder, which gives me about 7 1/2 weeks. Which is plenty of time for a 'mug' like that."
First, it's understandable that Fury has been pre-occupied with the birth and hospital care for his daughter Athena two weeks ago. She has been in the baby intensive care unit in an English hospital. This is Fury's sixth child with wife Paris.
Fury posted this video a little later Monday (after the workout one) showing him with the tiny baby,
🙏 @parisfury1 @AlderHeyCharity pic.twitter.com/LAN8o61KkG

— TYSON FURY (@Tyson_Fury) August 16, 2021
It is understandable that this has pre-occupied Fury over the last few weeks, but still, even is biggest defenders have to cringe at hearing him say that he's only now back to working out for the rescheduled October 9th date at T-Mobile Arena on the Vegas strip.
This comes on the heels of Fury reportedly testing positive for Covid 19 in mid-July postponing the third Wilder bout, yet again. We are still writing reportedly, because there are many privately in Las Vegas (where Fury was training) associated with the bout either through the promoters, the sanctioning bodies and TV networks that believe after seeing Fury out in public and around crowds without a mask, when he was supposed to be quarantined while supposedly positive, he wasn't really positive/sick.
Again, all of that is educated conjecture. Still, this latest update of him only now beginning to lock in for the third Wilder fight will only fuel thoughts and analysis that Fury was looking to delay things in July. And, he might not have real interest in following through with the October bout with Wilder. This, despite a U.S. arbitrator and court ordering him to now, have to do so.
Fury, 30-0-1 will be going against a highly motivated Wilder, 42-1-1 seeking to reclaim his title and reputation as the most feared right hand in the Heavyweight division.. And, that's something that clearly could be in the Alabama native's favor.
In any event, it looks for now that the champ, Fury, is taking getting ready for Wilder seriously. Now, whether it stays that way?
That's another question.