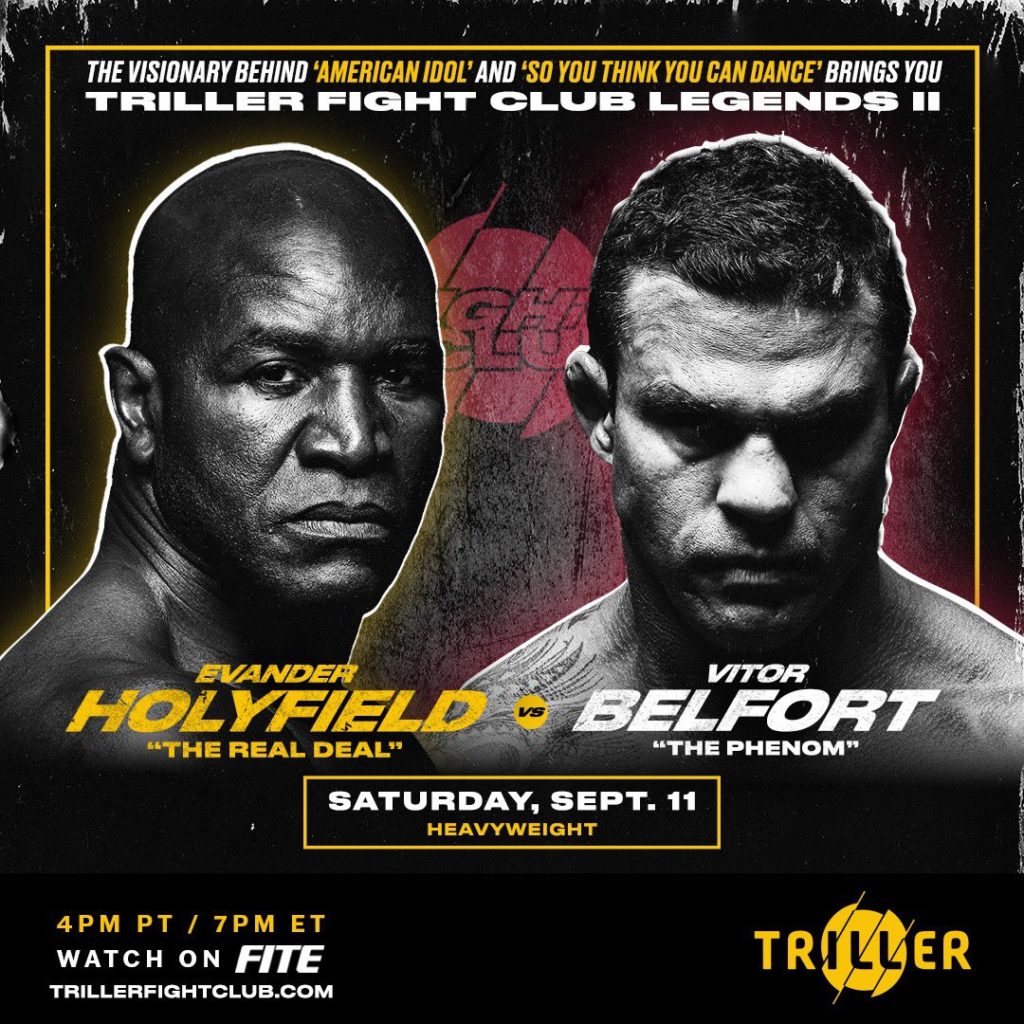 News
Triller Officially Announced Holyfield-Belfort Fight Card Sunday
Triller Officially Announced Holyfield-Belfort Fight Card Sunday
A crazy last four days that saw former Heavyweight Champ Evander Holyfield taking Triller to arbitration over not having his "legends" fight re-scheduled, that saw former Hall of Fame fighter Oscar De La Hoya forced to pull out of his comeback bout with former UFC champ, Vitor Belfort due to Covid 10 and that now has seen seen Holyfield officially replace De La Hoya for a fight coming in less than seven days.
Triller officially confirmed late Sunday night that the 58 former four time World Heavyweight champ Holyfield will be fighting Belfort this Saturday night at the Hard Rock Casino in Hollywood, FL and on more importantly (if they want to make any money at all) on PPV,
EVANDER HOLYFIELD returns to the ring on September 11th, live from Florida to fight VITOR BELFORT.

Buy PPV at https://t.co/GeLIvX7DIP

Fight Card:
Evander Holyfield vs Vitor Belfort
Tito Ortiz vs Anderson Silva
David Haye vs Joe Fournier
Andy Vences vs Jono Carroll pic.twitter.com/7I2Y2qbFkH

— Triller Fight Club (@trillerfight) September 6, 2021
There is no question that Triller is scrambling to put some kind of show on, after spending several weeks building up promotionally to the De La Hoya return bout, which was to have been held at the Staples Center in downtown L.A. However, with "the Golden Boy" no longer involved and the fact that the Atlanta native Holyfield now lives and trains in South Florida, the bout has moved all the way across the continent to just north of Miami.
This is a complete reversal from just last week for Holyfield, who had gotten fed up with Triller delaying his desired return to the ring and had put his exhibition fight former Heavyweight Kevin McBride in limbo.
As we wrote last week, Holyfield and his reps filed for the arbitration in California after the scheduled bout  McBride was supposed to be on the undercard of the Undisputed Lightweight defense of Teofimo Lopez with George Kambosos for Miami in early June. Ultimately, that card was scrapped when Lopez tested positive for Covid 19. Holyfield claimed that he had not been paid anything by Triller and that there was no sign of when they would use him to fight.
Now. that has been settled and Holyfield will slide in to fight Belfort.  Belfort, is a year old MMA fighter who previously won the UFC Light Heavyweight title, but hasn't been in any type of cage-fight, etc., since May of 2018.
Belfort, who is Brazilian, does have a brief amateur background as a boxer in his teenage years. He also fought one time with a first round KO in a pro boxing match in Brazil in 2006. Holyfield was last in the ring in TKO win over Brian Nielsen in May of 2011.
The PPV is being billed as "Legends II" by Triller, as it follows up their show last November being headlined by a Mike Tyson-Roy Jones exhibition that was reportedly a PPV success. However, Triller doesn't have to document it's audience and in a very telling turn in the "soap opera" for the mostly music service trying to be a boxing broadcast outlet, Tyson now wants nothing to do with them or CEO Ryan Kavanaugh.
Back to the Holyfield participation. He is the only man to have won at least a portion of the Heavyweight title on four occasions, but he hasn't had a fight, legit or exhibition, since defeating Brian Nielsen in May of 2011.
The PPV, which also features former UFC champions Tito Ortiz and Anderson Silva boxing each other, is still being offered at a substantial $49.95.