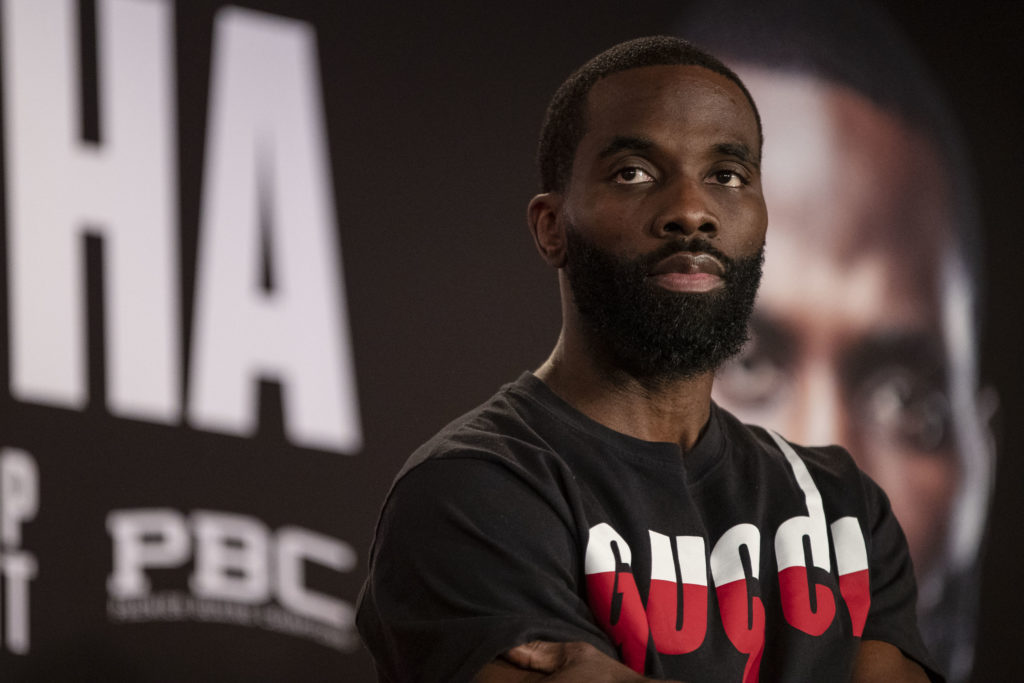 News
Terrell Gausha On Tszyu Fight- "I'm Feeling Dangerous"
Terrell Gausha On Tszyu Fight- "I'm Feeling Dangerous"
Coming up Saturday night in Minneapolis veteran Jr. Middleweight Terrell Gausha knows he's the less thought of "opponent" for rising, unbeaten Australian Tim Tszyu's United States debut. But, Gausha made clear Thursday afternoon that he's looking to ruin the young Aussie's plans for an Undisputed title shot down the road.
Gausha and Tszyu met with the media in advance of their Showtime/Premier Boxing Champions Saturday night showdown, where the winner will clearly be in line for a title shot. And, the 34 year old Gausha made clear he's the one looking to take advantage of that chance,
The winner of #TszyuGausha already has 👀 on the victor of #CharloCastano2@Tim_Tszyu @TerrellGausha @BCusterTV pic.twitter.com/drsaBDayzb

— SHOWTIME Boxing (@ShowtimeBoxing) March 24, 2022
"I'm just ready. I'm feeling dangerous. I like this fight. Tim is a good fighter who brings the pressure. It's going to bring the best out of me to face a fighter like that," Gausha said.
"When I watch Tszyu's fights, I see that he brings the pressure. That's just what he does. It's not something I haven't seen before. I'm going to go out there and do some things that he hasn't seen before. I'm sure he's been watching my fights, but I think what he's been watching is the wrong thing. I don't think he's going to be ready for what I'm going to show him Saturday."
Gausha is not a stranger to the big stage at 154 lb., as he previously lost a challenge for the WBA World title to Erislandy Lara by decision in October of 2017. However, he also realizes that the up and coming Tszyu is the fighter that everyone will come or tune in to see, as he fights for the first time outside of his home continent.
Tszyu, the WBO and WBC #1 ranked Jr. Middleweight, had been in a holding pattern for a couple weeks back in February on whether he would still fight in the U.S. for the first time or not? This, after WBO champ Brian Castano put his Undisputed title rematch bout with WBC/WBA/IBF champ, Jermell Charlo, on hold due to injury.
Tszyu, 20-0, 15 KOs, was to have fought Gausha, as the co-feature of Charlo-Castano in L.A. last weekend, but Showtime moved quickly to re-schedule and have him headline on this show Saturday.
The son of Hall of Famer Kostya Tszyu made clear earlier this month that he knew that coming to the United States was essential to help him get the biggest fights and a world title shot,
"I have come to America with big visions of taking over the whole super welterweight division and becoming the next great 154-pound champion of the world," Tszyu said from his training camp last week in Las Vegas.
"To become a legend, you must come to America at some point in your career and leave a mark on the sport. I want to continue my family's legacy in boxing, as well as forge my own journey. March 26 is the start of my era."
He's now traveled to Minnesota to start that quest and we are about to find out if Gausha will put up much resistance or not?