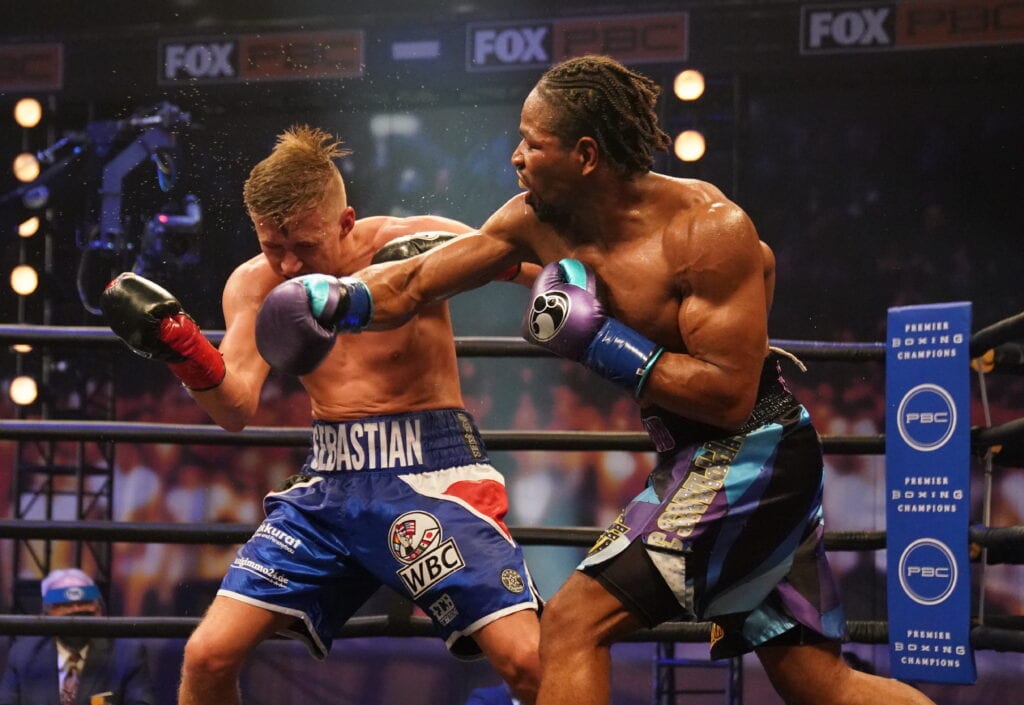 News
Shawn Porter failed to deliver TV ratings for PBC
Shawn Porter failed to deliver TV ratings for PBC
Premier Boxing Champions had to know that their return to televising the sport with their partners was going to result in a slow start, but unfortunately, featuring top welterweight contender, Shawn Porter, Saturday night didn't help much on Fox Sports.
The overnight ratings came in Sunday afternoon from the Saturday night prime-time network U.S. TV schedule, and the PBC on Fox broadcast featuring Porter's 12 round, non- title decision win over a little-known Sebastian Formella, once again fell flat:
Overnight viewership/ratings for the first two hours of last night's PBC on FOX card:
Hour 1: 562,000 viewers/0.1 rating in 18-49 demo
Hour 2: 726,000 viewers/0.2 rating
These numbers don't include a majority of the main event fight between Shawn Porter and Sebastian Formella.

— Carlos Toro (@CarlosToro360) August 23, 2020
The two measured hours for Fox are between 8-10 Eastern time in the broadcast only averaged 640,000 during those two hours. Part of that with the lack of an intriguing matchup and another significant piece was the fight card going head-to-head with LeBron James and the L.A. Lakers playing in NBA playoff game in direct competition on ABC network television.
Basketball averaged three times the audience of the boxing at over 3 million, but that was to be expected. Further, competing from a sports and network TV stand point was NBC airing the NHL Stanley Cup playoff game between Dallas and Colorado, which actually got a higher average rating of over 1 million viewers during the 8 – 10 p.m. Eastern hours, as well
The disappointing news about the ratings comes on the heels of PBC and Fox re-debuting their series two weeks after a four-month hiatus due to Covid-19.
That night Minnesota welterweight Jamal "Shango" James headlined with an impressive victory in the main event but the ratings were only an average of 750,000 with the top fight having over 840,000 watching.
Two other important points:
One, the metered measurement for the 10 p.m. Eastern time hour was not included in these ratings and  more than half of the Porter-Formella fight was fought in that hour and must be factored in. More than likely, the Porter fight in that half-hour had around 800-900,000 viewers watching.
Still, this could be the lowest Fox Primetime boxing broadcast ever, if it holds.
The one other factor is that overnight ratings don't measure as much of the total audience and all of the television markets, It's usually the top 50 markets only. So, there's a good chance that there will be some audience "bump," when the final numbers are out either later Monday afternoon or Tuesday morning.
Either way, it is still a clear demonstration for PBCs coverage on Fox and Showtime, Top Rank Boxing's coverage on ESPN or any other boxing, including Matchroom Boxing in the U.K. televising fights, that the audience has been slow to come back, unless it is a big-time matchup.
However, there will be some of those bigger matchups with the likes of the Charlo brothers, Gervonta Davis, Errol Spence, Teofimo Lopez, Vasiliy Lomachenko, etc. fighting for Premier Boxing Champions, for Top Rank and Matchroom coming in the next couple of months.
And, there is anticipation of a significant audience jump, when those bigger fights happens.