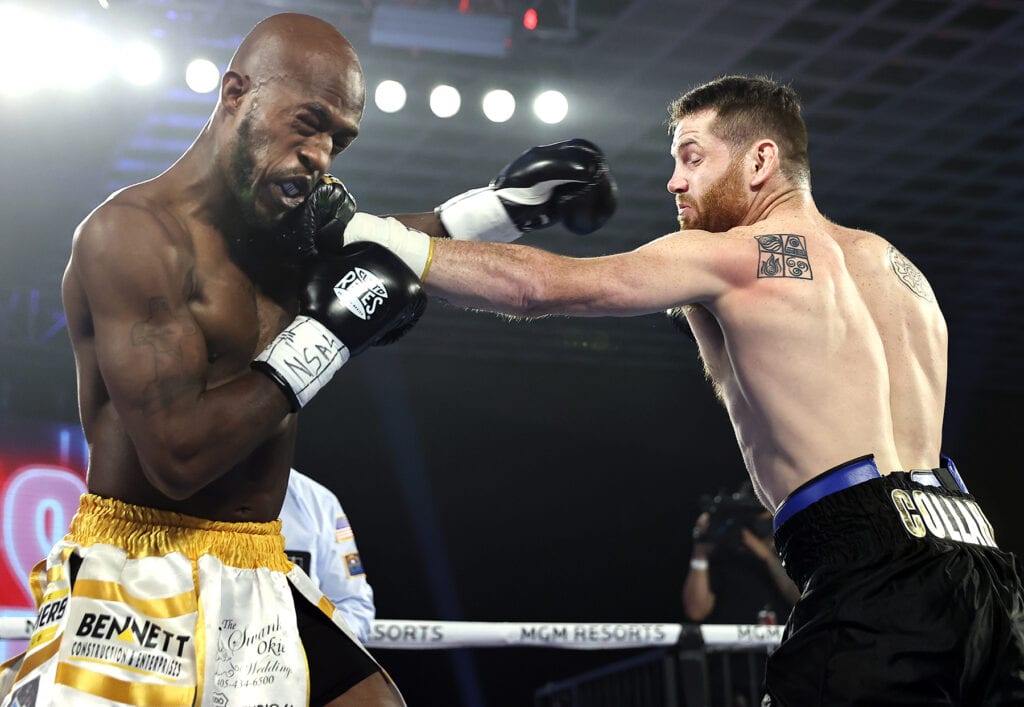 News
The Clay Collard train keeps rolling
The Clay Collard train keeps rolling
Clay Collard, on Saturday night, made his presence known back in the ring, as he once again made his case for being the 2020 Fighter of the Year.
The one-time UFC fighter improved to 5-0 on the year with a second-round TKO over an overmatched Maurice Williams (7-2, 3 KOs). Collard (9-2-3, 4 KOs) started the year with three wins over previously undefeated prospects and has now won two straight by knockout. Boxing's newest folk hero is making his case to be the 2020 Prospect of the Year.
The fight itself was as quick and played out a lot like his last trip inside "The Bubble" at the MGM Grand in Las Vegas against Lawmont T. Nelson back in July.  From the onset, it was apparent that Willaims, who was fighting for the first time out of the Oklahoma City area and after a fourteen-month layoff, was not going to be able to hang with Collard.
Not only was Williams outgunned, but he was also sent down twice and en route, a second time before referee Tony Weeks stepped in as he had seen enough at 1:54 of the round.
2020 has been a different year … For @CCCcollard, it continues to be amazing.

Now 5-0 with 3 KOs … with 4 months left 👀#AlvarezSmith | LIVE NOW on ESPN+ pic.twitter.com/EReblAa6h4

— Top Rank Boxing (@trboxing) August 23, 2020
"I'm just a fighter. I like getting out there as often as possible and entertaining the fans. I appreciate all the love and support from the fans, and I enjoy putting on a show for them," Collard said. "Listen, I'll fight as often as possible. I love fighting on these Top Rank shows, and I look forward to the next one. This has been quite the ride."
What was interesting is that on the broadcast, boxing analyst Tim Bradley felt that Collard was being protected and needed to face together competition next go around.
When we spoke with Collard on "The Making of Champions" podcast earlier in the month, he would agree with Bradley's assessment.
"I want to get on a big show and get a big name," Collard stated on The Making of Champions about getting back in action after Williams." I think the Gypsy King (Tyson Fury) fight card would be pretty sick. I think I draw enough crowds to jump on that show or the (Vasiliy) Lomachenko fight coming up.
Tyson Fury-Deotnay Wilder 3 is looking like a plan for the first half of 2021 with everything going on, but the unification bout of Lomachenko taking on Teofemo Lopez is slated for October on ESPN. Expect to see Collard, who has been a force and regular in action on these shows to land somewhere on that one if I'm spitballing.