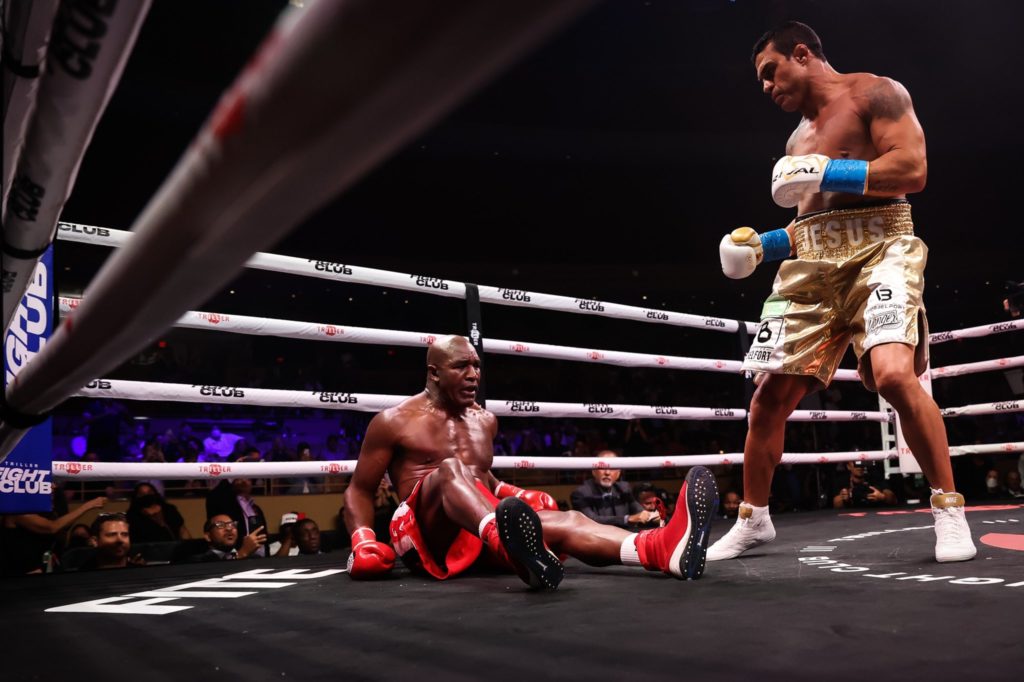 News
Report- Triller's Evander Holyfield-Belfort PPV Was Disaster
Report- Triller's Evander Holyfield-Belfort PPV Was Disaster
Saturday night's PPV exhibition fight between former Undisputed Heavyweight champ, Evander Holyfield and former UFC champ, Vitor Belfort was a two minute disaster in the ring. And, a report Thursday afternoon says the pay per view was maybe an even bigger one,
Boxing insider Dan Rafael tweeted Thursday late morning that he's learned that the latest edition of "Triller Fight Club" has to be very concerning to the company and CEO Ryan Kavanaugh, as it relates to lack of audience.
Per sources, #HolyfieldBelfort event totaled about 150k PPV buys between linear & digital platforms, which would make it a massive $ loser for Triller. At 150k it would gross about $7.5M from ppv, not remotely close to covering even the purses, not to mention rest of expenses.

— Dan Rafael (@DanRafael1) September 16, 2021
There had been outcries through out the boxing community about Holyfield being allowed to engage in an actual boxing match without headgear at age 58. This, as he was substituted in for fellow Hall of Fame, lighter weight fighter Oscar De La Hoya. De La Hoya reportedly tested positive for Covid 19 the week before the scheduled September 11th bout and that forced  Triller to move the planned Belfort fight from L.A. to where Holyfield lives and trains now, South Florida.
Hear us discussing the Holyfield-Belfort debacle, one round "fight" on the latest "Big Fight Weekend Podcast" by clicking below
Still asking for $49.95 in attempting to recoup their money apparently backfired big time for Triller. Although, there's an argument that even at a $19.95 price, it wouldn't have matter much on buys and the math might have been even less on revenue, even at the lower price.
That's because, as we wrote, Belfort overwhelmed the obviously slow Holyfield in the first minute nearly knocking him out of the ring, then cleanly knocking him down with a glancing left hook and finally, stopping him with a barrage of unanswered punches in a corner.
"I let him (Belfort) get too close,"  Holyfield said succinctly after the stoppage. 
What else could he say at that point? The public had seen right through that fight with Holyfield having no business in the ring.
The larger concern is Triller still on the hook for the upcoming Undisputed World Lightweight title fight with Teofimo Lopez defending against George Kambosos at Madison Square Garden's adjacent Hulu Theater on Monday night October 4th.
That's a bout that they overpaid $6 million for in a purse bid earlier this year for just an ordinary title defense for Lopez against the IBF mandatory contender.
And, with the fight tickets only going on sale earlier this weeek, capacity of the Hulu Theater being less than 4,000 and this latest example of how poorly a Triller PPV with Holyfield featured did, it stands that they will lose significant dollars, again.
For their part, Triller has done nothing yet to refute Rafael's reporting on the poor Holyfield PPV numbers. Their hope is to at lest double or triple that, at least for the Lopez fight upcoming.
Then again, it's a Monday night, in part due to the fact that the New York Yankees will likely be playing in an MLB one game, Wildcard baseball game that next night, all of which will hurt sales in Lopez's home area of NYC.