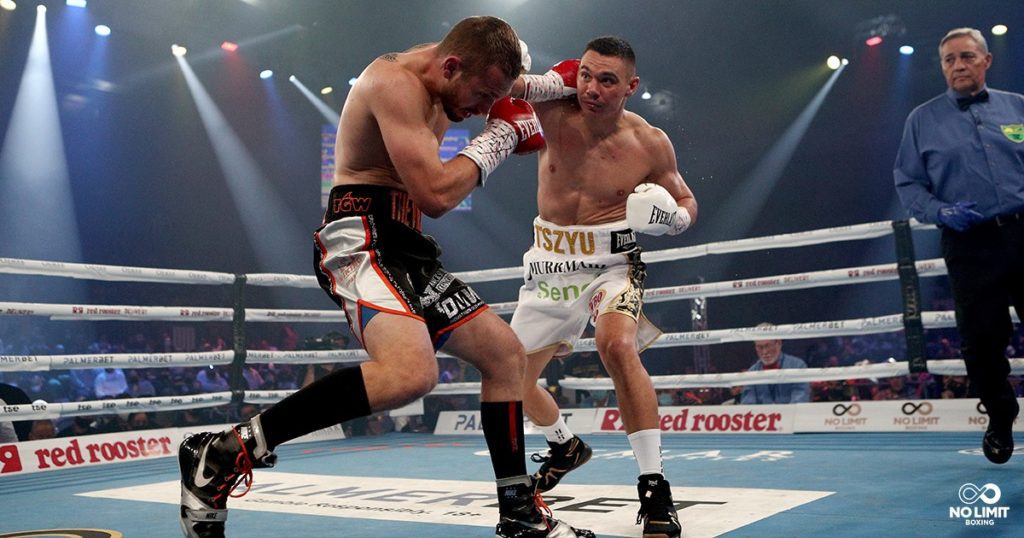 News
Report- Tim Tszyu To Be Part Of Aussie 3-Day Boxing "Carnival?"
Report- Tim Tszyu To Be Part Of Aussie 3-Day Boxing "Carnival?"
While there is uncertainty everywhere worldwide due to rising Covid 19 numbers again, about the future of boxing being able to continue to do live shows with large numbers of fans as the rest of this year unfolds, in Australia there are plans being discussed for a huge 3-Day "Carnival" of fights shows. And, immensely popular, unbeaten Jr. Middleweight contender Tim Tszyu is at the forefront of the discussions.
Australian boxing promoter and television commentator Ben Damon had more on Sataurday night "down under' on what's being discussed for three different cities in three successive nights for either November or December,
Big news 🥊 https://t.co/MpC9kcWzwD

— Ben Damon (@ben_damon) July 31, 2021
From Damon's item on Fox Sports Australia's site,
The No Limit promotional team is set to stage three events across consecutive days in one city, ideally culminating in Tim Tszyu's world title shot with WBO World Champion Brian Castaño. 
Gold Coast, Melbourne and Sydney are in the running to host the weekend, with the Friday and Saturday night shows to be broadcast on Fox Sports and Sunday's Tszyu event live on Main Event PPV and beamed live into the US.
"Nothing like this has ever been done in global boxing, let alone in Australia, and it just goes to show how far the sport has come in the last few years," says No Limit's George Rose.
"The NRL's 'Magic Round' has been hugely successful and we believe a weekend of world class boxing is the perfect way to underline the fact that boxing is now most definitely a mainstream sport in this country."
Negotiations are progressing for Castaño to defend his title against Tszyu in the perfect climax to the weekend but if that bout can't be finalised No Limit and Team Tszyu are expected to move on former champion American Tony Harrison. 
Tszyu has been on a roll scoring kayo after kayo in front of huge crowds over the course of the past year. He was last in action earlier this month. Tszyu supposed to destroy late replacement Stevie Spark in is latest non-title bout, and he did just that. He scored a third round TKO with a couple of wicked body shots to close out the main event at the Newcastle Arena on July 7th.
Tszyu improved to 19-0 with 15 KOS by dropping Spark, who had previously only fought as a Jr. Welterweight, twice in the third frame. The 26 year old son of the Hall of Famer Kosta Tszyu also beat former WBO World Welterweight champ Jeff Horn last August in arguably the biggest win of his career.
Now, the question becomes whether the unbeaten Castano, who just fought a highly controversial draw with Unified 154 lb. champ Jermell Charlo earlier this month, would fight his mandatory challenger in Australia or make him come to the United States?
The Argentinian was a guest on Max Kellerman's latest ESPN boxing show that debuted Friday and said through broken English that he didn't want to go to Tszyu's home country, but rather have him come to the USA.
Catch junior middleweight champion Brian Castano with @maxkellerman at 7 p.m. on ESPN 2. The Argentine talks a potential Jermell Charlo rematch, a fight with Tim Tszyu and much more pic.twitter.com/hdRap3k0wO

— Mike Coppinger (@MikeCoppinger) July 30, 2021
Castano is also angling for a rematch with Charlo, as many believe that he won their first fight, but was robbed of the decision on a split draw. Still, if he doesn't fight Tszyu later this Fall and the WBO strips him, then it takes away the "Undisputed" angle for the Charlo rematch.
As for the other fights of the "Carnival" being proposed, it has been rumored that Triller and their "Fight Club" has been wanting Teofimo Lopez to fight Australian George Kambosos for the Undisputed Lightweight title there. However, that seems more of a negotiating ploy, as they no longer want to pay Lopez the outrageous purse that they overbid him earlier this year. And then, Lopez postponed the original fight plan for June by getting Covid 19.
It's also been suggested that, if Australian Andrew Moloney is victorious in his third fight upcoming August 14th with Joshua Franco of Texas for the WBA Jr. Bantamweight World Title, that he could be part of the the 3-night shows for November or possibly December.
However, that may be too soon to have him back in the ring, if it's a grueling battle with Franco.
Further complicating things is that Australia has gone back on non-essential "lockdown" of it's population for the next two weeks, as their Covid 19 hospitalizations and deaths continue to spike. They have also greatly limited freedom of movement from province (or state) to province throughout the country, as well.