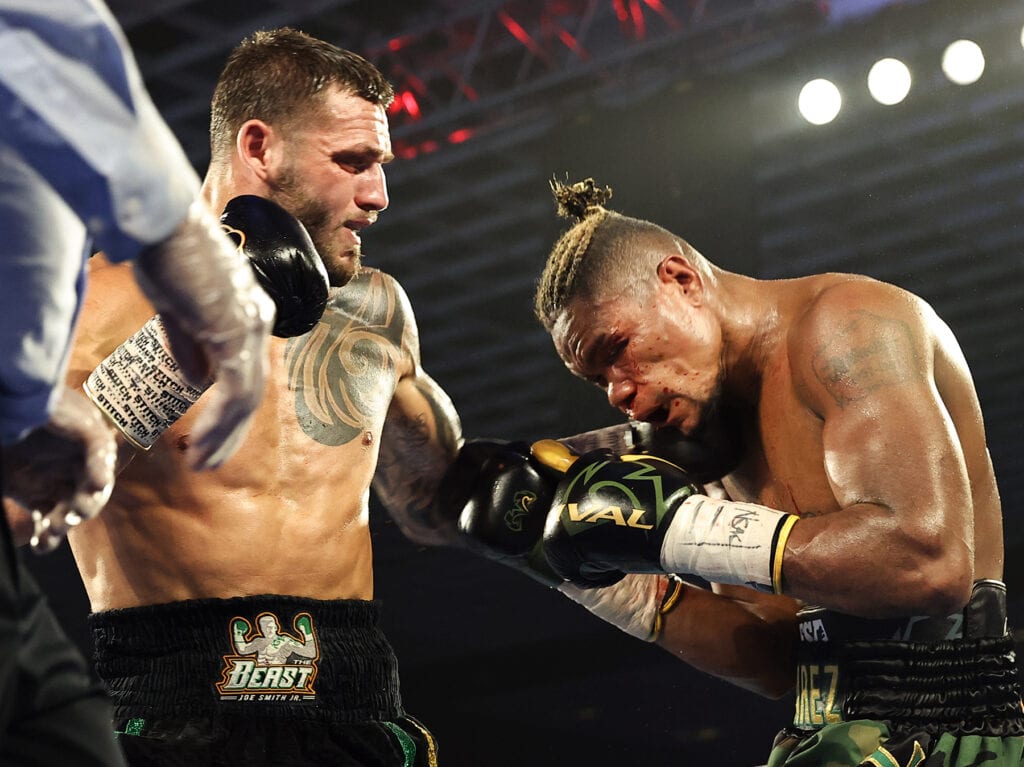 News
Report- Joe Smith Looking At WBO Defense With Daniel Jacobs
Report- Joe Smith Looking At WBO Defense With Daniel Jacobs
WBO Light Heavyweight champion Joe Smith had a long wait to get his hands on a world title and now it appears that he is first defense will come against a well-known name this Fall.
Boxing Insider Dan Rafael wrote for Ring Magazine Monday night that Smith is looking strongly at his first title defense to be against former Middleweight and Super Middleweight World title Challenger, Daniel Jacobs.
Light heavyweight titlist @beastsmithjr could make 1st defense vs. @DanielJacobsTKO. Jacobs promoter @EddieHearn has made an offer and @JoeDeGuardia and @trboxing will discuss it. My @ringmagazine story with the details: https://t.co/O4fZM78qmR #boxing

— Dan Rafael (@DanRafael1) June 2, 2021
Smith, who had to wait over six months due to Covid 19 before winning the title in April by a narrow majority decision against Russian Maxim Vlasov in April, is looking to cash in on his first defense. And, he has both Top Rank Boxing and Matchroom Boxing apparently very interested in the potential Jacobs bout.
The Smith camp is weighing an offer made by Jacobs promoter Eddie Hearn of Matchroom Boxing for the fight, which would take place in the fall in New York City.
"I think it was a great offer that Eddie made. It's multiple times more than Joe Smith has ever made in his life, so I think it was a strong offer," Keith Connolly, Jacobs' manager, told The Ring on Tuesday, although he declined to specify the amount of the offer.
"It'll be the biggest fight between New Yorkers in New York in a long time. I think Barclays Center and Madison Square Garden would be really interested in the fight. It would be a huge fight for New York and for boxing."
Smith promoter Joe DeGuardia of Star Boxing confirmed that Hearn has made the offer to Top Rank, which co-promotes Smith, and that he and Smith are interested in the bout.
"I'm interested in a few fights out there for Joe, but a fight with Danny Jacobs would be interesting and fan friendly," DeGuardia said. "Any fight Joe Smith is in is a fan friendly fight. Obviously, I'm looking for the best total circumstances for Joe and me, so really the question for us is what's the best scenario?
There are a lot of factors. We're going through them and sitting down with Joe and with (Top Rank chairman) Bob (Arum) and when all is said and done we will collectively decide which way we are going to go." 
With the win in April which was on a Top Rank/ESPN main event, Smith, 27-3, 21 KOs is lined up for a potential unification bout against unbeaten WBC/IBF champion 175 lb. champ, Russian Artur Beterbiev, Beterbiev is also by Top Rank in the U.S.
Beterbiev, who lives and trains in Quebec Canada, fought and won a March stoppage over lightly regard Adam Deines in his first pro bout ever in Russia. So, with Smith fighting the following month and winning, the timelines for he and Beterbiev also line up for the Fall and a unification fight.
Meanwhile, Jacobs is 37-3, is from New York and is the former IBF Middleweight champ. He lost his title in May 2019 to Canelo Alvarez in a 12 round battle in Las Vegas.
As Rafael reported the Barclays Center in Brooklyn and Madison Square Garden in NYC could be possible sites for a potential Smith-Jacobs bout.
Now, we wait for what Smith wants to do and how much he can make to cash in for it?