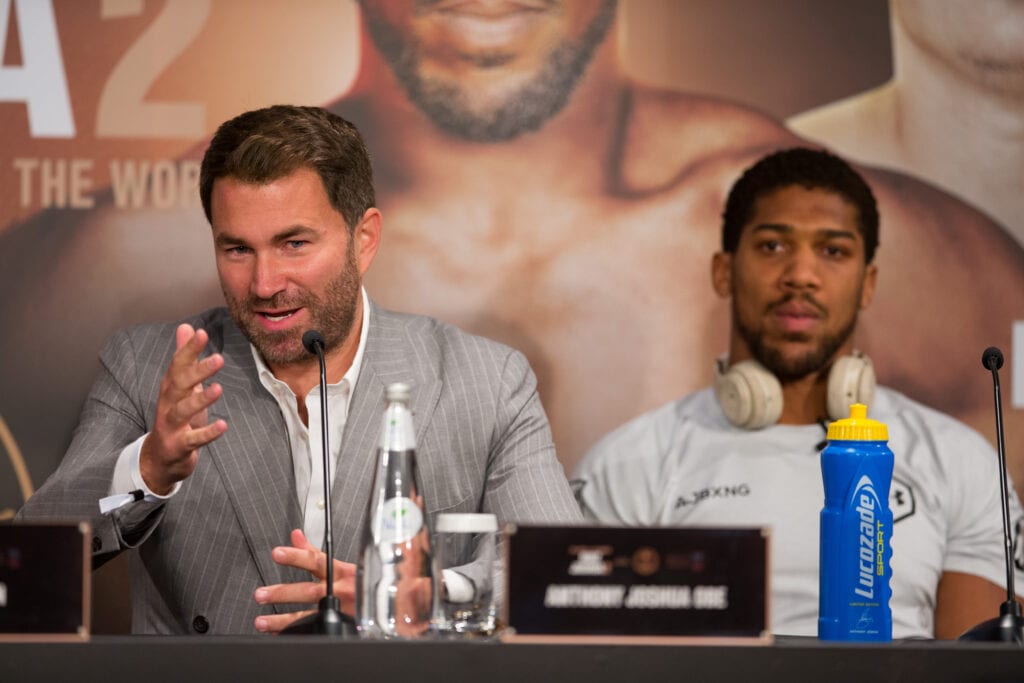 News
Report- Anthony Joshua-Oleksandr Usyk Fight On For September
Report- Anthony Joshua-Oleksandr Usyk Fight On For September
The ongoing new saga For Unified Heavyweight champion Anthony Joshua's mandatory title defense with former Cruiserweight world champion Oleksandr Usyk continues. However, reports Tuesday are that the deal is close to being finalized for a Joshua – Usyk fight to take place in September.
Sky Sports in London reported Tuesday afternoon that Tottenham Hotspur Stadium just north of London is the apparent venue choice for later this year,
👑AJ SET FOR SPURS🏟️

Anthony Joshua's planned world title fight against Oleksandr Usyk is set to be staged at Tottenham Hotspur Stadium.

More here 👇

— Sky Sports Boxing (@SkySportsBoxing) June 8, 2021
Matchroom Boxing promoter Eddie Hearn has said for the last 2 weeks, including most recently to broadcast partner DAZN that he believes the Joshua – Usyk fight will be signed for later this week.
Of course, most fight fans and observers, heard that week after week and month after month earlier this year. This, when Hearn was unable to get Tyson Fury and his management team to agree for a potential Undisputed Heavyweight title fight with WBC Heavyweight, Tyson Fury, in August in Saudi Arabia.
Instead the clock essentially ran out, when a U.S. arbitrator ruled that Fury will have to fight former champion Deontay Wilder a third bout. That will now be in Las Vegas on July 24th.
Tottenham Hotspur Stadium is a 65,000 seat state-of-the-art facility that was just redone in the spring of 2019. It not only houses the English Premier League "Spurs" soccer team but also has a multi-year deal with the NFL to play at least two of its games in that Stadium over the course of the next four years.
The NFL announced last month that two games will be played there in October.
Joshua, 24-1, was originally going to fight his IBF mandatory Kutbrat Pulev in the stadium last July. However, the Covid 19 pandemic shut down the sport and scuttled all plans with fans, especially in the U.K. Joshua eventually fought and kayoed Pulev in December at the Wembley arena in front of limited fans.
As for Usyk, he was last in action in the same Wembley Arena with no fans last October decisioning Dereck Chisora. That was the unbeaten Ukranian's second bout at Heavyweight and he and his team have been waiting for weeks for Hearn to finalize a deal for his challenge to Joshua's titles.
The WBO has threatened Joshua with potentially stripping him of their world title, if he did not fight Usyk soon. Hearn has repeatedly asked for extensions to get a deal done. And, now, it appears to being done.
Then again, Hearn saying it will get done and the deal getting done are two different things.