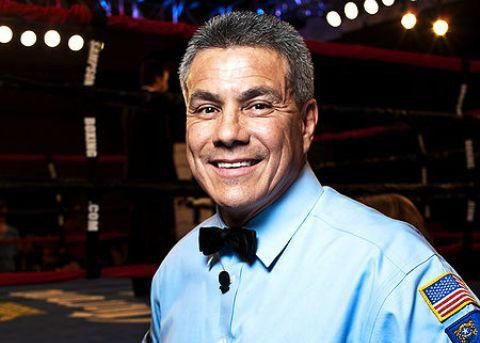 News
Referee Switch For Tyson Fury-Deontay Wilder Saturday Night
Referee Switch For Tyson Fury-Deontay Wilder Saturday Night
The countdown continues for the WBC Heavyweight Title Fight between champion Tyson Fury and former champion Deontay Wilder. And, we now known whom will officiate the trilogy fight in Las Vegas and this includes a switch at referee from the previously scheduled July bout.
Boxingscene.com was the first to report that championship veteran Russell Mora, based in Vegas, will now be the "third man in the ring" for Fury-Wilder III at the T-Mobile Arena,
Fury-Wilder III: NSAC Changes Referee, One Judge From Its Original Panel Of Officials https://t.co/nU4OLUPwns pic.twitter.com/pZ5xuSDKQ6

— BoxingScene.com (@boxingscene) October 6, 2021
Mora has been a boxing judge or referee since 1997, and was the referee most recently, for the Yordenis Ugas decision upset win over Manny Pacquiao for the WBA World Welterweight Title in Las Vegas in August.
Mora also previously refereed the Teofimo Lopez decision upset of Undisputed Lightweight champ Vasiliy Lomachenko in October of 2020. However, he's never worked a Heavyweight World title fight or even a non-title one involving Fury or Wilder.
The 61 year old, New Mexico native Mora's experience also dates back to him having worked the Canelo Alvarez – Sergey Kovalev World Light Heavyweight title fight in November 2019. Mora stopped that fight shortly after Alvarez's thunderous right hand dropped Kovalev in the 11th round.
He has not been without controversy in his career (like most referee's in boxing) and that includes his poor handling of the Abner Mares' controversial unanimous decision win over Joseph Agbeko in Las Vegas in August of 2011.
Mora failed to see Mares land a blatant low blow in the 11th round and counted it as a knockdown against Agbeko instead. He obviously, didn't give Agbeko time to recover from the low blow and Mares was able to dominate him in the final two rounds to seal his win.
Still, Mora is generally regarded as a competent title ref. He will be taking the place of Connecticut based ref, Mike Ortega, who had originally been assigned to the Fury-Wilder third fight in July, until it was postponed. It wasn't made clear by the Nevada commission or the WBC sanctioning the bout on why the switch was made 10 weeks later?
As for the judges scoring at ringside, they are all Americans and it's still two of the three that were originally supposed to have scored the fight back in July. Those are veteran Nevada based, title judges: Dave Moretti and Tim Cheatham. Meanwhile, a third American, Steve Weisfeld of New Jersey, will now be added to score Fury-Wilder, too.
Weisfeld just scored the Oleksandr Usyk unanimous decision win over Anthony Joshua in England two weeks ago for the Unified Heavyweight Title.
Moretti and Weisfeld both were ringside judges for Fury-Wilder II in February 2020 and both had Fury up comfortably, when he scored his 7th round TKO win over Wilder.
Cheatham has previously worked a Fury fight, as well, having given him his card in Fury's September 2019 unanimous decision in Vegas over Otto Wallin.