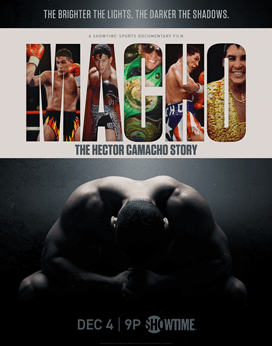 News
Powerful Camacho Documentary As Much About His Killing As Boxing
Powerful Camacho Documentary As Much About His Killing As Boxing
One of the most charismatic and accomplished lighter-weight fighters of the 1980s and 90s is featured as part of a new Showtime Boxing documentary. And, beyond just life in the ring of Hector "Macho" Camacho, the new film debuting in wide release Friday night is much about trying to solve what happened with his murder 8 years ago?
Emmy award-winning documentary filmmaker Eric Drath was a guest on the "Big Fight Weekend Podcast" now out on Friday morning. And, on our show he discussed with me the reasons why he felt it so important to tell Camacho's entire story- first about his tremendous career in the ring, but then, the unknown to this day of who killed him and why his murder hasn't been solved?
Powered by RedCircle
 As for why Drath wanted to make the Camacho film in the first place he told me,
"As a boxing fan, when I was young, I always knew of Hector Camacho. He just kinda jumped out of the TV into your living room. So, I was always amazed by him as a character…. He was so brash that there was always a part of you that said, 'I want to see him get knocked out.' …. About two and a half years ago, I realized this story hasn't been told. I didn't want his memory to be lost in the history of boxing. And, the fact that his murder hadn't been solved, I had to try to find answers and closure for the family.
I furthered ask Drath to preview for the potential viewers why they should tune in to his 90-minute film?
"Humanity. I think we are all interested in human lives, human stories, relatable stories. I think the reason why 'Macho' was such a character and so loved was that he wasn't perfect. Warts and all, he was in the public eye… I hope that people will be taken on a journey and 'ride his rollercoaster' and understand some new information about what's going on down in Puerto Rico."
Camacho was murdered in November of 2012 outside of a nightclub in Bayamon, Puerto Rico. He and another individual were shot to death multiple times from automatic gunfire. Camacho was killed while he sat in the passenger seat of a vehicle. However, eight years later, no one has been charged, much less convicted, of killing arguably the most popular fighter ever from that island country.
As for Drath, he admitted in our conversation that the documentary originally began specifically as a
"whodunit film" to solve the crime. But then, the boxing career became too large and apparent to ignore in telling the story.
That career spanned 30 years professionally and we wrote here about Camacho capturing his first World Championship in a National Television appearance on CBS network TV from his home country of Puerto Rico in 1983.
That Saturday afternoon, Camacho kayoed Mexican veteran Rafael "Bazooka" Limon in the fifth round for the WBC 130 lb. World Title with over 10,000 fans in attendance in a baseball stadium in San Juan and millions more on T.V. getting introduced to him.
Camacho went on to win Lightweight and Super Lightweight World Titles and defeated the likes of fellow Puerto Rican star Edwin Rosario, Vinny Pazienza and Ray "Boom Boom" Mancini on his rise to 37-0.
He later kayoed Sugar Ray Leonard in the final fight of Leonard's career in 1997. He also lost to Hall of Fame Mexican star Julio Caesar Chavez, in a fight where Camacho ironically gained more respect in defeat from the pounding he took but refusing to be knocked out.
Leonard and Chavez are interviewed in the Showtime documentary. Camacho also fought the likes of Felix Trinidad, Oscar De La Hoya and Roberto Duran before he retired from pro boxing in 201o at the age 48. Sadly, he would be dead just two years later.
Camacho was posthumously put in the International Boxing Hall of Fame in 2015.
Drath is hopeful that the Puerto Rican authorities, in association with the FBI office in San Juan, will be able to bring what he describes as, "the hit men who killed Camacho" to justice.
Certainly, Camacho's family, led by his strong-willed mother Maria, who's featured prominently throughout the documentary, want that closure after his life was taken almost a decade ago.
There can be no doubt that the flamboyant and successful career of Camacho drew us in, and Drath's film captures it perfectly. And, the film powerfully depicts the emotions of the loss of Camacho to his family and friends.