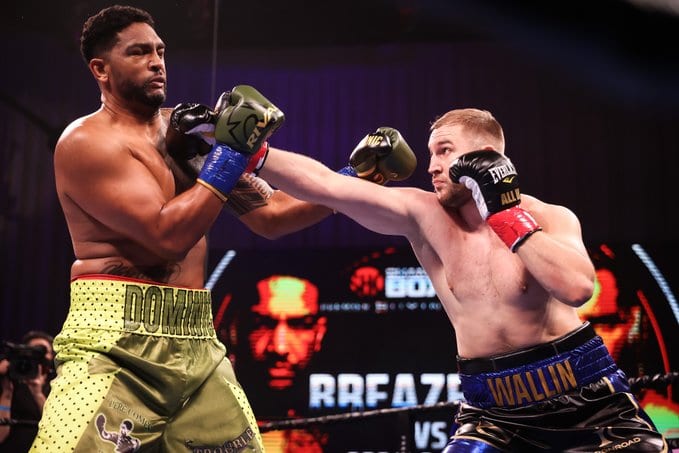 News
Otto Wallin outclassed Dominic Breazeale over 12 rounds
Otto Wallin outclassed Dominic Breazeale over 12 rounds
Swedish-born Otto Wallin would love the opportunity to get in the conversation for a future Heavyweight title shot and his Saturday night dominant performance over American Dominic Breazeale certainly helped that cause.
Wallin, 22-1, 14 KOs, used his southpaw straight right jab and left hands behind it to pepper the bigger Breazeale over 12 rounds for a unanimous decision win at the Mohegan Sun Casino in Connecticut.
Wallin won by scores of 116-112, 117-111 and 118-110 in a fight that was really not that close.
👀 #BreazealeWallin pic.twitter.com/kDG2WoUdX6

— SHOWTIME Boxing (@ShowtimeBoxing) February 21, 2021
Wallin banked round after round early by scoring in particular with his straight left hand behind the jab and keeping Breazeale backing up and off balance for much of this bout that was the co-feature of the Adrien Broner-Jovanie Santiago main event fight for Showtime Sports.
Wallin was given the first five rounds by all three judges on their official cards and it was a lead that Breazeale could not overcome.
Breazeale, now 20-3, was unable to sustain much offense throughout the fight, although, he should be given credit for having pressed on despite a right eye that was virtually swollen shut from the middle of the fight on. Breazeale looked awkward and tired of times, but was still winging dangerous right hands and right upper cuts that would occasionally land. They were just few and far between.
Wallin, who now trains in New York city, is most known for having pressed WBC Heavyweight champion Tyson Fury to a 12-round decision in June of 2019 in Las Vegas just prior to Fury winning his belt over Deontay Wilder. Wallin had also fought in the Mohegan Sun "bubble" back in August, when he defeated American Travis Kauffman by 5th round TKO.
The loss is probably the end of the line for the Californian Breazele, who had previously lost Unified Heavyweight champion Anthony Joshua and was destroyed in one round by WBC titleholder Wilder back in May of 2019.
The 30 year old Wallin out-landed Breazeale overall 232 to 91 in total punches to earn the easy win.