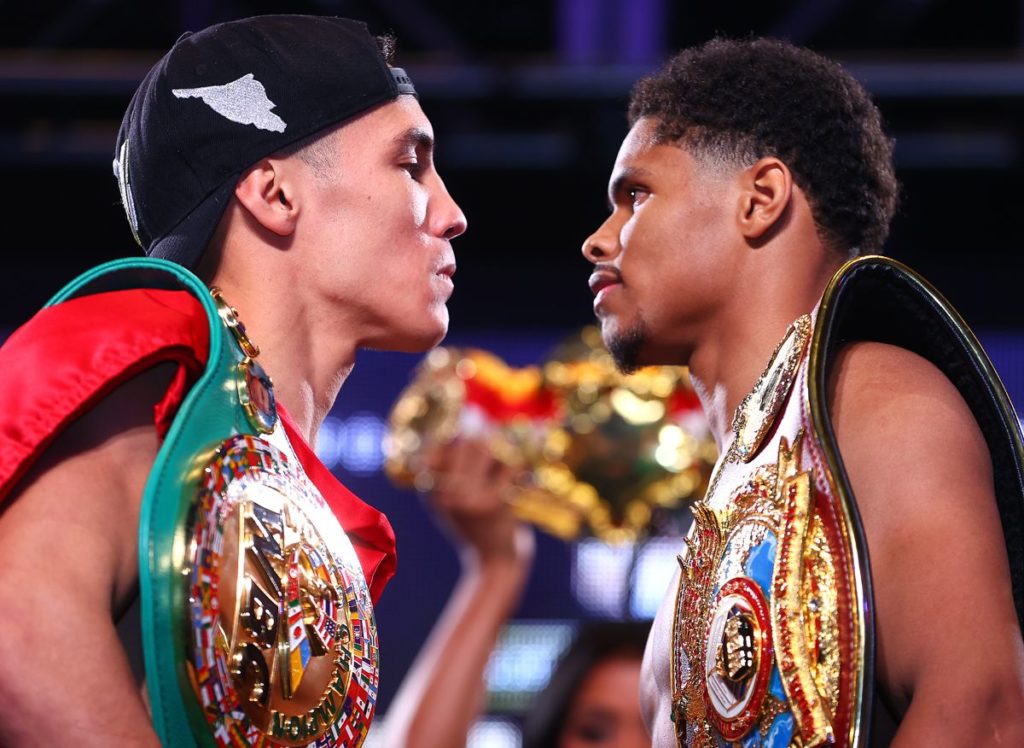 News
Oscar Valdez-Shakur Stevenson On Point At Raucous Weigh-In
Oscar Valdez-Shakur Stevenson On Point At Raucous Weigh-In
LAS VEGAS – Junior lightweight titleholders Oscar Valdez and Shakur Stevenson went face-to-face one last time during an extended staredown during which they jawed at each other after weighing in on Friday afternoon.
But as they have throughout the promotion, they kept it strictly professional as the crowd of several thousand — about evenly split for each man – inside the MGM Grand Garden Arena cheered them on.
Stevenson weighed in first and was right on the division limit of 130 pounds, but he had to strip nude behind a screen to make weight. Valdez was next up and was 129.6 pounds for their unification fight – which is also for the vacant Ring magazine title. It will take place inside the same arena on Saturday (ESPN/ESPN Deportes/ESPN+, 10 p.m. ET).
🏆BIG TIME BOXING🏆#ValdezStevenson | SATURDAY | 10 PM ET | @ESPNPlus pic.twitter.com/qmGBrHhvNK

— ESPN Ringside (@ESPNRingside) April 29, 2022
"I'm very excited for this. Ever since I was a kid, I've dreamt of these kinds of opportunities, to be fighting for unified championships and to be fighting in Las Vegas," said Valdez, who will be making his second title defense. "I'm just very excited right now to be in this mega fight, and I can't wait. I'm anxious to step in the ring.
"It's the perfect time to have this fight now. Shakur Stevenson is a two-time world champion right now. I'm a two-time world champion as well. It's the perfect time. Let's prove who is the best 130-pounder. Let's get it. Let's just show it. I think it's the correct time to do it."
Hear our full breakdown of Valdez-Stevenson on the latest "Big Fight Weekend Preview" podcast by clicking below,
Like Valdez, Stevenson (17-0, 9 KOs), 24, a southpaw from Newark, New Jersey, is a former Olympian and former featherweight world titleholder. He has been seeking a fight with Valdez (30-0, 23 KOs ), 31, of Mexico, for the past few years.
"I've been waiting on this moment my whole life," said Stevenson, who will be making his first title defense. "It's taken years and years of training, since I was an amateur, to prepare for this moment and I feel like I'm ready. I never said I'm on the pound-for-pound list yet. I said that after this fight, once I get past Oscar Valdez, I'll be on the pound-for-pound list.
"I think he's going to bang. That's it. I think he's trying to trick me into thinking he's going to box me and be technical. I'm not falling for that. I'm ready for the Oscar Valdez who goes in there throwing hooks and putting pressure."
Here are the rest of the weights for the card: Keyshawn Davis 136.2, Esteban Davis 136.6; Nico Ali Walsh 159.2, Alejandro Ibarra 160.4; Raymond Muratalla 134.8, Jeremy Hill 134; Andres Cortes 131.8, Alexis del Bosque 131.6; Troy Isley 157.4, Anthony Hannah 156.8; Abdullah Mason 136.4, Luciano Ramos 137.8; Antoine Cobb 143.6, Jaylan Phillips 1424.