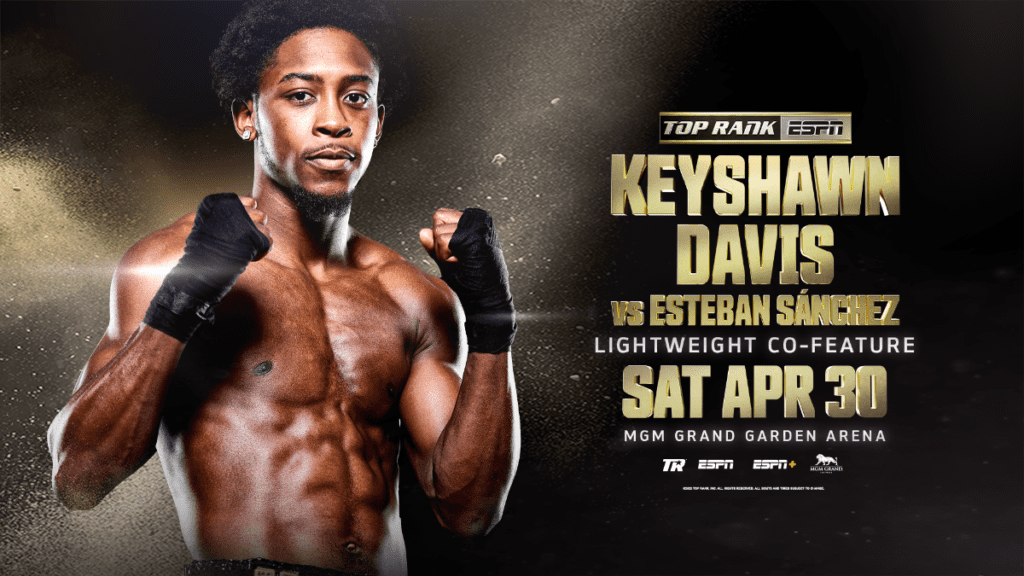 News
Keyshawn Davis Next Sugar Ray Leonard?
Keyshawn Davis Next Sugar Ray Leonard?
Coming up tonight in Las Vegas, as part of the Top Rank Boxing/ESPN card featuring Oscar Valdez and Shakur Stevenson in the main event, a rising young, former Olympic medalist prospect is also on the show. And, his promoter says he's sees a lot of a legendary fighter in Keyshawn Davis.
Our Dan Rafael was around 91 year old Bob Arum on Thursday and Arum made a comparison for Davis to the great Sugar Ray Leonard. Hear Dan relaying more on our "Big Fight Weekend Preview Podcast" by clicking below,
"I know that Bob Arum sometimes likes exaggerate that's part of  his job as a promoter," Rafael said on the podcast. "Bob gets emotional and he loves the guys he promotes. And, he wants to see them become big stars…. I've been around and heard a lot of Bob comparisons to fighters. But, it's rare when you hear Bob talk about a guy in the same sentence as a Sugar Ray Leonard. 
"Maybe it's undue presser. Maybe it's him being 'off the rocker.' But, he talks about Keyshawn Davis having the same kinda skills as Ray Leonard. I don't necessarily think that that's wholly accurate because of the fact that Ray was a Gold Medalist and was in a bigger weight…. I will say this- he's a great prospect. And, when he speaks he gives you great thought. He can analyze things and give you deep thought. He has a real chance to be something special."
Davis, the 23-year-old Olympic silver medal superstar from Norfolk, Virginia, will battle Mexican veteran Esteban Sánchez in an eight-rounder, as the co-feature bout Saturday night at the MGM Grand Garden arena.
Davis was last in action with a 2nd round TKO of Jose Zaragoza in December that improved him to 4-0, as a professional. Due to the special circumstances of the Tokyo Summer Olympics being delayed until last August, he was allowed to still compete as a boxing amateur and took home the Silver to up his promotional value.
Certainly, the comparisons to Leonard, one of the greatest fighters of the last 50 years of the sport aren't yet warranted, but if he continues to impress and build his profile, those comparisons will come more and more, too.