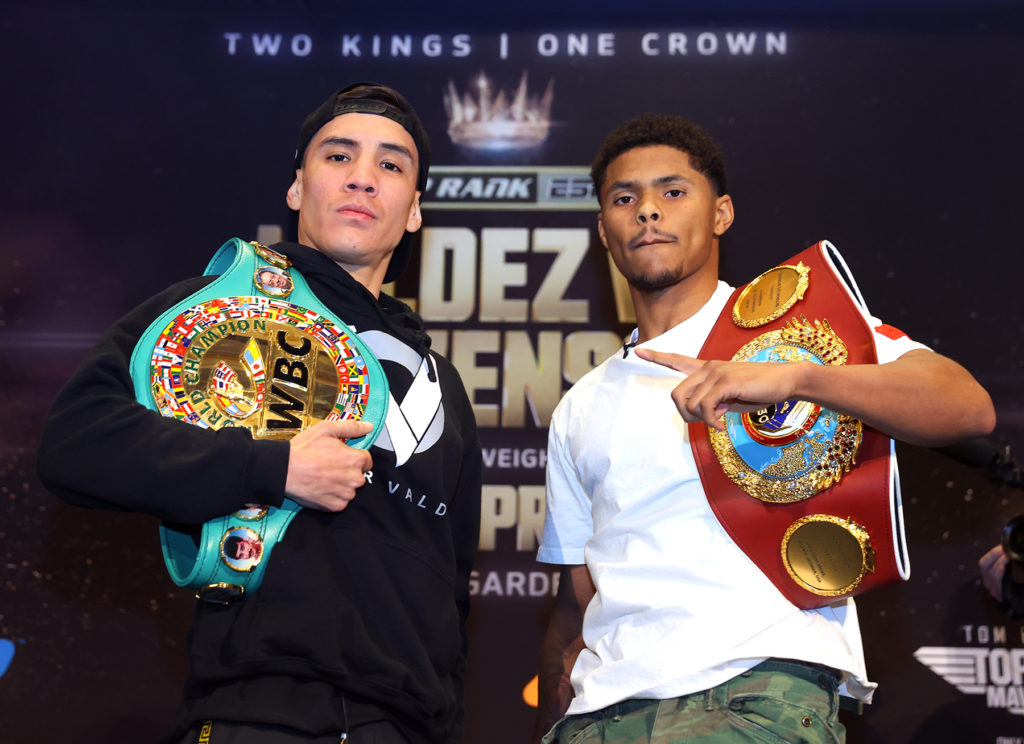 News
Stevenson Turned Pro On Oscar Valdez Undercard- Now They Meet
Stevenson Turned Pro On Oscar Valdez Undercard- Now They Meet
LAS VEGAS –  Oscar Valdez and Shakur Stevenson are both undefeated, both former Olympians, both former featherweight world titleholders and both now hold junior lightweight world titles. So, who should be granted the desired position of walking to the ring second?
That was a bone contention during the fight negotiations but finally settled in the paperwork and then put into practice on Thursday at the fight-week news conference ahead of the their highly anticipated 130-pound unification showdown on Saturday (ESPN/ESPN Deportes/ESPN+, 10 p.m. ET) at the MGM Grand Garden Arena.
The solution: A coin flip.
So, before the formal news conference began, Las Vegas Raiders linebacker Denzel Perryman was invited to the stage to do the honors.
Valdez had heads, Stevenson tails, and when Perryman flipped the silver dollar it came up tails. That means Stevenson will walk to the ring second – the preferred slot — and be introduced first and Valdez will walk first but be introduced second.
The moment deciding the order of the pre-fight pageantry was a long way from a night almost five years ago to the day – April 22, 2017 – when Valdez outpointed Miguel Marriaga in an action-packed fight in the second of his six WBO featherweight title defense at what was then StubHub Center in Carson, California.
On the undercard of the Top Rank pay-per-view show, Stevenson, fresh of claiming a silver medal at the 2016 Olympics, made his professional debut in a shutout sixth-round technical decision over Edgar Brito.
It was on that night that Stevenson first thought that someday down the road he might fight Valdez.
"I was on his undercard. I was focused on my fight, but then I saw his fight in the main event," Stevenson said. "I was definitely thinking about me and him fighting later on. I knew we were at the same weight. It was always in my head that we were going to fight."
Hear us breaking down Valdez-Stevenson and our fight picks on our "Big Fight Weekend Preview Podcast" by clicking below:
Valdez (30-0, 23 KOs ), 31, said it did not cross his mind until a couple of years later that the young gun making his pro debut on his undercard might someday be an opponent. Valdez was getting ready for his main event with Marriaga and said he was not paying attention to Stevenson's preliminary bout.
"Just like in this fight, I was very focused on the fight that I had in front of me," Valdez said. "I had known about Shakur Stevenson. I saw him in the Olympics. He was a great fighter then, and he's turned into a great champion now. I don't remember at all that day because I was very focused on my fight in the same way I am focused on this fight. In each and every fight, I take things very seriously. I just focus on one thing: beating my opponent."
Now that opponent is the kid from the six-rounder five years go in a fight that has been a long time coming. "Two years later I started seeing that it was possible that he might be my rival," Valdez said. "I started seeing him grow and win fights, but at the time not a lot people knew who he was if you were just a casual boxing fan. Now a lot people know who Shakur Stevenson is. So, this is the fight that has to happen at this moment."
It is also happening because Valdez got sick and tired of hearing Stevenson (17-0, 9 KOs), 24, a southpaw from Newark, New Jersey, say that he was ducking him. Valdez said he was looking for bigger and better fights and that Stevenson had not yet qualified. Now that he is more well known and has also won a title in a second division, it is far more appealing to him.
"It was very annoying," Valdez said. "It got to a point where I was walking back in Hermosillo (Mexico) and old man walks up to me and tells me, 'When are you gonna fight Shakur Stevenson?' It was after my fight with (Miguel) Berchelt (to win the WBC junior lightweight title in February 2021). It immediately hit me what he said. Wow, Shakur Stevenson's name is out there. I want that fight. After the (Robson) Conceicao fight (in September) we started talking some more and I called my manager, Frank Espinoza, and I told him let's make this fight happen immediately."
Valdez said he was never interested in a fight with featherweight titlist Emanuel Navarrete, who would have moved up in weight to face Valdez in a match that Top Rank chairman Bob Arum was interested in making while looking to match Stevenson with former unified lightweight champion Vasiliy Lomachenko. Ultimately, Arum abandoned that plan and made the match Valdez and Stevenson wanted against each other.
"We never wanted Navarrete. We wanted Shakur Stevenson," Valdez said. "Navarrete is a great fighter but it will make people think what Shakur's been saying for a long time. It will only give motivation to people who think that we're ducking Shakur, so let's beat Shakur and go on from there."
Stevenson is just glad he finally has the fight he has wanted for years.
"I felt like he didn't want to fight me at 126. Now we're here at 130," Stevenson said. "He was trying to fight Navarrete before fighting me. But we're here now. We can't keep talking about that. The fight is Saturday, and I'm ready to fight."