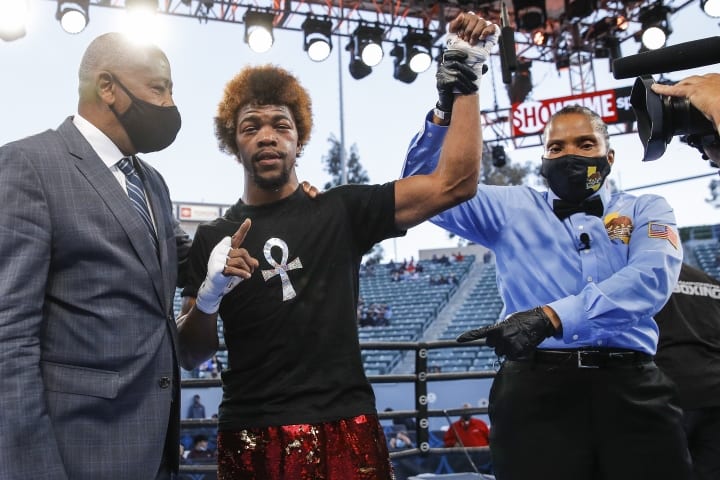 News
Gary Antuanne Russell Wants Broner Next
Gary Antuanne Russell Wants Broner Next
Saturday night, Gary Antuanne Russell opened up a can on Jovanie Santiago over six rounds to kick off the Showtime telecast from the Dignity Health Sports Park in Carson, California.
Now he wants to opportunity to apply that to former four-division champion Adrien Broner.
The undefeated 2016 U.S. Olympian (14-0, 14 KOs)  after breezing through a game but overmatched Santiago said after the fight that he wanted a piece of Broner in the ring as he showed what he looked against a common opponent in Santiago who arguably won against Broner back in February.
"The objective is to get the man out as soon as possible and come out unscathed. I just want to say that Santiago was a class-A opponent. A lot of people think he beat Adrien Broner. I want Adrien Broner now", Russell stated.
I'd like to see Robert Easter. That was a name floated out there also.

— Marquis Johns (@weaksauceradio) May 30, 2021
Russell speaking after the fight, also mentioned he would like to be seen on the upcoming heavyweight showdown between Deontay Wilder and Tyson Fury that has been slated to take place in July.
"How soon do I want to get back in the ring? If I could fight on the Deontay Wilder card, that would be great," Russell said, speaking to Boxingscene."I've been looking at some other guys as well. I want to fight Robert Easter Jr., that other dude from England (Scotland's Josh Taylor, the reigning undisputed junior welterweight champion), and Gervonta 'Tank' Davis now that he's moving up and down in weight."
Do I think Russell gets Broner next? Not at all. I'm spitballing that they may place in a fight with someone along the lines of Robert Easter Jr., as that was one of the names he's been mentioned with as well. Whoever is next for him after this showing will be one that many folks will need to pay attention to as he climbs up the ranks at 140.
"I learned there's still room for growth. I believe a person that believes he knows it all in his profession is soon going to meet their maker, because it's all about growing. There's never a cap to growth. It's infinite. Especially when you're dealing with different fighters from all around the world with different types of styles," Russell warns.